Orange County district attorney begins internal probe of informant scandal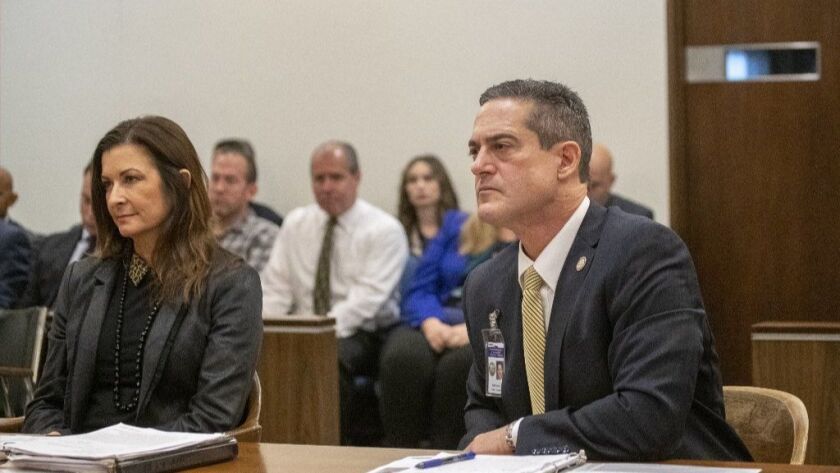 Orange County's top prosecutor Wednesday launched an internal review of alleged misuse of informants in the county's jails, after statements last week that the state attorney general's office had closed its years-long criminal investigation into the scandal.
In a statement, Orange County Dist. Atty. Todd Spitzer expressed frustration with the lack of communication from Atty. Gen. Xavier Becerra over the status of the state's investigation. During a hearing in a Fullerton courtroom last week, Deputy Atty. Gen. Darren Shaffer said that the state probe into the conduct of several sheriff's deputies had been closed, but offered no further explanation, according to county Assistant Public Defender Scott Sanders.
"I refuse to wait for the attorney general to make any conclusions given this lack of communication on inquiries," Spitzer said. "It is my responsibility as the recently elected district attorney of Orange County to move forward with my own investigation into what occurred," and if any remaining personnel are responsible.
Shaffer's comments at the April 19 hearing appeared to be in reference to a perjury investigation involving at least three sheriff's deputies. He did not say when or why the investigation closed, or make any statements about possible criminal charges. In a letter sent to Becerra on Wednesday, Spitzer asked whether the district attorney's office also remained under investigation.
Former Atty. Gen. Kamala Harris started the investigation in 2015, after Orange County sheriff's deputies were accused of housing a prolific jailhouse informant near Scott Dekraai, the confessed gunman in the 2011 Seal Beach salon massacre.
Evidence produced during Dekraai's case revealed that deputies had been placing informants near high-profile defendants to obtain confessions and elicit other information, which violated their constitutional right to have an attorney present when questioned about crimes for which they had already been charged.
The scandal has led to retrials in more than a dozen cases, including some homicides.
For years, the investigation overseen by Harris and then Becerra showed no tangible progress. Earlier this year, Orange County Sheriff Don Barnes took the unusual step of restarting his internal investigation because of a similar lack of communication from Becerra's office.
The attorney general's office has not responded to multiple phone calls and emails from The Times seeking comment. At an unrelated press conference in downtown Los Angeles on Thursday morning, Becerra repeatedly cited Department of Justice policy not to discuss investigations when asked about Shaffer's comments.
"When we're in court, we're gonna respond to the questions of the court as accurately and as quickly as we can. We responded to the question of the court and you could take that response by our deputy in that case as an accurate representation of where we are," Becerra said. "But he responded because he was asked by a judge. That's the only reason he responded."
Asked if Shaffer's comments meant the attorney general's office concluded the deputies had done nothing wrong, Becerra said, "if it's possible for us to do something to hold violators accountable, we'll do it."
Local watchdogs and civil rights advocates have long expressed frustration with the pace of the attorney general's investigation and concern that the full extent of the informant scandal may never be known.
"The investigation was a sham from beginning to end, and the result is more deputies are more emboldened than ever to ignore the law," Sanders, who first uncovered the informant situation while representing Dekraai in 2014, said last week.
Sanders had filed a motion seeking records that could have revealed some additional information about the attorney general's investigation, but Orange County Superior Court Judge James Rogan quashed his subpoena on Tuesday, records show. The matter remains under investigation by the U.S. Department of Justice.
Paul Wilson, whose wife, Christy Lynn Wilson, was among the Seal Beach victims, came to Los Angeles on Thursday hoping to question Becerra about the investigation, but was denied access to the news conference because he did not have media credentials. Informed of Becerra's remarks, Wilson said he was disgusted to see another investigation into the informant scandal fall by the wayside.
"It's just another pathetic example of our system that's broken," he said.
Twitter: @JamesQueallyLAT
---
The perils of parenting through a pandemic
What's going on with school? What do kids need? Get 8 to 3, a newsletter dedicated to the questions that keep California families up at night.
You may occasionally receive promotional content from the Los Angeles Times.