Grandmother admits helping daughter destroy evidence of 3-year-old's death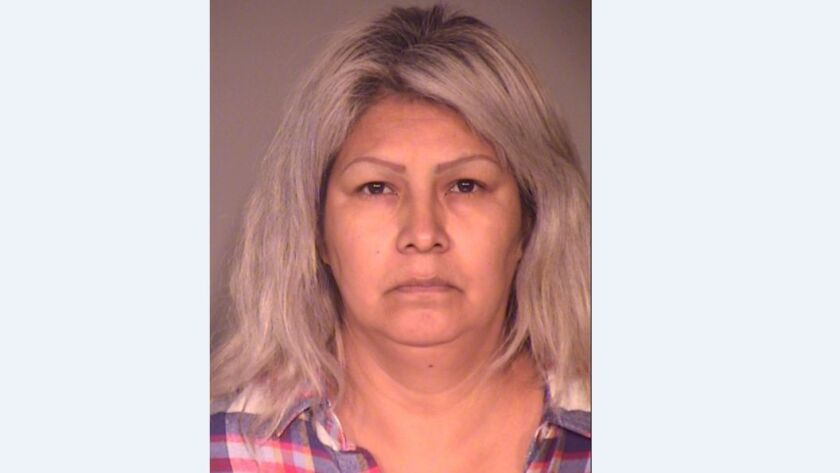 An Oxnard grandmother admitted to helping her daughter and her granddaughter's father conceal evidence of their 3-year-old girl's death, the Ventura County district attorney's office announced Thursday.
Maria De Jesus Lopez, 45, pleaded guilty to one felony count of conspiracy to destroy and conceal evidence after the death of her granddaughter Kimberly Lopez.
Prosecutors said the woman lent the couple her car and gave them money to travel to Tijuana and destroy Kimberly's remains. For 15 months afterward, she helped them hide the death from authorities, prosecutors said.
The FBI began investigating the girl's disappearance in 2016 after she was last seen by a social worker the year before.
Lopez's daughter, Mayra Alejandra Chavez, 27, was convicted in December of second-degree murder, torture and assault leading to Kimberly's death.
Omar Lopez, 34, was charged with second-degree murder but pleaded guilty to child endangerment and perjury and testified against Chavez in a plea deal.
On the night she was killed, Chavez became angry when the girl soiled her diaper, according to her father's testimony. He said Chavez aggressively pulled down Kimberly's pants and yanked her legs out from under her, sending the girl toppling to the floor, where she struck her head. The girl later began having seizures and died in the middle of the night, Omar Lopez said.
John Barrick, a senior deputy district attorney, said Omar Lopez and Chavez drove to Maria De Jesus Lopez's home in the early morning after Kimberly died.
"Her reaction was to lend her car to them and give them $300," he said. "That's exactly what they did."
The woman also helped the couple find and pay for a rental home in Tijuana and purchased appliances and furniture for the home, the prosecutor said. While they were there, Chavez and Omar Lopez buried Kimberly in a blue plastic bag in a shallow grave, he said.
They lived in the rental home for a few weeks before returning to Oxnard, but after worrying the girl's body would be found, that they returned to Tijuana on July 25, 2015 — again with Maria De Jesus Lopez's car — and exhumed her remains, Barrick said.
They broke apart her bones with pliers and tried to dissolve her remains in a bucket with bleach and water, which they later poured down a sink in the house they were renting, he said.
"They literally poured their daughter down the drain," Barrick said, adding that the couple scattered the girl's bones on various roads before returning to the United States.
For more than a year, Maria De Jesus Lopez helped her daughter hide the truth and spread false reports to authorities about the girl's disappearance, Barrick said.
"There is no evidence of remorse, or even that she missed Kimberly," he said.
Maria De Jesus Lopez will be sentenced April 23, according to the Ventura County district attorney's office. She faces a maximum possible sentence of 180 days in prison and three years of probation. She is currently out of custody on $200,000 bail.
Chavez will be sentenced April 30 and faces 47 years to life in prison, Barrick said.
The Oxnard Police Department, prosecutors, detectives and the San Diego foster family who cared for Kimberly when her mother lost custody of the girl are hosting a memorial service Saturday at the Oxnard High School Performing Arts Center, the Police Department announced in a Facebook post.
"They loved Kimi, as they affectionately called her, and had hopes to adopt her," the post said.
alejandra.reyesvelarde@latimes.com
Twitter: @r_valejandra
---
The stories shaping California
Get up to speed with our Essential California newsletter, sent six days a week.
You may occasionally receive promotional content from the Los Angeles Times.