Many victims of California's worst wildfire were elderly and died in or near their homes, new data show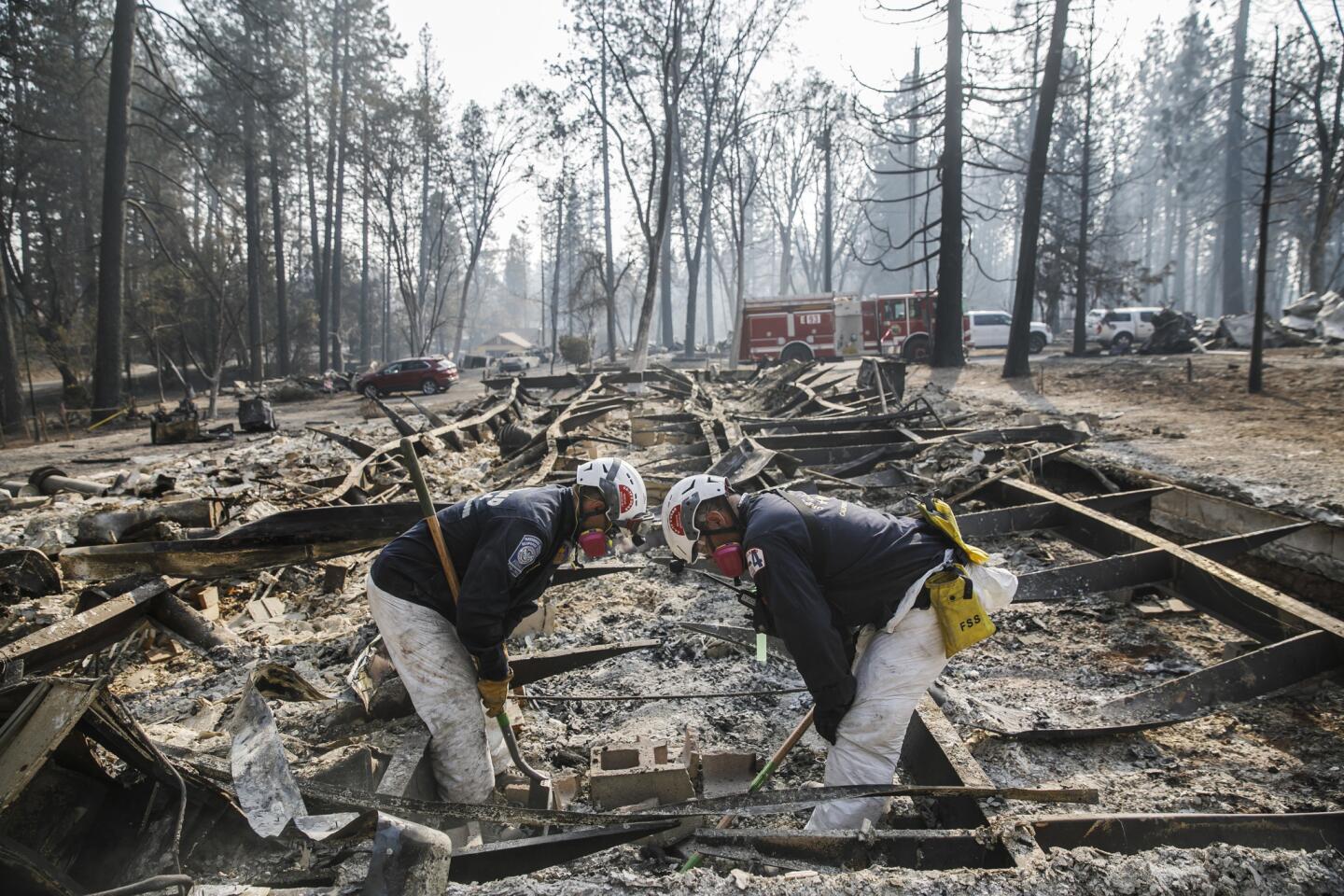 A search-and-rescue team carefully scans the area where there might be human remains after the Camp fire destroyed most of Paradise, Calif.
(Marcus Yam / Los Angeles Times)
Workers collect and document suspected human remains from an apartment complex that burned down in Paradise.
(Marcus Yam / Los Angeles Times)
A worker hunts through debris amid the remains of the Paradise Gardens complex.
(Marcus Yam / Los Angeles Times)
Residents' mailboxes are intact as a search-and-rescue team sifts through the destroyed Ridgewood mobile home park in Paradise.
(Gina Ferazzi / Los Angeles Times)
Suspected human remains are collected at a former apartment complex.
(Marcus Yam / Los Angeles Times)
A San Bernardino County firefighter takes a big breath after removing his mask during a break from the search for human remains at a destroyed residence and garage shop off Skyway, the main road in Paradise.
(Gina Ferazzi / Los Angeles Times)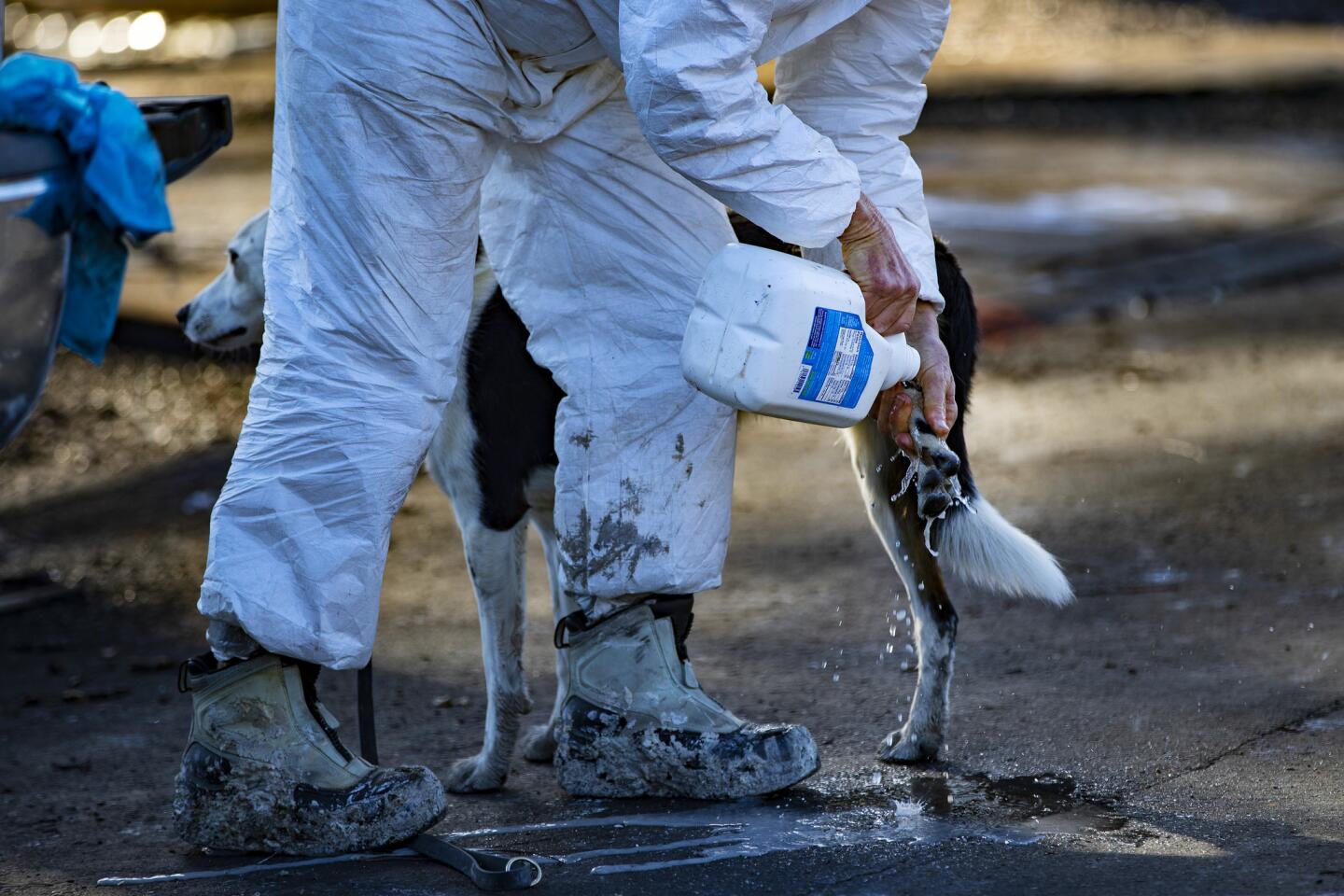 A search team member washes her dog's feet after both hunted among the ashes of the Ridgewood mobile home park.
(Gina Ferazzi / Los Angeles Times)
Firefighters from San Bernardino County move heavy debris while searching for human remains at a destroyed residence off Skyway.
(Gina Ferazzi / Los Angeles Times)
A search team combs through debris.
(Marcus Yam / Los Angeles Times)
Rose Farrell is the oldest victim of the devastating Camp fire to be identified so far. She was 99, and she died inside her home on Herman Road in Paradise.
Evva Holt, 85, died inside a pickup truck after she was evacuated from Feather Canyon Gracious Retirement Living. She made it only a mile.
Richard Brown, who was 74 when the blaze overcame him, died underneath a vehicle. He'd managed to travel less than a quarter-mile from his home in the tiny Sierra Nevada town of Concow.
The Camp fire killed 86 people. Of those, 53 women and men have been identified by officials so far. On Thursday, the Butte County Sheriff's Office released the locations of where their remains were found. Although the victims' official causes of death have not been released, search teams have described finding bones and bone fragments in the ashes.
The Times received the locations after filing two requests and an appeal under the California Public Records Act. The county initially refused to release the records, even after family members had been notified about the deaths and the victims' names had been publicly released.
The information paints a terrible picture of age, infirmity and, in some instances, stubbornness. The victims who have been identified range in age from 39 to 99; however, 60% were in their 70s, 80s or 90s.
Sixty percent also were found inside homes, buildings that under normal circumstances offer comfort and refuge. Twenty percent were found just outside of residences. Eight individuals' remains were found in cars ostensibly headed for safety.
PG&E highlights bullet-riddled equipment and downed tree branches near Camp fire in letter to state regulators »
Larry Smith, an 80-year-old from Paradise, died at UC Davis Medical Center. He was badly burned while attempting to put out the flames that engulfed his car.
It is impossible to know what caused so many of the fire's victims to remain home while thousands of their neighbors fled. Many people in the mountain community never received an official evacuation warning. Some of those who heard warnings of looming danger might not have been mobile enough to heed them.
Others chose to stay put as the deadliest wildfire in California history bore down.
The remains of Victoria Taft, 67, were found inside the home on Copeland Road in Paradise where she lived with her 25-year-old daughter, Christina. The pair didn't receive an official evacuation order the morning of Nov. 8, but a neighbor knocked on their door to tell them about the blaze.
At 10 a.m., Christina made a decision: They needed to leave. But her mom wanted to stay. She had been on the phone with a friend who also chose not to flee. The mother and daughter fought. After much pleading, Christina left. She took their only car.
As she headed toward Chico — a harrowing trip that took nearly two hours — Christina realized she might never see her mother again.
She was right.
"I was defeated," Christina said. "But I could've waited longer. Maybe I could've gotten someone else to convince her."
The remains of James Garner, a 63-year-old Navy veteran, were found inside his mobile home on Woodbury Drive in Magalia. His sister, Linda Baucom, said a relative who lived two blocks down from Garner had knocked on his door and urged him to leave the morning of the fire.
Garner used a cane, had back problems and couldn't move very quickly, Baucom said.
"He didn't believe that the fire was coming up that way," Baucom said. "He had never seen anything like that. I think he was just too stubborn to leave his home."
Evva Holt's remains were found near Pearson and Stearns roads, about half a mile from her unit at the Feather Canyon retirement home. Holt's daughter, Linda Dighton, said someone who worked at the facility had helped Holt into a pickup truck and tried to drive her out of danger.
The truck was on Pearson Road heading toward Skyway — the route to safety — when traffic came to a standstill near Stearns Road, authorities told Dighton.
Then there was an explosion. The truck caught fire. The Feather Canyon employee was able to pull one passenger out, Dighton said, but her mother was already too injured from the flames to be removed from the vehicle.
Holt, a retired dietitian, had lived at Feather Canyon for four years. She loved to play pinochle and go shopping. She was in good health for her age, said Dighton, who also lost her home in the Camp fire.
The remains of Julian Binstock, 88, were found inside the Feather Canyon home.
One of the grimmest discoveries was the carnage along Edgewood Lane, where at least six people died. The remains of two women and two men, who appeared to be neighbors, were found in one or more vehicles at the intersection of Edgewood and Marston Way.
They were fleeing to safety.
But they ended up halfway between their homes and a dead end.
One survivor of the blaze, an older dog-owner in a rickety Jeep, recorded a video along Edgewood. It is 3 minutes and 32 seconds long, sepia-toned and posted on YouTube. It begins with what is left of a body curled on the ground and goes on to show burned-out cars with skeletal remains, flesh torched cleanly off skulls.
The shaky-voiced narrator describes some of the dead as friends and acquaintances. He marvels that he made it out alive.
"These people got burned out in their cars like I almost did," he says. "Dead, dead, dead.
"Everybody here is dead."
Times staff writer Ben Welsh contributed to this report.
Sign up for Essential California for news, features and recommendations from the L.A. Times and beyond in your inbox six days a week.
You may occasionally receive promotional content from the Los Angeles Times.