East Avenue Church in Chico became their second home. Now, Camp fire victims have to leave it too.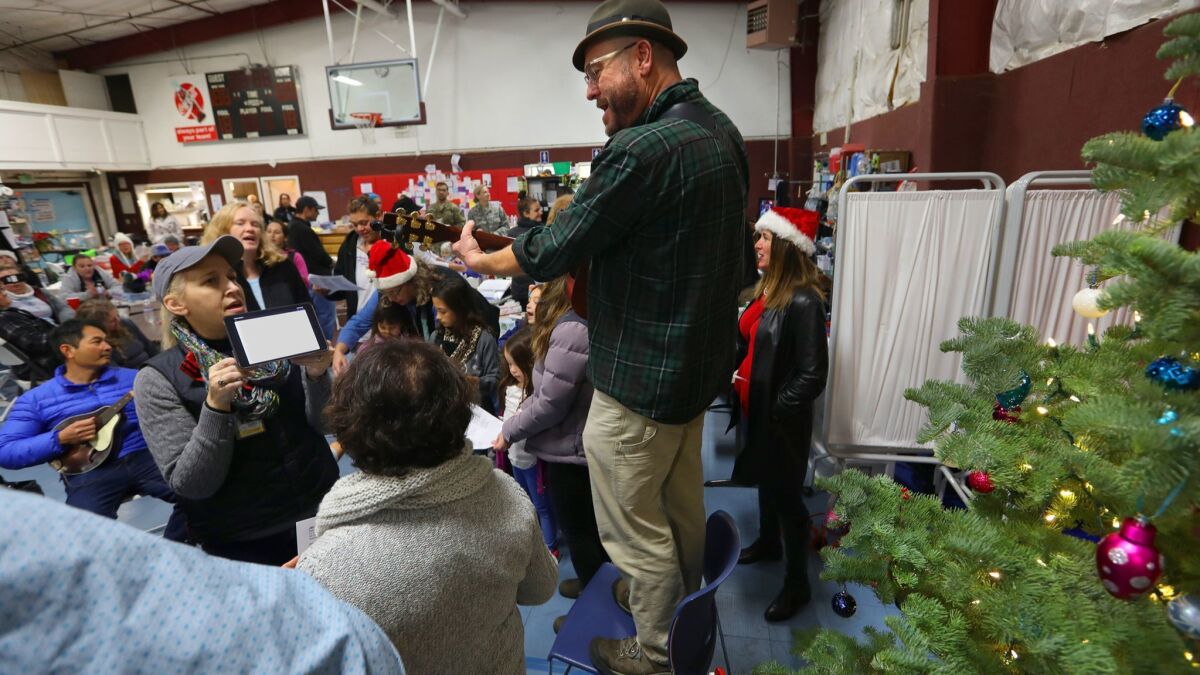 Reporting from Chico, Calif. —
For nearly a month, Camp fire evacuees at the East Avenue Church in Chico have spent their days eating together, sleeping next to one another and talking through their grief.
Some of the displaced were older and didn't have family. Others were low income and were barely able to make ends meet before the deadly blaze tore through Paradise and the neighboring communities of Concow and Magalia.
Despite their differences, the Camp fire victims built a second home and community at East Avenue, they say.
But as officials try to assemble displaced Camp fire victims under one roof, the church closed its doors Friday, leaving some feeling as if they're losing a home for the second time in several weeks.
Nearly 30 Camp fire evacuees, medical staff, volunteers and California Army National Guard troops spent Friday morning helping evacuees pack up their belongings.
Brown tents that housed the young and healthy were taken down, and cots where elderly people had slept inside the church lay empty.
By 11 a.m., nearly all the evacuees had left. Until now, it was one of the few remaining unofficial shelters still running.
Frank Mansell, a spokesman with the Federal Emergency Management Agency, said 537 individuals from the Camp fire are now staying at Red Cross shelters. Mansell said so far 20,193 people have registered with FEMA.
Officials are expecting 12 travel trailers to arrive at the Rolling Hills Casino RV park in Corning, less than 30 miles from Chico, Mansell said.
He anticipates the families will move in this weekend.
Back at East Avenue Church, 72-year-old Daniel Cayer shook hands with Pastor Ron Zimmer. It was the end of his monthlong stay at the church.
Zimmer paid for half of Cayer's new home: a $4,500 trailer. Tears came to Cayer's eyes as he said goodbye to Zimmer.
"These people have become like my second family," he said.
Paradise evacuees return to charred homes almost one month after deadly Camp fire »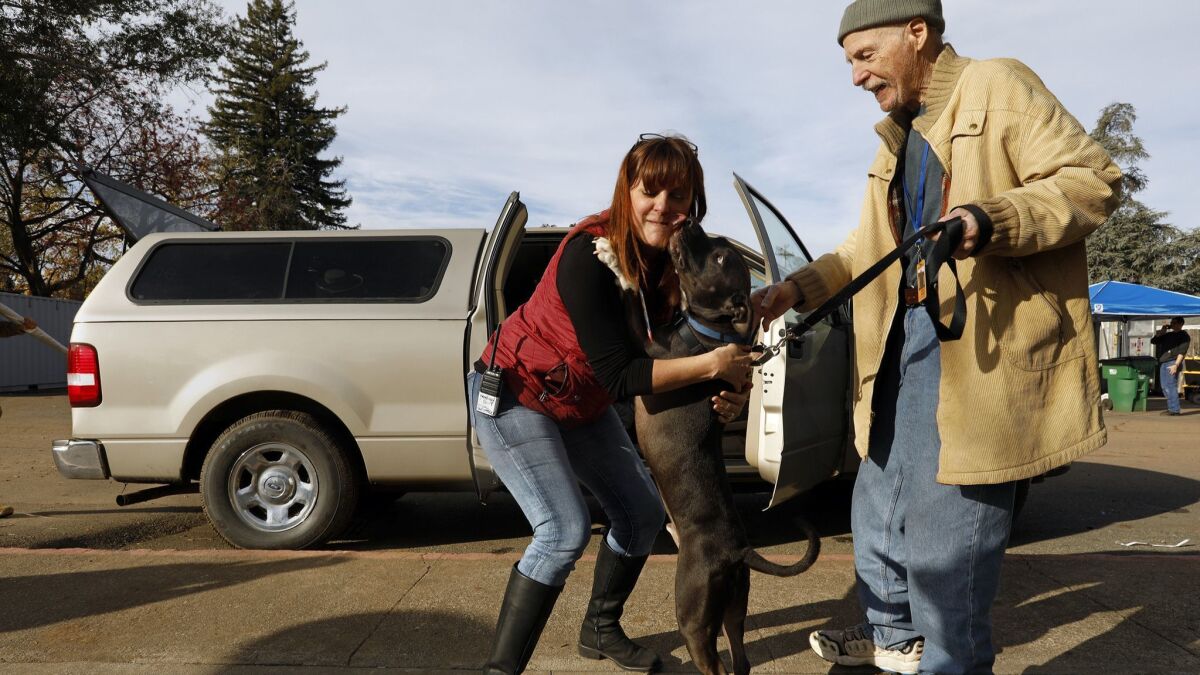 Nearby, David Bravot held on to his pit bull's leash as volunteers loaded trash bags and plastic bins that contained his belongings.
Bravot, 78, suffers from dementia and lost his Paradise house in the fire.
The church-turned-shelter offered Bravot a short reprieve from the traumatic experience.
He built strong friendships over the last several weeks, and as he prepared to leave Friday morning, he became tense and frustrated.
"I'm not sure what's going on. I don't remember," he said.
Bravot is leaving without being able to say goodbye to a woman with whom he became close. She came down with pneumonia earlier in the week and was hospitalized.
At its peak, East Avenue Church sheltered nearly 300 people, said Zimmer, who has been a pastor for 16 years.
At first, the church attracted not only victims whose houses were destroyed by the Camp fire, but also homeless people and drug addicts.
At times, tempers flared.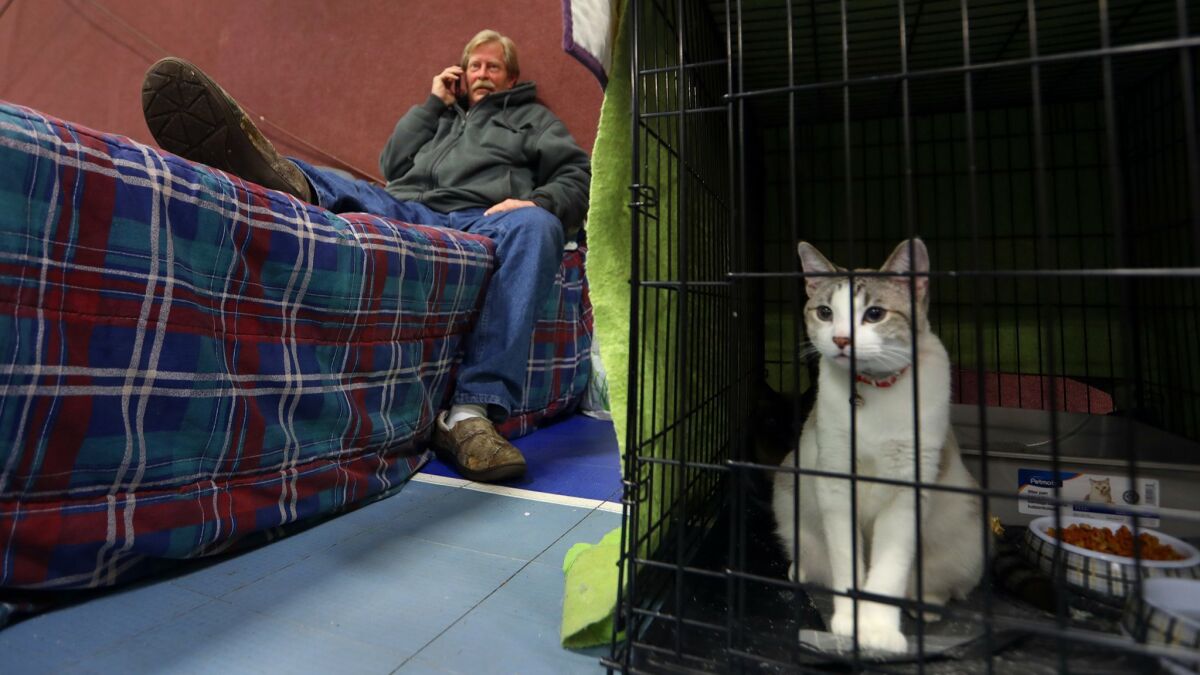 "The problem was that people weren't being polite," Zimmer said.
A group of motorcycle enthusiasts with the Hellbent Motorcycle Club 832 crew stepped up to provide security, along with the California Army National Guard.
Slowly, friendships started to build.
Mari Stewart, a nursing supervisor in charge of medical operations, was still caring for patients Friday. Some of the displaced people who have walked through their doors have been critically sick, Stewart said.
"There's people who we sheltered that had lung disease, one person had a stroke and people have come down with pneumonia a few times," she said.
For Stewart, the community at the East Avenue Church has been a much-needed reprieve from the bureaucracy she typically deals with at work.
"I get to just take care of the people. That's it," she said. "They've given me much more than I've given to them."
Opinion: The Camp fire took my home. Now I understand that no one ends up sleeping under an overpass by choice »
Some of the church volunteers are evacuees themselves.
When Wayne Baker's family told him that friends in Yankee Hill offered to take them in, the 20-year-old opted out and decided to stay at the church. He's lived in a tent behind the church with other evacuees since the fire destroyed his home in Paradise.
Now he helps volunteers and church staff with security.
"I help them out with anything that needs to get done. I take out the trash, I help escort people," Baker said. "This has become my second family. We came together."
Birgitte Randall, a nurse at the Adventist Health Feather River hospital in Paradise, not only lost her home but her job. Despite her own loss, the 28-year-old has spent the last several weeks taking care of the sick and elderly evacuees at the church.
"We did a lot of good here. All on our own," she said.
Zimmer and other churchgoers have been scrambling to find interim housing for evacuees.
They've bought people plane tickets to Maine and Florida, they're trying to reconnect evacuees with family members, and they're raising money to buy trailers.
Still, some people left Friday without a plan.
Cynthia Johnson, who goes by the nickname Sunshine, spent the morning clearing out her tent and placing her belongings inside her red SUV.
By 10:30 a.m. she was ready to leave. She brushed her red hair from her face, lighted a cigarette and let out a deep sigh.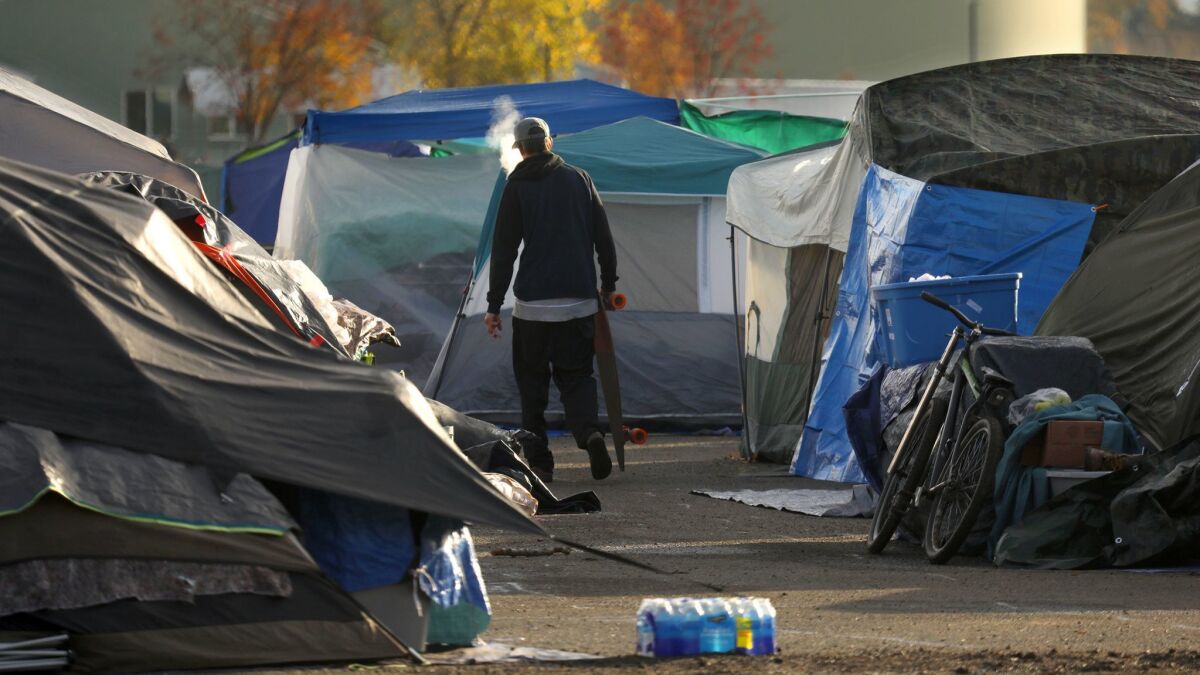 Johnson doesn't know where she'll go and whether she'll have a place to sleep. She hopes to buy a trailer in Oroville for $4,500, but doesn't want to stay at the Silver Dollar Fairgrounds.
"It's where people go when they've given up," said Johnson, a former nurse. "This church was like a family and now we are breaking up."
The 52-year-old Magalia resident had lived in Paradise Pines Campgrounds and RV Park before the Camp fire erupted.
She said evacuees at the church have vowed to come together one year from now.
"We want to have a reunion," she said.
Follow me on Twitter @melissaetehad
---
The stories shaping California
Get up to speed with our Essential California newsletter, sent six days a week.
You may occasionally receive promotional content from the Los Angeles Times.