Judge dismisses suit challenging L.A.'s 72-hour street parking limit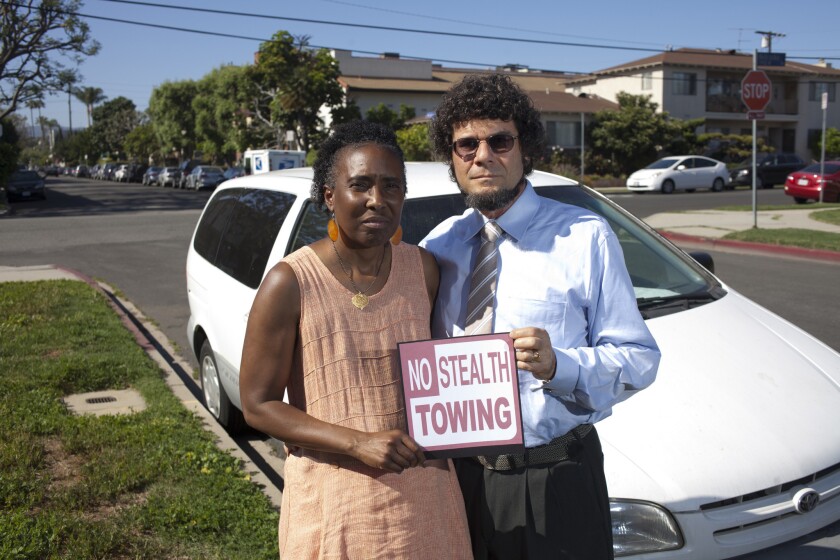 A federal judge has dismissed a lawsuit brought by a West Los Angeles couple that challenged the city's 72-hour limit for parking vehicles on the street.
Attorney J. David Sackman and his wife, Jerolyn, claimed in U.S. District Court in Los Angeles that their 1999 Toyota Sienna van was improperly cited and impounded while they were on vacation last September.
The vehicle was reported to city parking officials, who ticketed the vehicle and towed it away three days later as the couple returned home. The Sackmans say they only found out about the time limit the following day when they recovered their car from an impound yard.
The couple's lawsuit alleged that they were denied the constitutional right of due process because the city did not post warning signs on the street to advise motorists of the 72-hour restriction.
The Sackmans noted that the California Vehicle Code requires that vehicles shall not be removed unless signs are posted to inform the public of the parking limit.
Citing federal court decisions, U.S. Dist. Judge Dolly M. Gee ruled Friday evening that the parking citation placed on the Sackmans van was proper notice.
"The courts that have considered this issue in similar contexts have found that notice in the form of a citation is sufficient to meet the requirements of procedural due process," Gee wrote in her decision.
David Sackman contended that the federal cases mentioned by Gee did not apply because they involved parking situations that were different.
Gee's ruling left open the possibility that the couple could bring a similar lawsuit in state court.
The Sackmans said they are considering whether to appeal or bring a new lawsuit in Los Angeles County Superior Court. They have 30 days to decide on an appeal.
Follow @LADeadline16 for transportation news
---
The stories shaping California
Get up to speed with our Essential California newsletter, sent six days a week.
You may occasionally receive promotional content from the Los Angeles Times.