Vandalism at Pasadena church set ablaze last week follows a recent pattern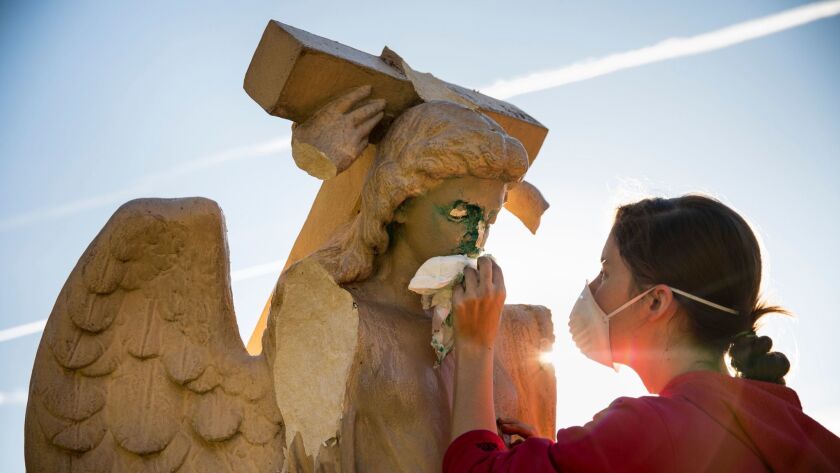 Graffiti spray-painted at a 129-year-old Pasadena church that was set on fire last week resembled messages left on several other churches that were vandalized in recent months.
Vandals broke into Church of the Angels — an Episcopal church on Avenue 64 that was built in 1889 — before sunrise Jan. 13 and lit a fire in the sanctuary. Using green spray paint, they wrote "Jehovah" on a stone statue of an angel outside the building, as well as the words "Jehovah Lives" and a reference to an Old Testament Bible verse on the sidewalk, said the Rev. Robert Gaestel, the church's rector.
The Bible verse, 2 Kings 19:35, reads: "And that night the angel of the Lord went out and struck down 185,000 in the camp of the Assyrians. And when people arose early in the morning, behold, these were all dead bodies."
The same verse was spray-painted at Ancient Church of the East Mar Shaleeta Parish, an Assyrian church in San Fernando, in a November 2016 incident that the Assyrian American Assn. of Southern California called a hate crime.
Police in February 2017 found similar graffiti at three West Covina churches: Christ Lutheran Church, St. Christopher Catholic Church and West Covina Christian Church.
Gaestel told parishioners in an email this week that what happened at Church of the Angels seemed to follow a pattern of incidents at other houses of worship.
"It sounds like we were not singled out for any reason but are part of a series of things," Gaestel said in an interview.
Authorities are still searching for those responsible for the fire and vandalism at Church of the Angels, which was reported about 2:20 a.m. Jan. 13, said Lisa Derderian, a spokeswoman for the Pasadena Fire Department. It appears there was more than one person involved, she said.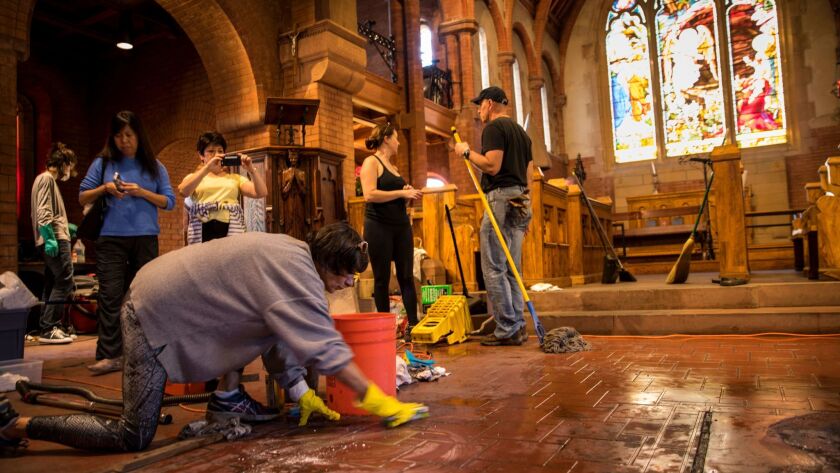 Authorities are not treating the incident as a hate crime, Derderian said.
Fire investigators are working with a task force and following several leads, she said Friday.
No arrests have been made, said William Boyer, a spokesman for the city of Pasadena and its Police Department.
The historic church is a frequent filming location and has been featured in numerous movies, including the 1988 dark comedy "Heathers" and the 1944 film "Since You Went Away" starring Shirley Temple. On television, it was the church where Jim and Pam baptized their baby on "The Office" and where FBI agents apprehended a killer in an episode of "The X-Files."
This week, film crews filled the lawn and sanctuary, even as charred pews remained covered under a tarp behind the building.
Gaestel said the arsonists entered the church through a broken stained-glass window, which was later boarded up by a neighbor who is a woodworker.
Once inside, they piled hymnals and prayer books on pews and used them as kindling, he said. They burned an oak angel statue used as a lectern, put an altar cross in the flames and tipped over a baptismal font, Gaestel said. Four pews were destroyed.
Outside, the arsonists threw a rock at a stone statue of an angel that has been there for decades, breaking her arms and the cross she held above her head. They painted over her face and scrawled "Jehovah" across her body, Gaestel said.
That morning, two young men, including one who used to live in the neighborhood, were visiting from the Bay Area to attend a wedding and went for a walk to see the church, Gaestel said. They smelled smoke, saw flames and began to yell, waking up Gaestel, who lives in the rectory nearby.
"If they hadn't come by, we wouldn't have known," Gaestel said. "It sounds like a miracle. I'll take it."
Church members and neighbors came out in force, cleaning up the church for the next day's service, which went on as scheduled. The two young men came to the service, and the parishioners cheered for them.
Thieves in 1989, just before the church's centennial celebration, stole four benches. But in his 35 years at the church, Gaestel said, it has never been vandalized.
"I'm tired," he said this week. "Very, very tired. But we've bounced right back. The churches that get right up and do their worship are the ones that survive and flourish and go on."
The church is accepting donations to repair the damage at www.coa-pasadena.org/giving.
Twitter: @haileybranson
---
The stories shaping California
Get up to speed with our Essential California newsletter, sent six days a week.
You may occasionally receive promotional content from the Los Angeles Times.