Huge arsenal seized from high-ranking Pasadena police officer's home, new records show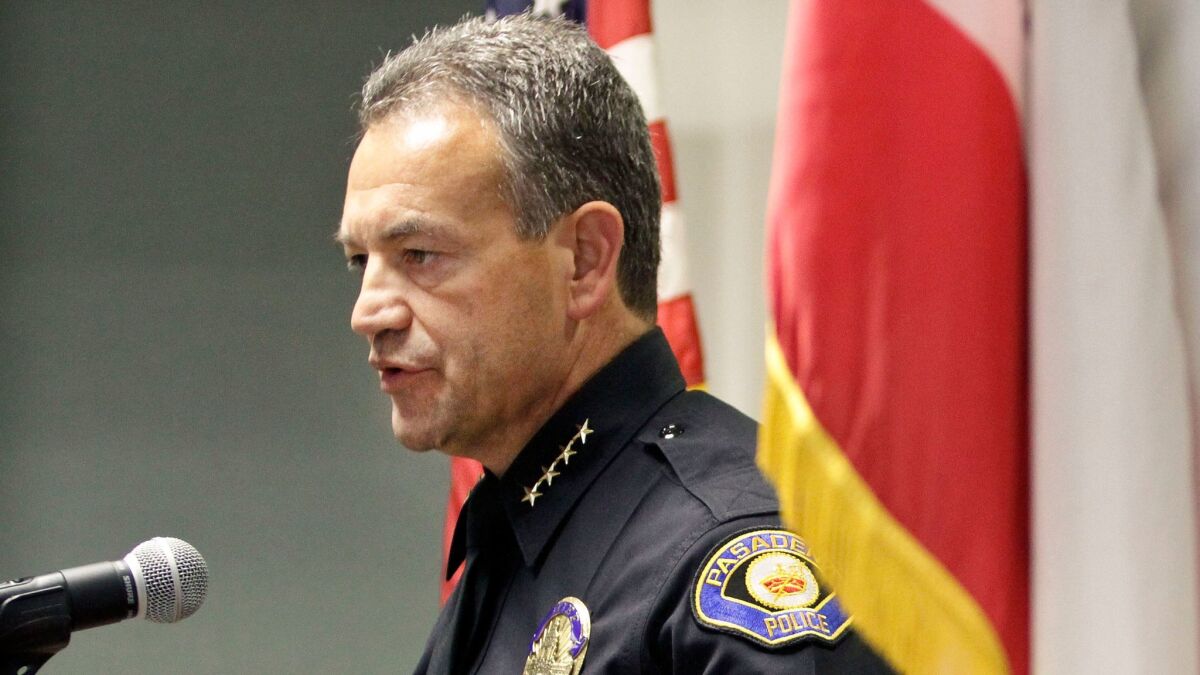 Federal agents seized about five dozen firearms worth tens of thousands of dollars from a high-ranking Pasadena police officer during a raid this year, according to newly released government records.
The Feb. 16 search of the officer's Sierra Madre home by the Bureau of Alcohol, Tobacco, Firearms and Explosives was widely publicized, but authorities did not identify the officer or detail what was recovered.
The cache of weapons was an enormous haul that took two trucks to cart away.
On Sunday, a federal registry of potential forfeited assets listed 57 firearms that were seized from the home of Lt. Vasken Gourdikian, who most recently served as the Pasadena Police Department's spokesman and an adjutant to Chief Phillip L. Sanchez.
Here are the weapons seized in the raid of a high-ranking police officer's home »
After the ATF raid, Gourdikian was placed on paid administrative leave, the Police Department launched an internal investigation and his biography was removed from the city's website.
At Gourdikian's four-bedroom home in the San Gabriel Valley, agents reported hauling off more than 30 pistols, three shotguns and 20 rifles, among other weapons. The arsenal included small handguns as well as such tactical weapons as a $1,700 Bushmaster combat rifle, the records show. The estimated value of each seized gun ranged from $100 to $3,800.
Gourdikian, who has worked for the Pasadena Police Department since 1994, has not been charged with a crime, and city officials said the ATF search was unrelated to his work with the department. He remains on leave, city spokesman William Boyer said this week.
Ginger Colbrun, an ATF spokeswoman, said there was an ongoing federal investigation into the officer, but she declined to comment on it. She also did not identify the officer.
The federal search warrant for Gourdikian's home remains under seal.
About six weeks after the search, the top ATF agent in Los Angeles, Eric Harden, sent a letter to area police chiefs and sheriffs, notifying them that investigators had found more than 100 "off-roster" guns purchased by police.
Such guns are not on a California list of approved handguns for purchase by the public, but the law gives a special exception for police officers to buy these weapons.
Colbrun said the agency found law enforcement officers who were acting as firearms dealers and that the officers appeared to be buying and reselling weapons without a federal firearms license, a violation of federal law.
The investigation into off-roster firearms began with reports on firearms sales and weapons found at crime scenes.
Firearms generally average about 10 years between the time of purchase and when they show up at a crime scene. If the window is shorter — for instance, three years — it triggers a red flag, Colbrun said.
Further digging revealed some law enforcement officers who made "significant purchases and resales of firearms," Colbrun said.
ATF officials generally aim to educate law enforcement about off-roster guns so they are aware of the restrictions, Colbrun said.
Prosecutions of sworn law enforcement officers are rare.
A former Sacramento County sheriff's deputy, Ryan McGowan, was sentenced last year to 18 months in federal prison after a jury convicted him of dealing firearms without a license and falsifying records.
McGowan used his role as a deputy to buy off-roster guns, then resold them at a higher price on the private market. He also worked with a licensed gun dealer to evade federal law, prosecutors said.
Twitter: @LACrimes
Twitter: @MattHjourno
ALSO
Man arrested on suspicion of setting fires that forced shutdown of Highway 18
'Grab the surf leash!' Beachgoers frantically try to save woman attacked by shark at popular surf spot
Groups mount legal battle over L.A.'s closure of Beachwood Drive gate to Hollywood sign hikers
---
UPDATES:
4:55 p.m.: This article was updated with details on a recent prosecution of a former Sacramento County sheriff's deputy.
This article was originally published at 6:45 a.m.
---
Life is stressful. Our weekly mental wellness newsletter can help.
You may occasionally receive promotional content from the Los Angeles Times.