Men face jail time for stealing part of Paul Walker's crashed Porsche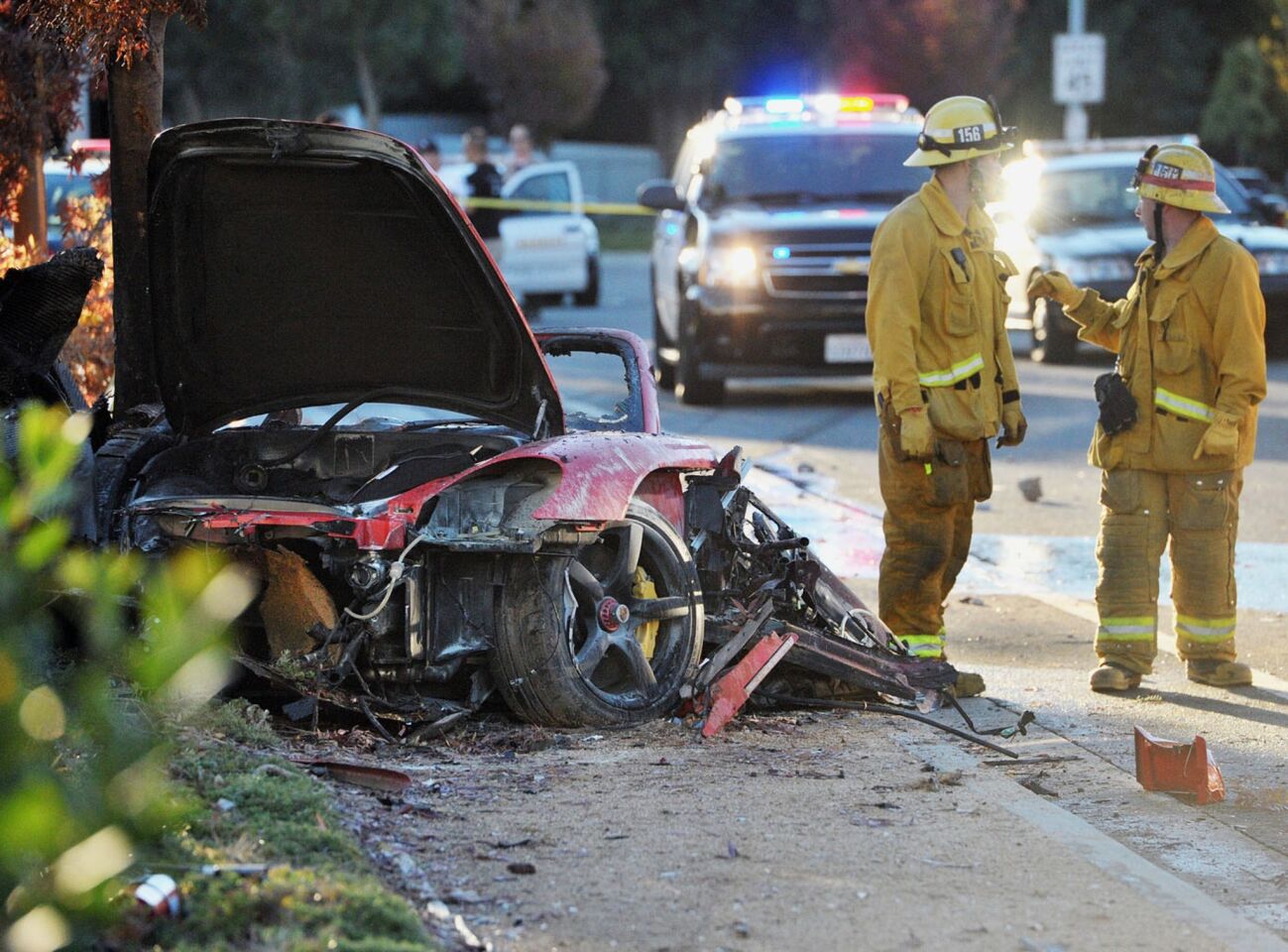 Firefighters and sheriff's deputies work near the crash scene in the 28300 block of Rye Canyon Loop on Nov. 30.
(Dan Watson / Associated Press)
Rafael Lopez of Santa Clarita places a sign at a memorial at the site where actor Paul Walker and his friend Roger Rodas were killed in a car crash Nov. 30, 2013.
(Christina House / For The Times)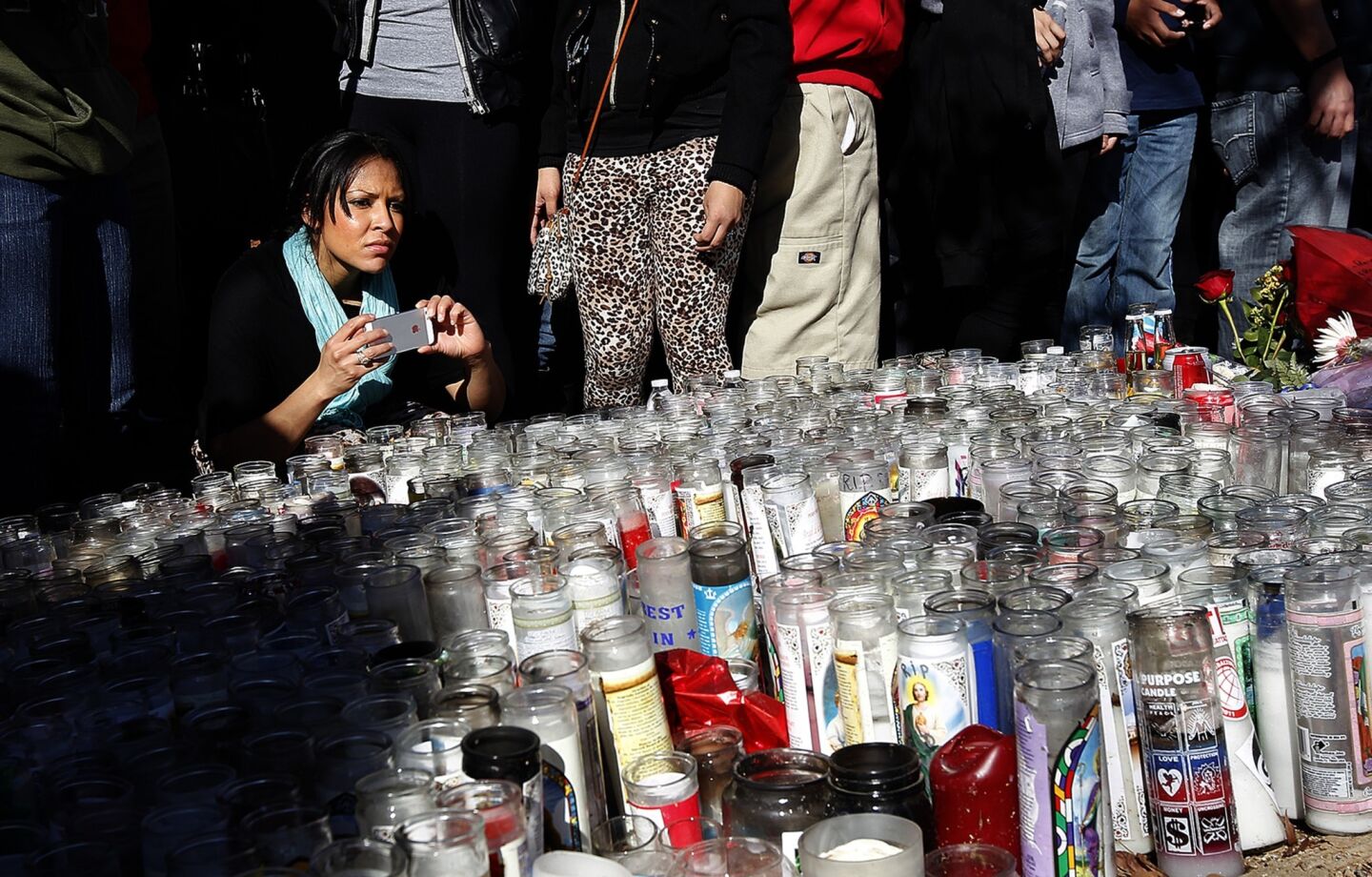 Fans including Ivon Barron of South Gate, left, visit the memorial to Paul Walker, whose early death in a car crash is similar to that of James Dean more than 50 years ago.
(Christina House / For The Times)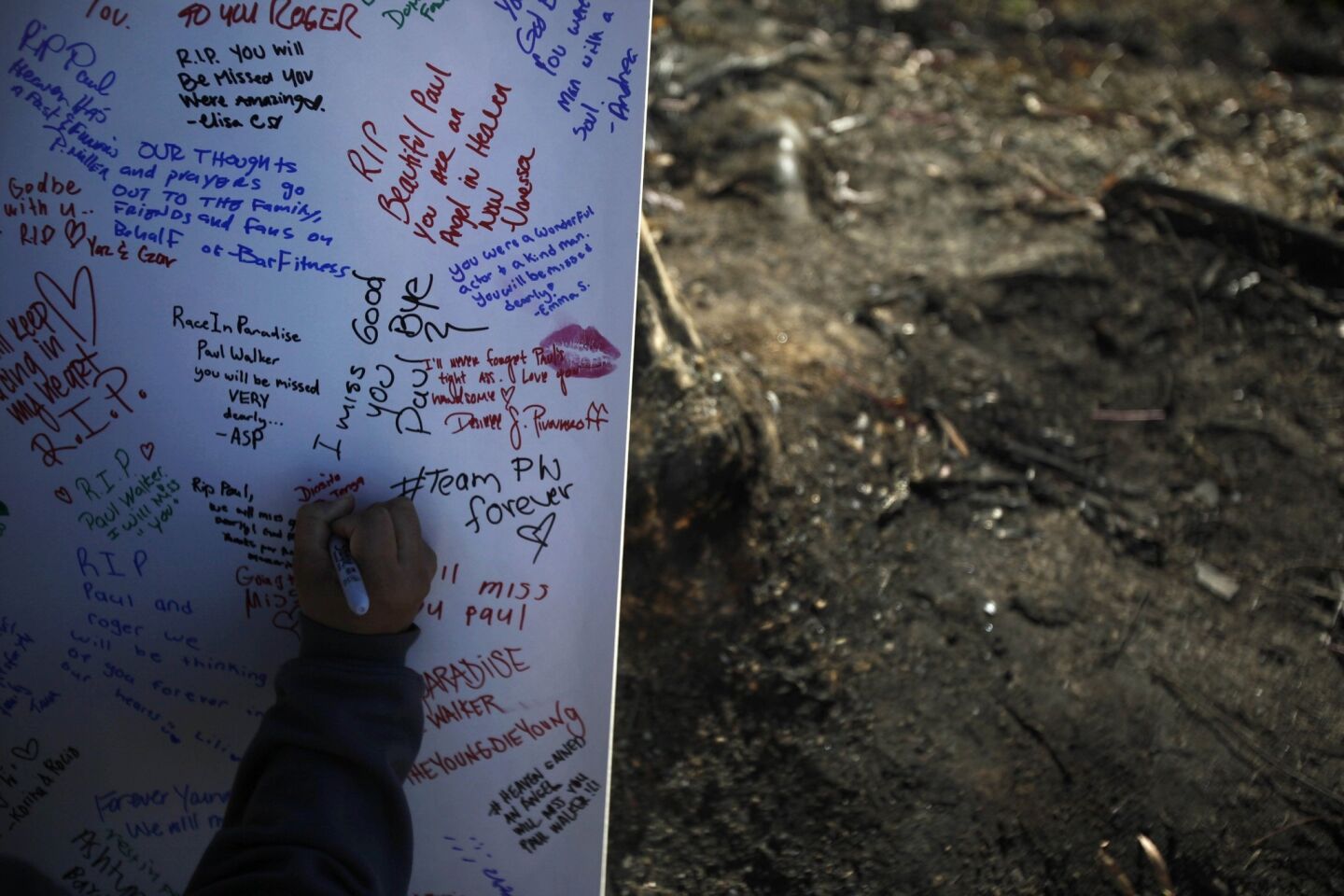 The smell of the burned Porsche still lingered in the air Sunday morning as fans set up a makeshift memorial at the crash site on Hercules Street, near Kelly Johnson Parkway, in Santa Clarita.
(Michael Robinson Chavez / Los Angeles Times)
"Fast and Furious" memorabilia was placed alongside candles and flowers.
(Michael Robinson Chavez / Los Angeles Times)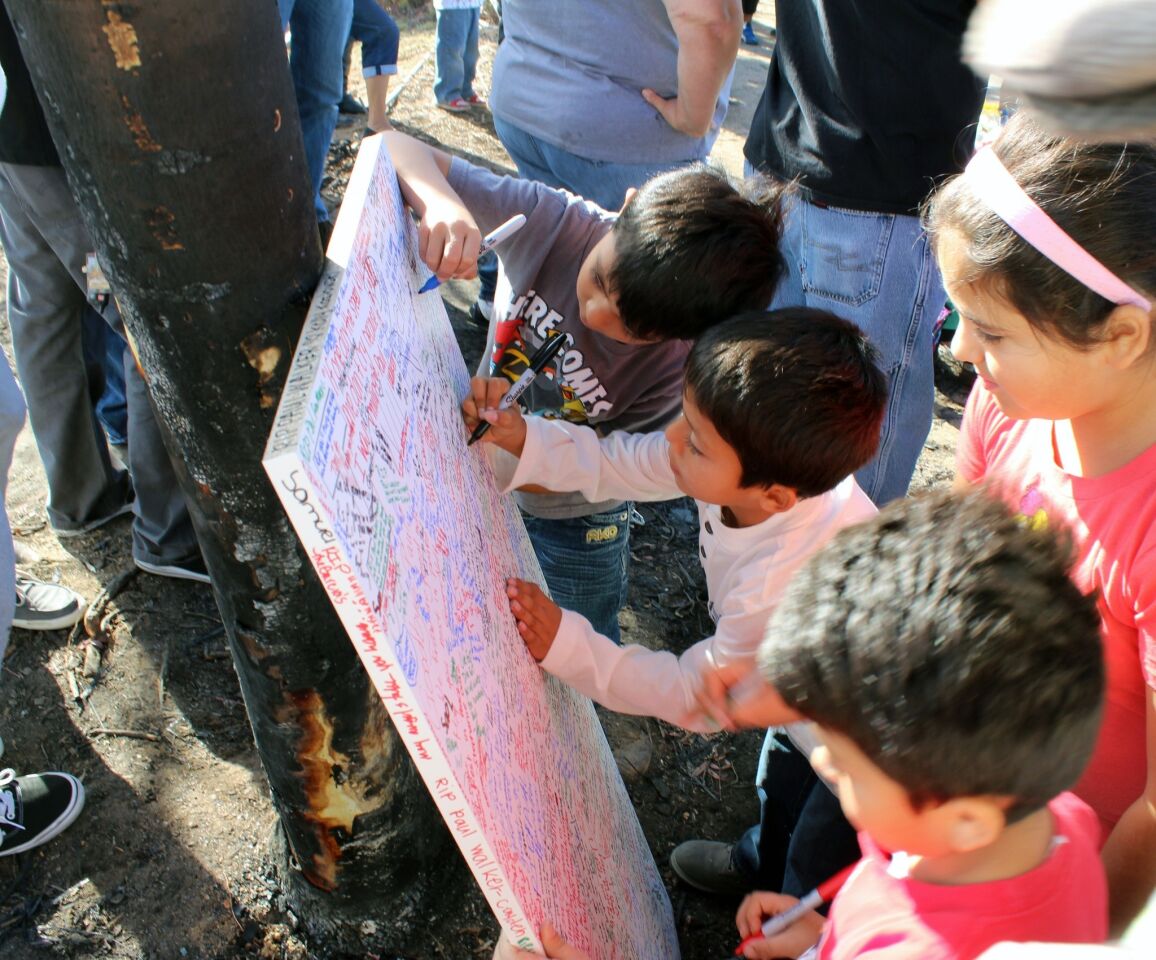 The fiery crash left charred trees in the secluded area near a business park.
(Ryan Fonseca / Associated Press)
The four-lane road up the hilly street has signs warning drivers to slow down as they approach an uphill curve near the site of the accident.
(Michael Robinson Chavez / Los Angeles Times)
At the time of his death, Walker, who also starred in "Pleasantville" and "Varsity Blues," was working on the seventh film of the "Fast and Furious" franchise.
(David Buchan / Getty Images)
Joel Perez, 23, another fan who gathered at the site Sunday, said Walker's "gone but he'll never be forgotten because there are so many people that look up to him."
(David Buchan / Getty Images)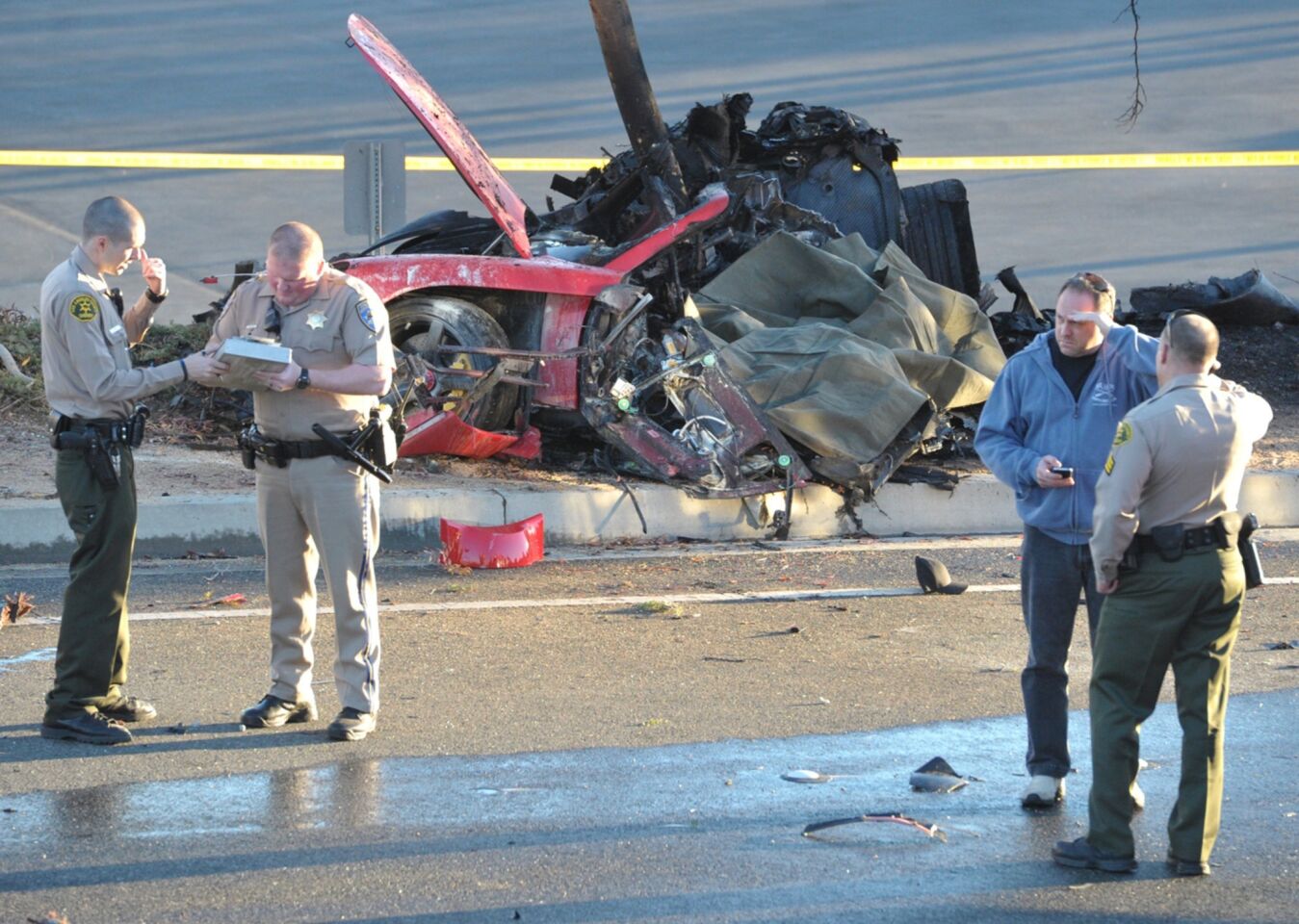 Speed may have been a factor in the crash, which occurred about 3:30 p.m. Saturday on a normally quiet road with a 45-mph speed limit, authorities said.
(Dan Watson / Associated Press)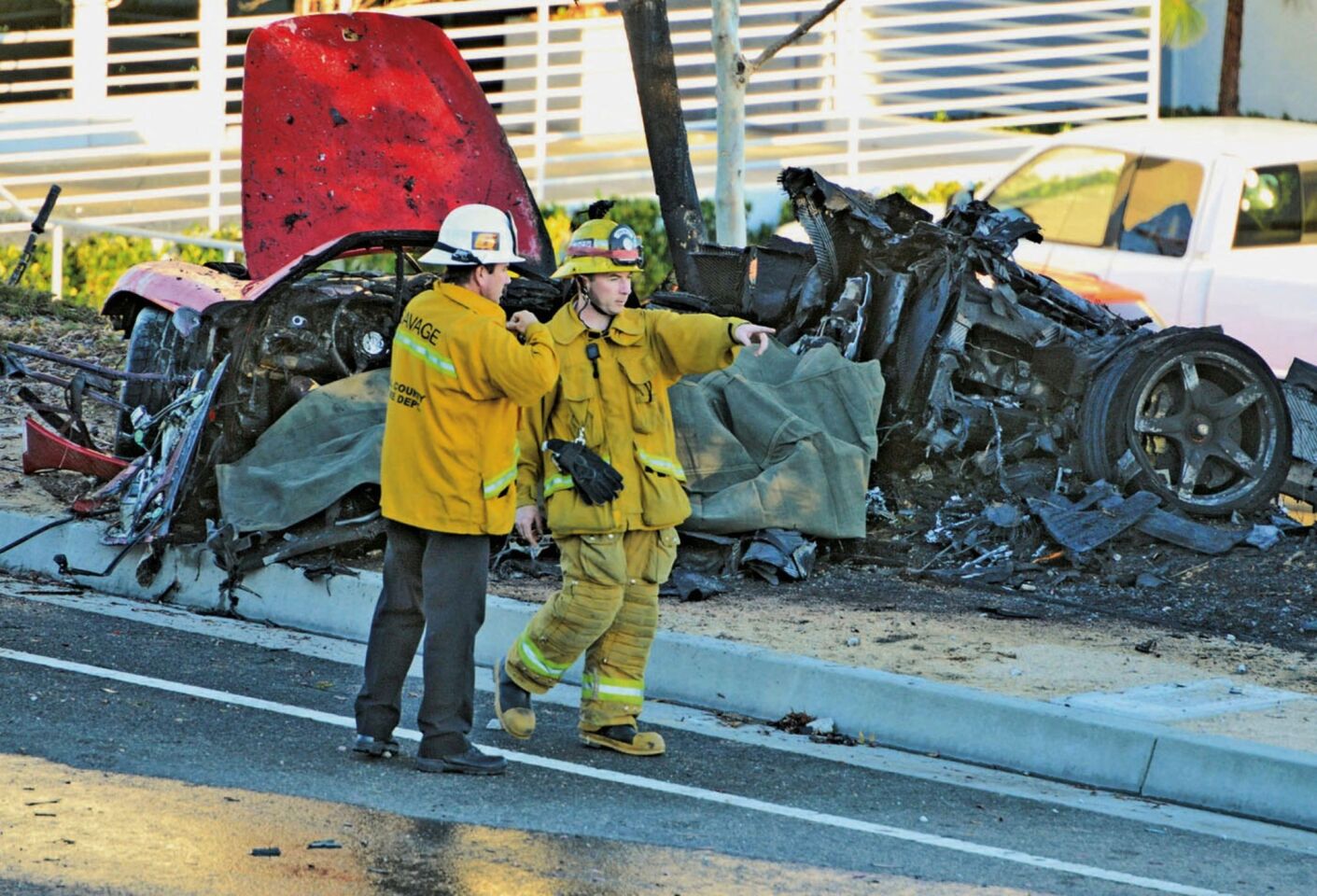 Officials say it could take some time before investigators know how fast a Porsche was traveling when it crashed in Santa Clarita on Saturday, killing "Fast & Furious" actor Paul Walker and another man.
(Dan Watson / Associated Press)
Two men pleaded no contest Tuesday to stealing the roof panel from a Porsche Carrera GT that "Fast and Furious" actor Paul Walker was riding in when he died in a fiery crash last year in Santa Clarita.
Jameson Brooks Witty, 18, and Anthony Edward Janow, 26, face up to six months in jail on misdemeanor charges of destroying evidence and resisting or delaying a police officer. Janow also pleaded no contest to felony grand theft, Witty to misdemeanor grand theft.
Authorities say that on the night of Nov. 30, the pair stole the roof panel from a tow truck carrying the destroyed Porsche away from the crash site -- even after a sheriff's deputy told them they couldn't take any vehicle parts.
The tow truck driver -- who had been stopped at a red light when the theft occurred -- reported it to authorities, officials said. Search warrants were served, and investigators found some of the parts at a home in Canyon Country.
A photo posted to an Instagram account for @jamesonwitty showed what the user claimed to be a piece of the Porsche from the crash: "Piece of Paul walkers car, took it off a tow truck at a stop light…#paulwalker" #rip #comeup."
A second message posted on the same account offered an apology, in which the car enthusiast said he took the roof to make a memorial out of it.
"Paul was a childhood idol to me and many. At the time I was not thinking about the consequences it could have, I never wanted it to be like this I wasn't going to sell the piece to make a profit," the message reads. "Nobody in this world is perfect, we all make mistakes. Some bigger than others."
Walker, 40, died Nov. 30 from a combination of traumatic injuries and burns after the Porsche crashed into a light pole in Santa Clarita and erupted in flames.
Roger Rodas, 38, Walker's financial advisor and friend, was behind the wheel of the high-performance 2005 Porsche when it crashed. He was killed by the impact alone, a medical examiner concluded.
A Los Angeles County Sheriff's Department's report determined that the sports car was traveling at more than 90 mph.
Superior Court Judge Lloyd Nash indicated Whitty and Janow could each face about 180 days in jail, according the Los Angeles County district attorney's office. Witty is due back in court for sentencing Aug. 14, Janow on Oct. 23.
For breaking California news, follow @JosephSerna.
---
The stories shaping California
Get up to speed with our Essential California newsletter, sent six days a week.
You may occasionally receive promotional content from the Los Angeles Times.