Paul Walker's fans rally at Valencia crash site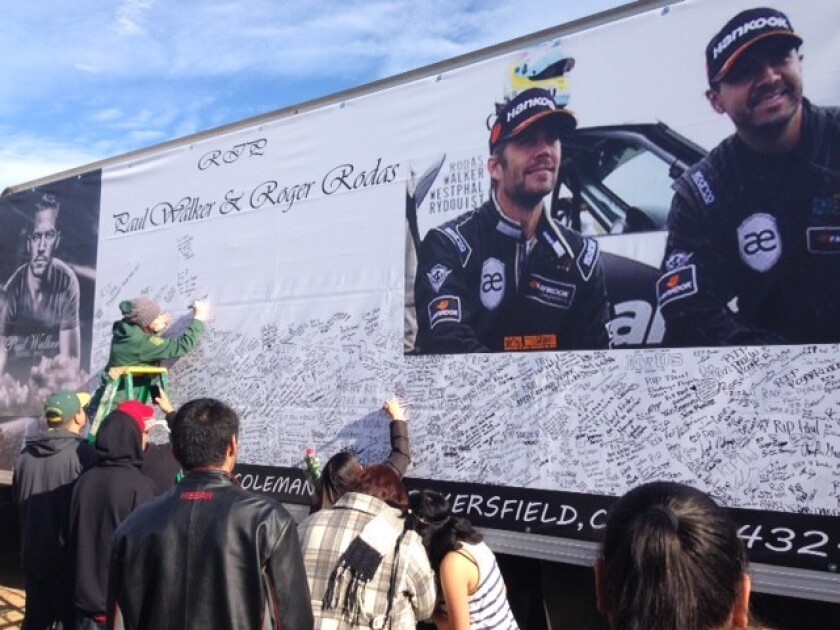 Juan Coscarart is such a big fan of "Fast and Furious" actor Paul Walker that he spent four years building a replica of the 1994 Toyota Supra that Walker drove in the first film in the popular series.
"Anybody who knows anything about cars piles around it," Coscarart said of his vehicle. "The car is a celebrity in itself."
The 31-year-old contractor for Southern California Edison was among hundreds of fans who attended a memorial rally and car cruise Sunday at the site in Valencia where Walker and his friend Roger Rodas were killed in a car crash Nov. 30.
"These people have touched so many people in their lives," he said. "These people were unique."
Fans lined up near a makeshift memorial that includes hundreds of bouquets of flowers placed along the spot where Walker and his friend Rodas were killed on Hercules Street. Some wore T-shirts with photos of Walker and his co-stars.
Davin Smith, 31, and his girlfriend, Yoli Perez, 21, were among those gathered at the site.
"Unfortunately we're here for a tragic reason, but it's an opportunity" for car enthusiasts to show off their vehicles, he said, as a line of revving muscle cars and motorcycles paraded down the street past the crash site.
Down the hill, in the parking lot of the North Park Community Church, fans climbed on a ladder to sign a large canvas — with photos of Walker and Rodas — stretched over the side of a big-rig trailer.
Walker, 40, and Rodas, 38, were killed when Rodas crashed his 2005 Porsche Carrera GT into a pole and a tree near Kelly Johnson Parkway. Walker was a passenger in the vehicle.
The two had decided to go for a ride in the 600-horsepower car after attending a charity event sponsored by Reach Out Worldwide, Walker's nonprofit organization that provides assistance for disaster victims around the globe.
Walker died from a combination of injuries and burns suffered in the crash, according to coroner's officials. Rodas' death was the result of "multiple traumatic injuries."
Sheriff's officials said speed was a factor in the crash, but there was no evidence the pair were involved in a street race.
Investigators are still trying to determine exactly what caused the crash and whether there was possible mechanical failure, causing Rodas to lose control.
The results of toxicology tests are not expected for six to eight weeks.
ALSO:
Interstate 5 reopened with CHP escorts
Cold snap blamed for homeless deaths, road closures, citrus losses
Paul Walker tribute is expected to attract thousands, organizers say
samantha.schaefer@latimes.com
---
The perils of parenting through a pandemic
What's going on with school? What do kids need? Get 8 to 3, a newsletter dedicated to the questions that keep California families up at night.
You may occasionally receive promotional content from the Los Angeles Times.