Murder trial starts for owner of pit bulls that mauled woman to death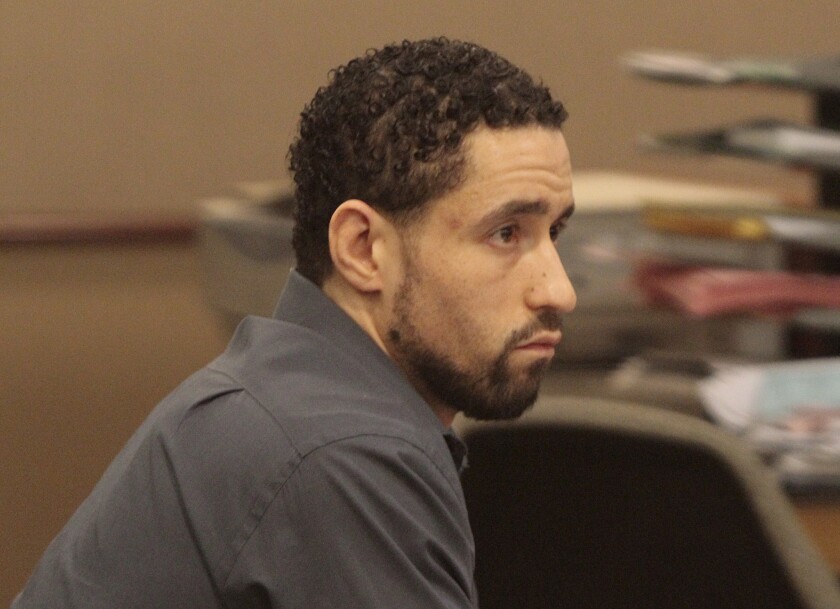 To prosecutors, Alex Donald Jackson was a small-town drug dealer who did nothing to prevent Pamela Devitt, 63, from being mauled to death by four of his pit bulls -- despite being warned on several occasions about how violent and dangerous the dogs could become.
To family friends and defense attorney Al Kim, Jackson was a kind-hearted animal lover who cared for stray animals in a desert community notoriously used by city dwellers as a dumping ground for unwanted dogs. He had no idea the animals were capable of the violent May 2013 attack that an autopsy revealed left Devitt with between 150 and 200 puncture wounds.
That distinction -- whether Jackson, 31, knew the dogs were dangerous -- is central to determining whether he is guilty of second-degree murder in Devitt's death.
Jackson appeared in an Antelope Valley courtroom Wednesday afternoon, where, in addition to murder, he is on trial for cultivating marijuana, possession for sale of psychedelic mushrooms and assault with a deadly weapon from a separate January 2013 incident in which he's accused of throwing a rock at a horseback rider after his dogs attacked the rider's horse.
During opening statements, prosecutors said Jackson's dogs were involved in at least seven other altercations in 18 months leading up to the attack on Devitt. Jackson disregarded repeated warnings that his dogs would jump the fence that enclosed his front yard and attack passersby, prosecutors said.
"When something like this happens, it's never the dog's fault. They're animals. They act on instinct," Los Angeles County Deputy Dist. Atty. Ryan Williams said. "It's the owner's fault."
Countering Williams' assertion that Jackson had several warnings before Devitt's attack, Kim said nearly all the previous encounters that will be detailed by the prosecution involved horses and never directly threatened human life. Animal control officials visited Jackson's home and took issue only with the fact that the dog's were unlicensed, he said.
"He had no idea they could even do something remotely close to this," Kim said, imploring jurors to not be emotionally swayed by gruesome images from Devitt's attack and instead to allow common sense to guide their decision-making.
"He accepts his fair share of his responsibility. He feels contrite," Kim added. "But just because a lady died doesn't make my client a murderer."
Jackson remains in custody on $1-million bail. Wearing in a gray dress shirt and slacks, he sat mostly expressionless, occasionally whispering into his attorney's ear.
In graphic testimony, witnesses reconstructed the aftermath of the attack.
Devitt and her husband, Ben, had started walking in the morning to better their health before an anticipated move up north to be closer to one of their children. About 9 a.m. on May 9, 2013, Devitt set out alone on what was known as her shorter route, which took her by 115th Street and Avenue S in Littlerock.
It was there, a stone's throw from Jackson's home, that she was "mauled to death in the roadway," Williams said.
Witness Martha Lackey spotted the pack of dogs as she closed in on 115th Street in her Ford F150 pickup with her chihuahua. "From a distance it looked like trash with animals around it," she told the jury, visibly shaken. "When I got closer, it was a person with four pit bulls around it."
As Lackey neared, the dogs lunged toward her vehicle, angling for her chihuahua through the open windows. She threw the pickup in reverse, putting her a safe distance away. Police received her 911 call at 9:28 a.m.
"There's four pit bulls attacking a lady," Lackey told the operator, gasping for breath. "She's still alive, though. She needs help."
When sheriff's deputy Jason Brandenburg responded minutes later, one pit bull still picked at Devitt's body as he approached. He fired two rounds when the dog came at him, and eventually chased it out of sight and into the desert landscape.
Blood stained the paved road. Devitt's shredded clothing, water bottle and sneakers lay strewn in the street. Some bites went to the bone.
Devitt was alive, able to open her eyes and nod yes or no when she was loaded into the back of an ambulance. But four minutes into the 23-minute ride to Antelope Valley Hospital in Lancaster, firefighter-paramedic Kenneth Miller testified, Devitt went into full cardiac arrest.
Two friends who said they had known Jackson since preschool said he never intended for the dogs to become violent or for the attack to happen, contrary to the prosecution's depiction of him. The friends declined to have their names published.
They told of a person with a soft spot for animals in an area where they are routinely dumped. They recalled a person who, even in his early teens, would go out of his way to rescue wandering chickens.
One lasting image of Jackson in their memory, they said, is of him walking out into the desert sun, taking food to stray dogs.
For breaking news in Los Angeles and the Southland, follow @debbietruong or email her at debbie.truong@latimes.com.
---
Life is stressful. Our weekly mental wellness newsletter can help.
You may occasionally receive promotional content from the Los Angeles Times.