Domino's driver's pizzas stolen; bloodhound catches teens chowing on the evidence, police say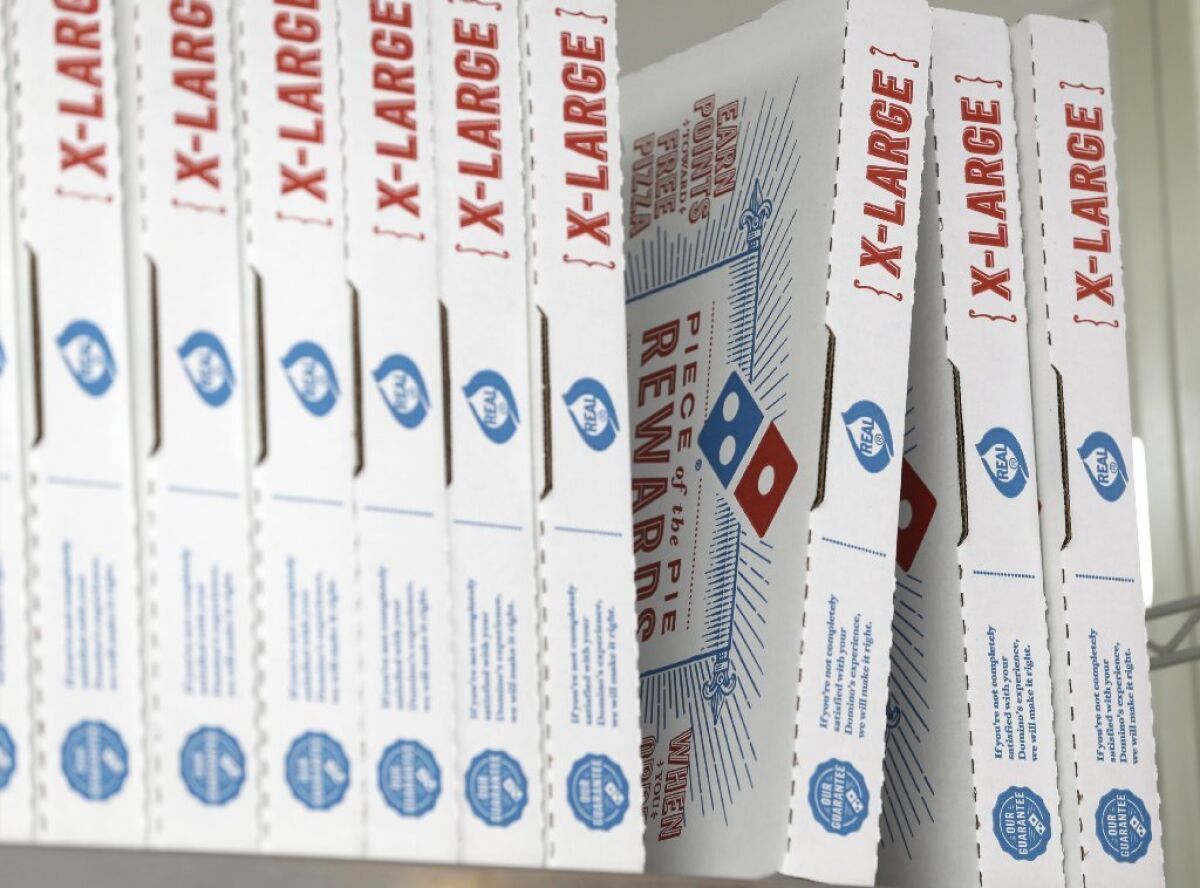 Call it the case of the purloined pizzas.
A Domino's Pizza delivery man was robbed just after midnight Wednesday in a ruse concocted by a pair of teens, according to the San Bernardino County Sheriff's Department in Rancho Cucamonga. The teens disappeared into the night with all the delivery man's pizza orders, deputies said.
But detectives gave the case of the missing pizza pies to Dare, a police bloodhound with a nose for tracking any scent for miles.
Not long after the robbery, the hound's sharp sense of smell led him to teens who deputies allege were chowing on the stolen pizzas.
---
THE CRIME
Pizza delivery to abandoned house
It was 12:10 a.m. Wednesday when deputies got a report of a strong-arm robbery on Bari Court in Rancho Cucamonga.
The Domino's driver had been called to deliver some pizza to a home that turned out to be abandoned, deputies said. A teen was waiting outside as the delivery driver walked toward the home.
A second teen approached the pizza man from behind and hit him over the head with a bottle, deputies said.
The teens snatched the pizzas from the man's arms as well as the other pies in his car and took off, deputies said.
THE BLOODHOUND GETS THE CASE
Scent leads to teens and … pizza
Detectives were determined to find the teens and stolen pizzas, so they called in reinforcements.
Deputy Ryan Girard and his dog, Dare, arrived at the abandoned home and got to work, deputies said.
Dare picked up the teens' scent and followed it for roughly a mile to a home in the 11800 block of Trapani Drive, according to the Sheriff's Department.
The investigating partners found two teens inside the garage eating pizza, deputies said. Two other teens were standing near the home.
"Through investigation, deputies located evidence linking two of the juveniles to the crime," the Sheriff's Department said in a statement.
SUSPECTS ARRESTED; DOG HAS HIS DAY
But did he get a treat?
Deputies arrested a 17-year-old Rancho Cucamonga boy and a 17-year-old Fontana boy on suspicion of robbery, according to the Sheriff's Department. The teens were taken to San Bernardino juvenile hall.
It is unclear whether Dare got a treat for solving the pizza heist.
---
Life is stressful. Our weekly mental wellness newsletter can help.
You may occasionally receive promotional content from the Los Angeles Times.