L.A. Port police chase ends with suspect driving off San Pedro cliff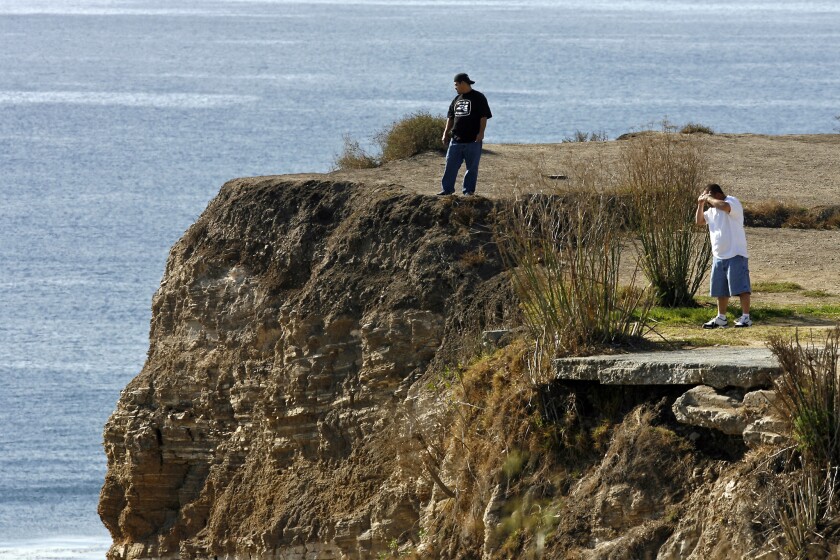 Like something out of a Hollywood movie script, a man fleeing police in San Pedro barreled his vehicle through a fence and over a seaside cliff to the rocks 300 feet below, authorities said Tuesday.
And if that wasn't enough – he survived.
"I said it three times, 'I don't believe it,'" said Port of Los Angeles spokesman Phillip Sanfield, on recalling his reaction to learning of the incident. "Are you sure it's a 300-foot cliff?"
The bizarre, dramatic chase Monday night was borne out of the routine – a minor traffic accident in Wilmington at Pacific Coast Highway and Alameda Street about 11 p.m., Sanfield said.
A pair of Port of L.A. police officers were directing traffic while the LAPD worked the crash site when a driver, described as a man in his 30s in a white Toyota Prius, began arguing with the traffic officers who were trying to redirect him.
The man refused to listen and then suddenly tried to run them down, Sanfield said. The officers jumped out of the way and the man sped off; the officers ran into their car and the chase was on.
The Prius was clocked at 80 mph when it led police into San Pedro, Sanfield said. The driver turned onto Gaffey Street.
"If you look at a map, you'll see Gaffey ends at the ocean," Sanfield said. "Where Gaffey ends, he kept going."
The car smashed through a fence and down to the rocks about 300 feet down. Though more police joined the chase, the two officers who started the pursuit were closest to the Prius and rushed down a foot trail to see if he was OK.
Not only was the driver conscious when the officers pulled him out, he stood up and walked up the trail with them, where a gurney was waiting, Sanfield said.
The man was being treated at a hospital Tuesday for broken bones. After he is released, he will be booked into County Jail on suspicion of assault with a deadly weapon, reckless driving and possibly other related crimes, Sanfield said.
The car, which was destroyed but had not been stolen, was recovered.
For breaking California news, follow @JosephSerna.
---
The stories shaping California
Get up to speed with our Essential California newsletter, sent six days a week.
You may occasionally receive promotional content from the Los Angeles Times.