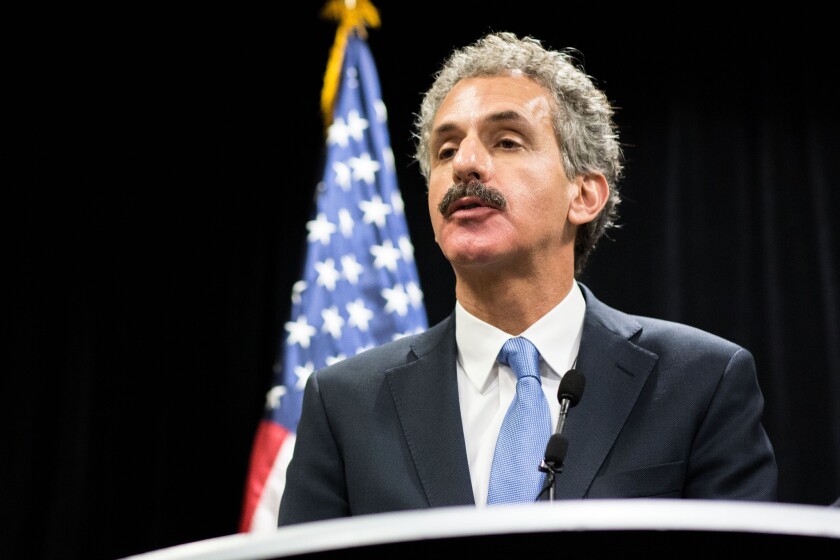 The Los Angeles city attorney's office announced Monday that it is aggressively enforcing a new state law requiring pregnancy clinics to inform clients of their reproductive rights.
City Atty. Mike Feuer said his office is working in coordination with the Los Angeles County Department of Consumer and Business Affairs to ensure clinics follow the law because "women need timely, accurate and complete information" on their family planning options.
"We're not going to wait," Feuer told reporters. "Waiting for a day or a week or a month to enforce this law threatens the health and safety of women who during that time period may not be informed of their choices."
The law, dubbed the Reproductive Fact Act, requires licensed facilities primarily providing family planning or pregnancy-related services to notify customers that the state offers free or low-cost access to a variety of family planning services, including prenatal care, abortion and contraception.
Unlicensed facilities offering pregnancy-related services must provide notice that they are not licensed by the state as medical facilities and have no medical personnel overseeing services under the new law, which went into effect in January.
Pregnancy centers that fail to follow the law could face a $500 fine for the first offense and $1,000 for each subsequent violation, the city attorney's office said.
Feuer's office sent notices to six pregnancy centers last week as the first step in ensuring the law is enforced, he said, because other clinics in the state have tried to dissuade women from terminating pregnancies.
It is not clear whether the six clinics that received letters have violated the law, according to the city attorney's office. The letters simply serve as notices that the clinics have to comply with the law, Feuer said.
"We are in compliance, we've been in compliance since Jan. 1 and we have no intentions of challenging that law," said Talitha Phillips, chief executive of Claris Health, which received one of the letters. "It doesn't really change our operations in any way at all. Our clients have always been made aware of that information."
Some facilities have sued to prevent the law from being enforced in the state, arguing that requiring such disclosure violates their 1st Amendment rights by forcing them to contradict their religious principles and antiabortion message to clients.
"The 1st Amendment does not allow the government to target its political opponents and force them to speak a message they disagree with," said Matt Bowman, senior counsel at the Alliance Defending Freedom, which is representing multiple clinics in their suits against the new law.
A government that does that, Bowman said, "threatens everyone's freedom of speech." At least three of the six clinics contacted by the city attorney's office are fighting the law with the organization's help.
Some cities in California have opted not to enforce the law until the challenges from those centers have made their way through the court system, Feuer said.
An investigation by the National Abortion Rights Action League found that online ads for many centers across the country were vague and misleading, and that some paid to advertise their facilities to people searching online for information about abortion. When NARAL sent trained investigators posing as possibly pregnant women to 45 of the estimated 167 pregnancy counseling centers in California, many gave them medically inaccurate information about the risks and ramifications of getting an abortion.
At a news conference Monday morning, Los Angeles City Councilwoman Nury Martinez said her office has received complaints about at least two clinics in the San Fernando Valley. One woman called Martinez's office and said she was never told abortion was an option, Martinez said.
"If a pregnancy center keeps information from a woman, or pressures her into making ill-informed decisions about her pregnancy, they are creating dangerous delays and roadblocks," Martinez said.
The clinics are often deceptive and take advantage of women when they are at their most vulnerable, she added.
In a statement, NARAL praised the city attorney's decision to stand up against "anti-choice bullies that are using the courts to interfere with women's reproductive health choices."
Other cities should follow Los Angeles' lead, the organization said.
"It is the law of the land," said Amy Everitt, the group's state director. "Violators who deliberately withhold that information should be held accountable."
For more local and breaking news, follow me on Twitter: @sarahparvini.
---