Inmate rips out her own eye and eats it: Report slams mental healthcare in California prisons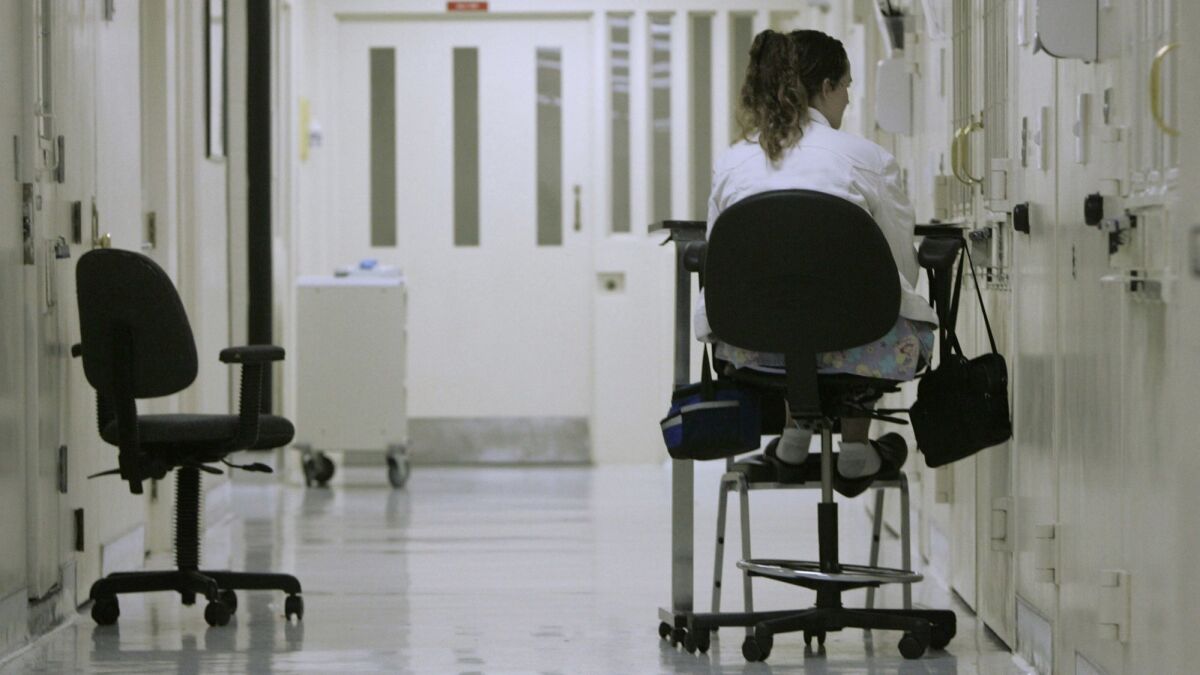 The woman sitting in a Chino prison cell had screaming fits every 15 minutes for four hours before she finally lay on the floor and ripped out her own eye.
Guards rushed in amid blaring alarms, but they were too late. She had swallowed it.
The woman, identified only as Inmate Patient X in federal court documents, had not been given medication despite being listed as "psychotic" while at the California Institution for Women in Chino in 2017.
A report written by Dr. Michael Golding, the chief psychiatrist for the prison system, detailed the gruesome incident in a report made public last week to highlight how the state allegedly has failed to care for some of its most vulnerable inmates. Golding alleges in the 161-page document that the California Department of Corrections and Rehabilitation has concealed issues surrounding the adequacy of mental healthcare and staffing in prisons from officials who could mandate changes.
"This group has created a biased and inaccurately positive picture of what is actually a troubled system of care," Golding wrote.
The report, based on his visits to various state prisons, was filed in federal court as part of a lawsuit against the state that has spanned nearly three decades and asserts that psychiatric care in prison is a constitutional right.
The report has come at a precarious time for the state prison system. A federal court determined in 1995 that prisons had failed to provide proper treatment for thousands of mentally ill inmates.
A judge at the time ordered the appointment of a "special master" to oversee psychiatric care reforms and to work with experts to develop improved programs. Headway in recent years has led both sides to anticipate a return to state oversight, but the latest report could throw a wrench in that plan.
Michael Bien, an attorney representing state prisoners receiving mental health treatment in the case, said he was prepared to accept a proposal to reduce psychiatric staff positions by nearly 20% when he received Golding's report. That agreement has since been called off.
"The bigger impact is we felt we were ticking off the last couple of issues before we could end the case," Bien said. "Now I have to go back and check all those assumptions. The most serious thing is the allegation that misrepresentations were made to the court. That really forces all of us to question what's been going on."
One of the alleged central problems Golding identified in his report is that patients frequently aren't being seen on time or in spaces that give them the freedom to talk openly with mental health staff.
The report alleges that the state Department of Corrections mischaracterized how frequently inmates are seen by psychiatrists in data provided to the court in 2017 and 2018, which boasts that 90% and 94% of appointments in those years, respectively, were on time. Golding contends that less than 50% of inmates are seen on time by mental health staff.
Patients also aren't brought to psychiatry appointments in confidential offices, Golding wrote. Instead, the psychiatrist searches the prison yard looking for patients or communicates with them through a crack in a nearly solid metal cell door where conversations can be overheard by others, according to Golding. The system, he wrote, is "by no means conducive to good patient care."
Sometimes inmates face significant delays between scheduled appointments because they are transferred to new prisons, Golding said. With each transfer, the agency resets the clock on appointment times, so if an inmate is transferred multiple times, he or she can wait up to nine months between psychiatrist appointments, despite the court's having mandated that patients wait no longer than three months between appointments, the report states.
Mental healthcare inside prisons isn't a waning issue for the state. A study published by Stanford Law School in 2017 notes that even as the overall state prison population declines, the prevalence and severity of mental illness among those in the state prison system is on the rise. More than 30% of California prisoners currently receive treatment for serious mental disorders, an increase of 150% since 2000, according to the study.
Vicky Waters, press secretary for the California Department of Corrections and Rehabilitation, rejected Golding's allegations in a statement on Friday.
"The department strongly disagrees with this individual's allegations, and looks forward to a fair and thorough review and hearing of all the facts," she said. "We have worked closely with lawyers representing prisoners, as well as the court appointment monitors, for many years to improve the mental health of inmates, and our dedicated and well-trained staff will continue to provide appropriate care and treatment."
Golding alleges another key problem is that medical decisions, including the drugs inmates need and the type and frequency of care they require, often are assigned to psychologists inside prisons rather than psychiatrists, who are medical doctors. This can lead to discrepancies in decisions that can be problematic for patients, he said.
In the case of the woman who ripped out her eye, the psychologist who evaluated her did not call a psychiatrist to administer drugs, despite doctors later saying the patient had given every indication that she needed medication immediately even if it was given by force. Nurses and psychologists later said the failure to provide medicine was not a root cause of the patient removing her eye.
"The tragedy is that any competent psychiatric physician or general medical physician would have medicated the patient, and likely the patient's eye would still be in her head had that happened," Golding wrote in his report.
Twitter: @Hannahnfry
---
The stories shaping California
Get up to speed with our Essential California newsletter, sent six days a week.
You may occasionally receive promotional content from the Los Angeles Times.