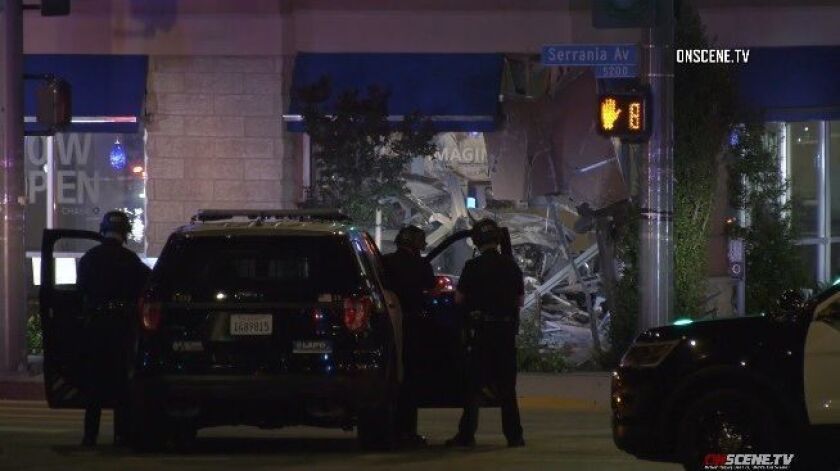 A man who led authorities on an hourlong pursuit through Los Angeles County that ended when the BMW SUV he was driving slammed into a Chase Bank in Woodland Hills was taken into custody after surrendering to police early Tuesday.
The pursuit began shortly after midnight when a police sergeant tried to stop the BMW on Ventura Boulevard in Van Nuys for a traffic violation. The driver failed to stop and brandished what looked like a gun, said Det. Meghan Aguilar.
The driver, who has not been identified, led dozens of patrol cars along the 101 and 134 freeways before exiting on Van Nuys Boulevard, where the pursuit continued on surface streets, Aguilar said.
The driver pointed what appeared to be a firearm at officers several times during the pursuit, Aguilar said. Authorities have not determined whether it is a real gun or a replica.
A California Highway Patrol cruiser performed a Pursuit Intervention Technique, or PIT, maneuver — attempting to clip the car's rear fender in an effort to stop the vehicle — on the SUV at an intersection, but it was not successful.
The motorist continued driving on Ventura Boulevard before slamming into a Chase Bank near Serrania Avenue and Ventura Boulevard in Woodland Hills, according to video from the scene.
The man sat in the car amid the wreckage and refused to exit. At one point he appeared to light a cigarette and threatened an explosion with a gas canister, officials said.
Crisis negotiators, with help from the man's family, persuaded him to surrender shortly after 4 a.m. He was taken to a hospital for injuries suffered in the crash, Aguilar said.
Twitter: @Hannahnfry
---