'I can't believe how nice these people are': In Sierra Nevada town that had close brush with flames, firefighters bask in thanks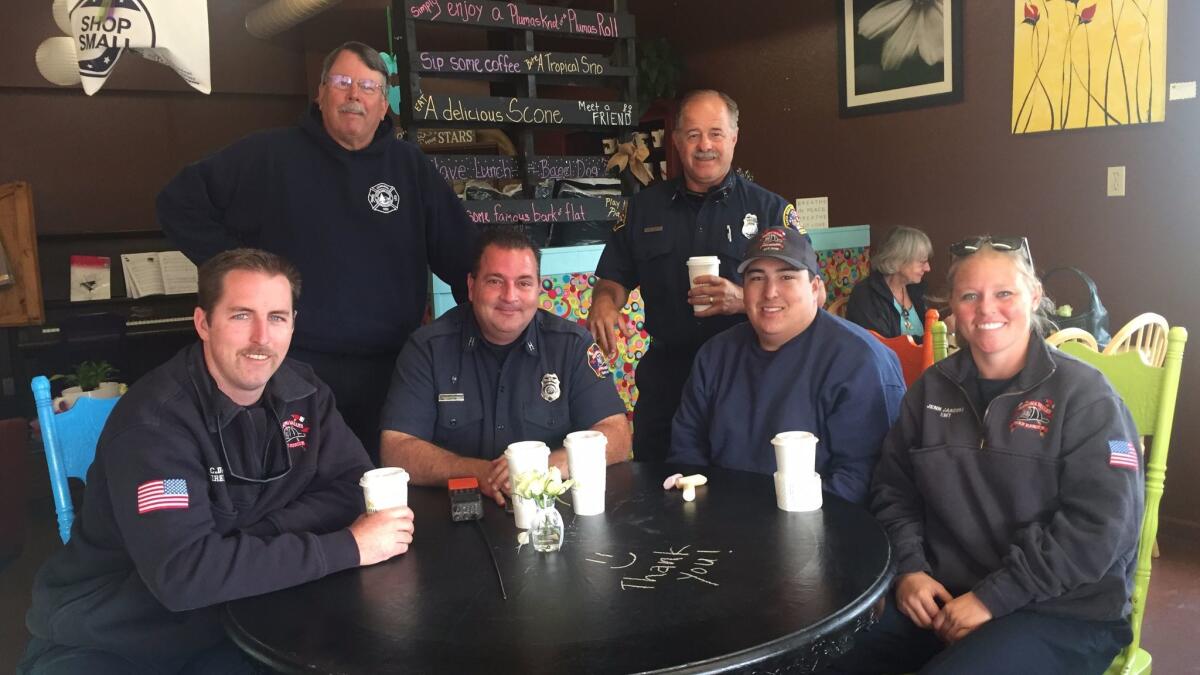 Reporting from Quincy, Calif. —
In his 42 years of fighting fires, Dan McCabe has not seen anything quite like the love that greeted hundreds of out-of-town firefighters who rolled into this small northern Sierra Nevada community last week when a wildfire got too close.
Children brought them Popsicles in the park. There were "cookies by the dozen," he said. Everywhere they went, people offered them free food.
The marquee at the town movie theater read, "THANK YOU FIREFIGHTERS." Thank you posters printed in the Feather River Bulletin newspaper hung in business and home windows. A church sign asked God to bless the firefighters.
And a sign down the road read, "You guys kick ash!"
"I can't believe how nice these people are," said McCabe, a captain with the Middletown-based South Lake County Fire Protection District.
Quincy has been on edge since July 29, when the Minerva fire began in the Plumas National Forest. When flames from spot fires reached Boyle Ravine, about half a mile from downtown, authorities issued a voluntary evacuation order for neighborhoods south of the Plumas County Courthouse. By Monday, the fire had scorched 4,307 acres and was 64% contained, with the voluntary evacuation order lifted.
Smoke filled the air in Quincy, but so, too, did gratitude.
More than 1,800 firefighters came to this Gold Rush town to fight the fire -- a huge influx for an area of about 4,200 people, where buildings date back to the 19th century.
The hotels are full; the restaurants are packed.
The main streets — where logging trucks regularly haul tree trunks through town — have been filled with fire engines.
"It's been crazy," said Brooke Dayton, working the cash register at the 76 gas station, which was offering free coffee, water and soda for firefighters and selling Minerva fire T-shirts to benefit the crews. The shirts have been flying off the shelves, she said.
"They're fighting really hard to save our town," Dayton, 30, said of the firefighters. "This is a major thing here. In my 16 years here, it's the closest fire has come."
In the Quincy Provisions bakery, candy store and coffee shop, firefighters filled every table Monday morning.
The day after the fire began, there was a long line of firefighters in the busy shop. A woman walked in and gave co-owner Amy Carey her credit card and said to pay for everyone's food and drinks. The day after that, Carey said, a man came in and asked if she'd heard of the concept of "paying it forward" and handed her an additional $100 for the firefighters. And then a pastor came in with more money.
"It just keeps coming," Carey said from behind the counter, where customers are greeted by lime-green walls, baked goods galore and a "Straight Outta Quincy" sign.
Staff put up a social media hashtag: #quincyissweetonfirefighters. Money poured in, even from former residents who had not lived here in decades, Carey said. By Monday, about $2,500 had been raised, she said.
"In this community, if anything goes on, there's a helping hand there, and everyone's going to make sure you have what you need," Carey said.
Firefighters who had never been to Quincy were charmed and vowed to come back — hopefully sans fire.
"Thank you, and see you on my next fishing trip," one shouted to Carey as he walked out.
Sitting in Quincy Provisions with a hot drink, surrounded by the firefighters taking up all the tables, Capt. Jack Thomas with the Santa Rosa Fire Department said he thinks remote mountain towns "understand more than other communities the risk of living in the wildland-urban interface."
"I've been doing this a long time, and it's amazing how hospitable everyone here is," said Thomas, who's been a firefighter for three decades and spent the last eight days in Quincy, focused on protecting structures.
Outside the shop, a large banner was signed by residents. "We love all you guys, and gals," read one signature. "Thanks, and remember wet stuff on the red stuff."
Twitter: @haileybranson
ALSO
San Bernardino County hotshot firefighter killed while battling Montana wildfire
The fight to save the gold-mining town of Mariposa from a monster fire
'Explosive' flames destroy 45 homes as 70,000-acre wildfire rages near Yosemite
Sign up for Essential California for news, features and recommendations from the L.A. Times and beyond in your inbox six days a week.
You may occasionally receive promotional content from the Los Angeles Times.