Rabbi says synagogue gunman's weapon jammed, preventing 'a blood bath'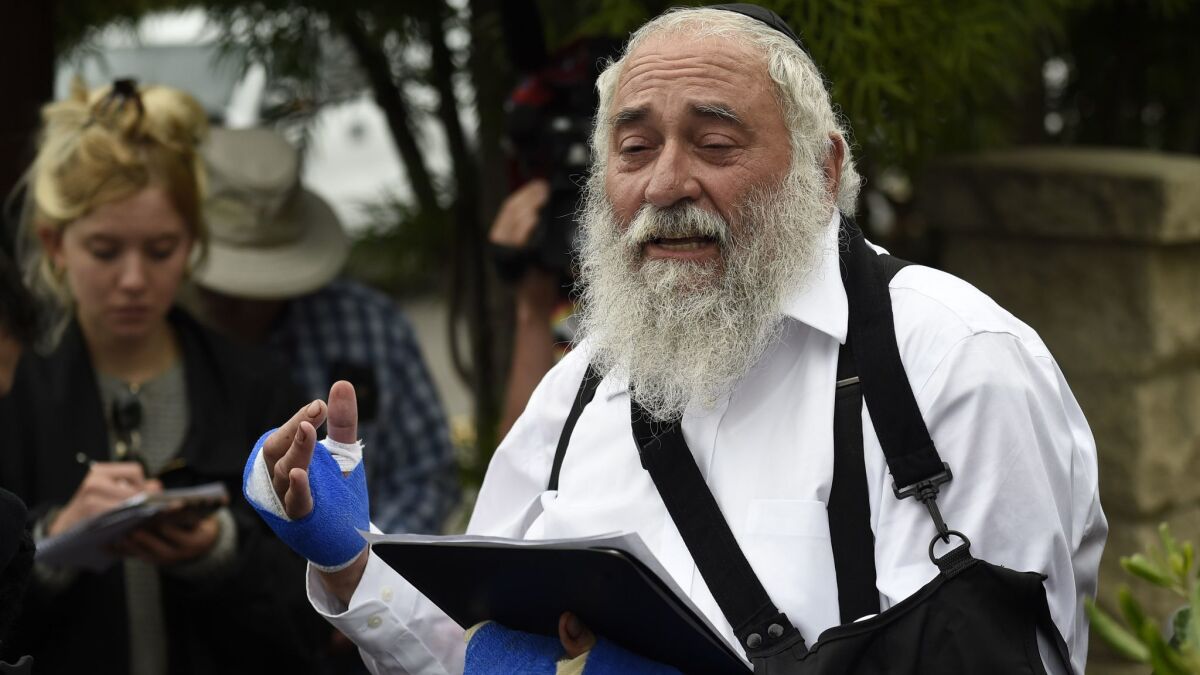 Reporting from Poway, Calif. —
The rabbi wounded in the shooting at a Poway synagogue Saturday said the bloodshed could have been much worse had the gunman's weapon not jammed.
Rabbi Yisroel Goldstein, speaking in an emotionally charged news conference Sunday in front of Chabad of Poway, described the attack, which left one woman dead and he and two other people wounded.
He said the gunman opened fire, fatally wounding longtime congregant Lori Kaye, 60, and blowing off one of the rabbi's fingers. Both of his hands were in bandages Sunday.
Goldstein said he feared the gunman, armed with a semiautomatic rifle, would enter another room where a large group was gathered for a memorial service or go out to where a group of children were playing.
But "miraculously, the gun jammed," he said. At that point, an off-duty Border Patrol agent gave chase and fired on the gunman as he sped away in his car.
"It could have been a blood bath," Goldstein said. "I don't want to think of it."
The rabbi said he had previously asked the Border Patrol agent to come to the temple armed, hoping that would provide an extra measure of protection.
Authorities arrested the suspected shooter, John T. Earnest, who they believe was motivated by hate and, a month ago, may have tried to burn down a mosque in nearby Escondido. Investigators were checking the authenticity of an anti-Semitic screed the 19-year-old Rancho Peñasquitos resident allegedly posted online before the 11:20 a.m. shooting.
The letter states a willingness to sacrifice "for the sake of my people." The manifesto talks of planning the shooting, saying it was inspired by the gunmen who killed scores of people at a Pittsburgh synagogue and two New Zealand mosques.
"How does a 19-year-old teenager have the audacity, the sickness, the hatred to publicize such anti-Semitism in his manifesto? How does he come here to a house of worship?" the rabbi said.
During the news conference, Goldstein said Kaye was a close family friend who had recently attended his daughter's wedding. Kaye was a former banker who helped Chabad of Poway finance construction of its campus.
Kaye "had unconditional love for all," he said.
When the gunman fled, Goldstein said he saw Kaye lying on the floor, her husband trying to provide aid.
"In my own interpretation, Lori took the bullet for all of us," Goldstein said.
Goldstein called the gunman a terrorist and said that he could not succeed.
"The best we can do to combat this is to grow, build, and be stronger, stronger, and stronger," he said. "We need to battle darkness with light."
He also said he was grateful for the huge outpouring of local support and thanked President Trump, who he said called and spent 10 or 15 minutes speaking with him on the phone. Goldstein said Trump shared condolences with him and brought him great comfort.
The violence came exactly six months after a gunman killed 11 people and wounded seven during Saturday morning Shabbat services at the Tree of Life Synagogue in Pittsburgh and underscored concerns about rising incidents of anti-Jewish hate.
Anti-Semitic incidents around the nation have been increasing since 2013, with the biggest all-time annual jump coming in 2017, when the tally climbed 57% to 1,986, according to the Anti-Defamation League.
The majority of those incidents were harassment, which rose by 41% to 1,015 incidents, including 163 bomb threats against Jewish community centers and synagogues. Vandalism rose by 86% to 952 cases. The number of physical assaults fell from 36 to 19.
RELATED: 'This is not Poway': San Diego suburb reels from synagogue shooting »
Goldstein called on people to send a message.
"Go to your synagogue. We need to fill up those rooms. We need to show them that terrorism will not prevail," Goldstein said, urging even the Jews who haven't been to synagogue in a long while to show up next weekend in solidarity.
---
Life is stressful. Our weekly mental wellness newsletter can help.
You may occasionally receive promotional content from the Los Angeles Times.