Water rescues, floods and power outages as rain drenches parts of Southern California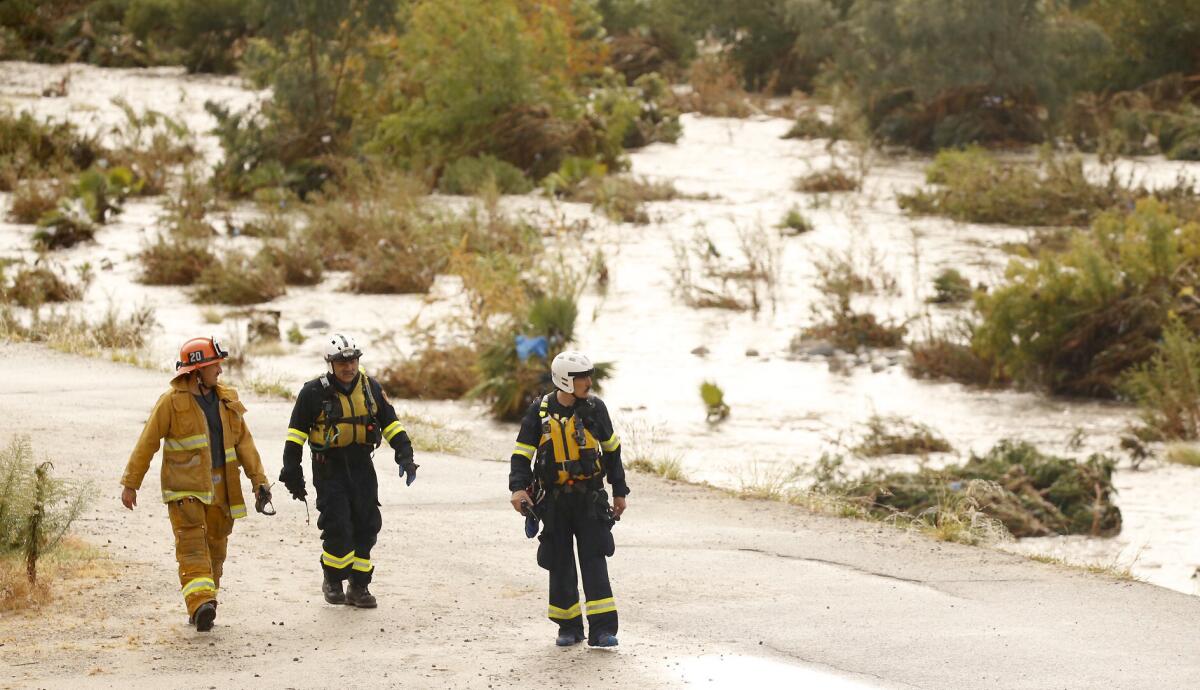 Thousands of Los Angeles residents were without power, countless commuters were jammed on freeways and at least 10 people were rescued from Southern California rivers Tuesday during a heavy rainstorm.
More than 7,300 L.A. Department of Water and Power customers from Watts, Westlake and surrounding communities still had no power at noon because of the storm, LADWP officials said. The utility estimated it would have power restored by 5:30 p.m.
An outage knocked out power to Caltrans water pumps that keep the 710 Freeway dry, leading to flooding near Gage Avenue, said Caltrans spokesman Patrick Chandler. The freeway was shut down for a short period until the southbound side gradually reopened.
The northbound lanes where the flooding was centered were reopened just after noon, the CHP reported.
Where the freeways were open, drivers still ended up in hazardous situations. The California Highway Patrol said that on Tuesday from 4 a.m. to noon there were 527 reported accidents on Southern California freeways. For the same time period last week, when it was sunny, there were 267 accidents.
In Orange County, a hillside in Silverado Canyon gave out under the morning downpour and briefly buried a road under four feet of mud stretching 15 feet across, said Orange County Fire Authority Capt. Shane Sherwood. The incident was one of three mud flows in the area that crews had to clean up before noon. No one was injured he said.
In the San Gabriel Valley, storm water washed out the ground beneath a home's garage, partially collapsing a wall and spilling debris into Rubio Wash, county public works officials said. The home was red-tagged and a railroad bridge project next to it has been stopped.
Some people even ended up in the water. Authorities reported making rescues in the Los Angeles, San Gabriel and Santa Ana rivers. At least 10 people were pulled out of the fast-moving waterways; there were no fatalities, authorities said. Coast Highway in Newport Beach was closed because of flooding.
In Long Beach, a 250,000 gallon sewage spill that started 33 miles upstream in San Gabriel closed all beaches citywide. The waters were to be closed for at least 24 hours until lab tests confirm the water is safe for swimming.
The rain was expected to lighten up by Tuesday afternoon, which customers at Square One at the Boathouse café at Echo Park Lake appreciated.
The sky was clearing, but Paris Yavuz, 27, working the counter at the cafe, had a lingering, annoying nuisance associated with the rain.
"My feet are wet," he said.
Yavuz said that when the cafe opened at 8, it was pouring. He walked from his home in Echo Park nearby, and got a kick out of people's reactions to the weather. They all wore lots of clothes and ordered hot drinks.
"No one's talking about it," he said. "It's just like quiet acceptance."
Outside the cafe, Joe Hartman, 57, was reading on his iPad, wearing a short sleeved shirt and shorts and drinking coffee.
He rode his bike over from where he's staying and dog-sitting for a friend nearby. He got a little wet but was glad he didn't have to drive in the rain. As soon as it starts even remotely raining, he said, laughing, Angelenos forget how to drive. He's from Ohio, so he's amused at the reactions to the rain. And he admits you can't really complain about it -- we need the rain.
"I thought El Niño was supposed to come in the winter!" He said.
He woke up early Tuesday. Hartman was using an air conditioner whose hose went out the window and had turned it on Monday night because it was warm. Tuesday morning, the corner of the bed was soaked.
"I thought I wet the bed," he joked.
The two pit bulls he was sitting wouldn't go out in the morning. He opened the door and though they usually bolt out, they just stared at him then went to lay down.
"They were like, 'You go outside.'"
The rains were so heavy that buses were thrown off schedule. Lilia Lopez, 45, was having no luck with Metro buses as she tried to figure out a way to her job at an insurance office in downtown Los Angeles.
Her bus was "supposed to be here," she said, but her Nextrip bus app on her phone said the Metro bus was still more than half an hour away. "On a day like today, who knows when it will come by?"
Downtown Los Angeles received 1.70 inches of rain before 7:30 a.m., setting a record for the day and making it the wettest day in the area this calendar year, with plenty more precipitation expected through the morning, said National Weather Service meteorologist Robbie Munroe.
Santa Monica got 1.75 inches and Alhambra 1.82 inches. The NWS said Southern California was receiving up to a third of an inch of rain an hour.
Times staff writers Veronica Rocha and Christine Mai-Duc contributed to this article.
For breaking news in California, follow @JosephSerna and @VeronicaRochaLA.
Interested in the stories shaping California? Sign up for the free Essential California newsletter >>
ALSO:
3 major fires burn out of control; governor warns 'there is more to come'
Sierra Nevada snowpack is much worse than thought: a 500-year low
A rise in violence plagues South L.A.: 'We can't police our way out of this'
Sign up for Essential California for news, features and recommendations from the L.A. Times and beyond in your inbox six days a week.
You may occasionally receive promotional content from the Los Angeles Times.