Rainy Monday will begin a wet week in Southland; evacuation urged in Holy fire area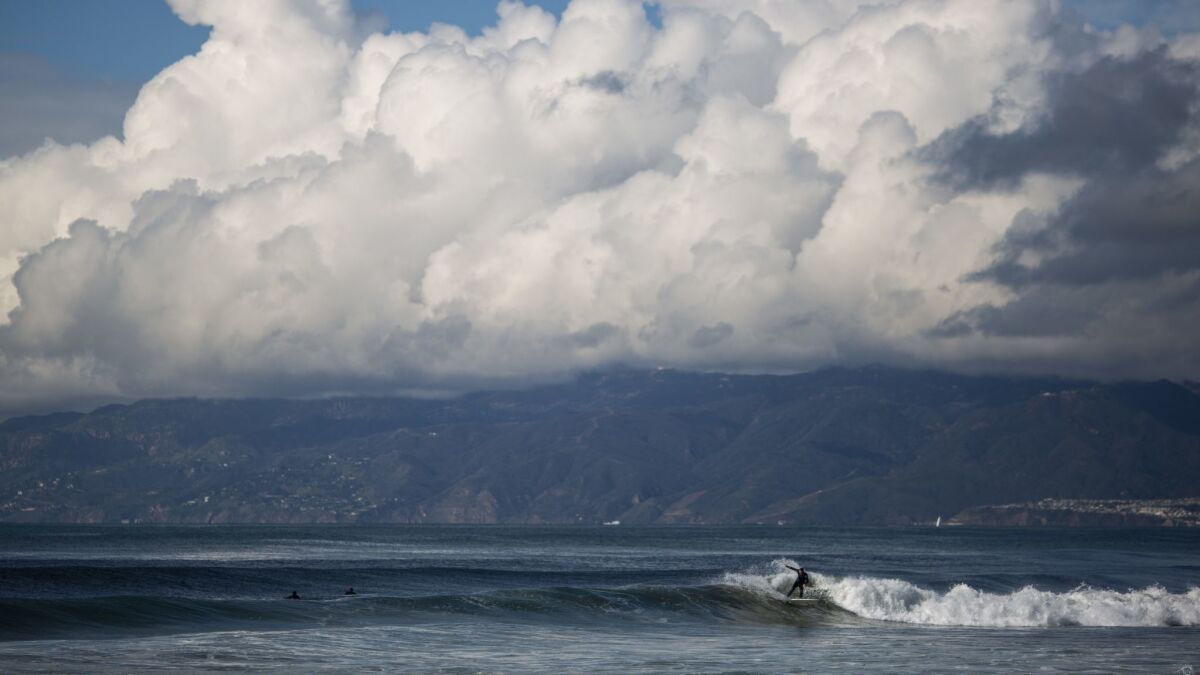 A wet week will kick off Monday morning with the arrival of the second in a string of five back-to-back storms that are expected to douse Southern California every day through Thursday.
Most of the rainfall is expected to be light to moderate and not severe enough to produce major debris flows. But authorities warn that periodic bands of heavier rain could generate roadway flooding and shallow mudslides or debris flows, like the one that covered a stretch of Pacific Coast Highway and trapped cars in Malibu earlier this month.
Still, authorities on Sunday afternoon issued voluntary evacuation warnings to communities near the Holy fire burn area, citing the potential for dangerous debris flows.
"People in these zones SHOULD GO NOW — this is the safest time to leave," said an alert from Cal Fire and the Riverside County Fire Department.
The storm arriving early Monday could be the heaviest, dropping half an inch to 2 inches of rain in Los Angeles County, according to the National Weather Service. Mountain areas could see 6 to 12 inches of snow and wind gusts up to 60 mph, creating hazardous winter driving conditions.
More rain will continue blowing in each day, forecasters said. Los Angeles is expected to see a quarter of an inch to 1 inch of precipitation each day through Thursday, with higher amounts in the foothills and mountains, according to the weather service.
The area already has seen above average rainfall so far this season. Downtown Los Angeles typically sees 5.37 inches from Oct. 1 to this point in the year.
By week's end, the storms could bring 2 to 4 inches of rainfall to downtown, on top of the 5.75 inches that's already fallen since Oct. 1, the weather service said.
Forecasters are hopeful that gentle rains will prevail, but still worry that as the wet week progresses, hillsides saturated by one storm become more prone to slippage from the next.
"We'd prefer to have them a little more spaced out, but if we can continue to go like this where we can get the rain we need without it causing damage, that's wonderful," said Kathy Hoxsie, a meteorologist with the National Weather Service in Oxnard.
Officials urged residents in and around the Woolsey fire burn areas to remain vigilant, as even small amounts of rain can unleash dangerous mudflows with little or no warning.
"Peak rainfall rates may result in significant mud and debris flow, and we encourage Woolsey fire survivors to be ready to evacuate at a moment's notice," Los Angeles County Fire Chief Daryl L. Osby said in a statement.
Officials urged the public to avoid flood control channels and other waterways and to steer clear of low-lying areas, canyons or steep slopes, which are at the greatest risk of mudslides and falling debris.
Along the coast, the storms are also generating high surf with the potential for dangerous rip currents. When combined with rising tides in the coming days, forecasters said, the storms are likely to cause minor coastal flooding along low-lying stretches of coastline, including parts of Orange County.
In Southern California, it's unusual to have such steady rainfall, experts said, and stormy weather patterns typically don't last longer than about three weeks. Downtown L.A. gets about 15 inches of rain annually on average, much of it from a small number of winter storms.
But for the next few days, Southern Californians should leave the house each morning assuming it's going to rain.
"It might not be heavy rain, it might be light enough that you can walk to the car without putting up an umbrella," Hoxsie said, "but you should probably have an umbrella or rain jacket handy."
So far the area has been lucky, forecasters said, that the rain has remained relatively gentle, providing much-needed water without the type of intense downpours that can set loose burned hillsides and cause catastrophic flooding or mudflows.
"Let's just be grateful that we're getting the rain without any notable damage at this point," Hoxsie said. "We should be trying to enjoy it while we can and hope that the spigot doesn't turn off too quickly."
---
The stories shaping California
Get up to speed with our Essential California newsletter, sent six days a week.
You may occasionally receive promotional content from the Los Angeles Times.