Pacific Coast Highway in Malibu to remain closed until Monday after winter storm triggered flash-flood warnings and a mudslide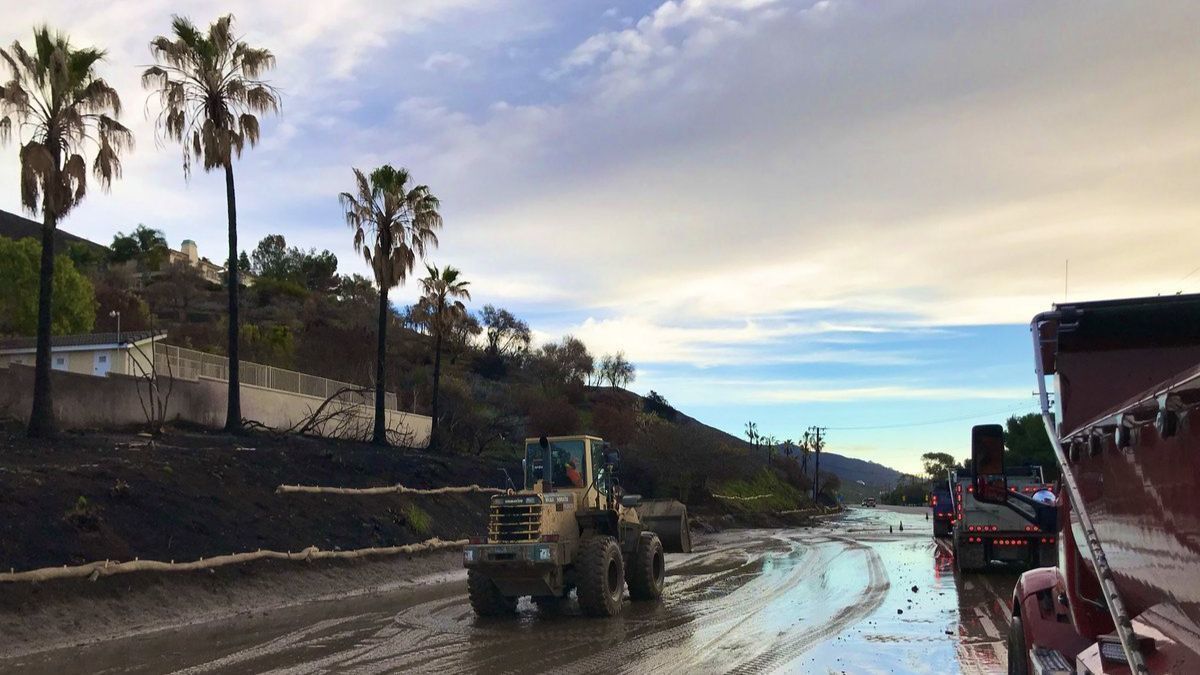 A stretch of Pacific Coast Highway in Malibu will remain closed until Monday as crews continue to clean up mud and debris from the highway after a winter storm moved through the area, triggering a mudslide and prompting flash flood warnings overnight in burn areas in Los Angeles and Ventura counties.
The highway between Encinal Canyon Road in Malibu to Las Posas Road in Ventura County will remain closed until at least Monday, Caltrans said. The roadway was covered in mud and debris Saturday night.
Three vehicles became stuck in mud up to 4 feet deep in some areas.
"Some drivers actually stopped by our fire station and rang our doorbell to tell us there was flooding and people were trapped," said Ventura County Fire Capt. Dennis O'Shea. "Those folks just happened to be in the worst part of it, and they just got stuck."
An automated rain gauge in the western Santa Monica Mountains showed nearly three-quarters of an inch of rainfall in one hour, the National Weather Service.
"These are heavy rates," the service tweeted.
A flash-flood watch was issued Saturday for the burn areas of the Woolsey and Hill fires and remained in effect through midnight. The fires burned more than 100,000 acres in November, destroyed about 1,600 structures and claimed three lives.
A half-inch to 1 ½ inches of rainfall fell along the coasts and valleys, with higher amounts along the foothills and mountains, according to the National Weather Service in Oxnard.
Orange and San Diego counties were expected to see a quarter of an inch to 1 inch of precipitation in some cities over the weekend. The heaviest rain was expected to fall overnight, Stewart said.
More rain and was expected to hit the region late Sunday night, with another storm predicted to hit Southern California next Friday.
Malibu officials are advising residents to prepare for potential flooding, mudslides, power outages, dangerous road conditions and possible evacuations.
City officials have released a map of burn areas that show where the potential for flooding and mudslides is greatest. The city is also providing free, empty sandbags at Malibu-area fire stations and pre-filled sandbags at the Zuma Beach lifeguard headquarters.
Meanwhile, burn areas in the northern region of the state appeared to escape heavy rainfall as the chilly Pacific storm passed through the area Saturday.
The Bay Area and Northern California saw mostly light rain, including about a half-inch in and around Paradise in Butte County where the state's deadliest and most destructive fire burned in November, said Steve Anderson, a meteorologist with the National Weather Service. The Camp fire charred more than 153,000 acres, destroyed nearly 14,000 homes and killed at least 84 people.
But the region seemed to sidestep another possible disaster on Saturday.
"There are no reports of flooding. It is pretty light rain," Anderson said.
The heaviest rain in the region — about 2 ¼ inches — fell around the Big Sur coast.
A moderate El Niño weather pattern that is brewing in the eastern tropical Pacific Ocean is bringing more precipitation to some regions of California. The weather outlook for the next several weeks indicates above-normal precipitation; in the next few months, the odds are looking good for above-average rainfall, weather experts said.
ben.poston@latimes.com | Twitter: @bposton
javier.panzar@latimes.com | Twitter: @jpanzar
---
The stories shaping California
Get up to speed with our Essential California newsletter, sent six days a week.
You may occasionally receive promotional content from the Los Angeles Times.