Latino gang members firebombed black residents to drive them out of Boyle Heights project, prosecutors allege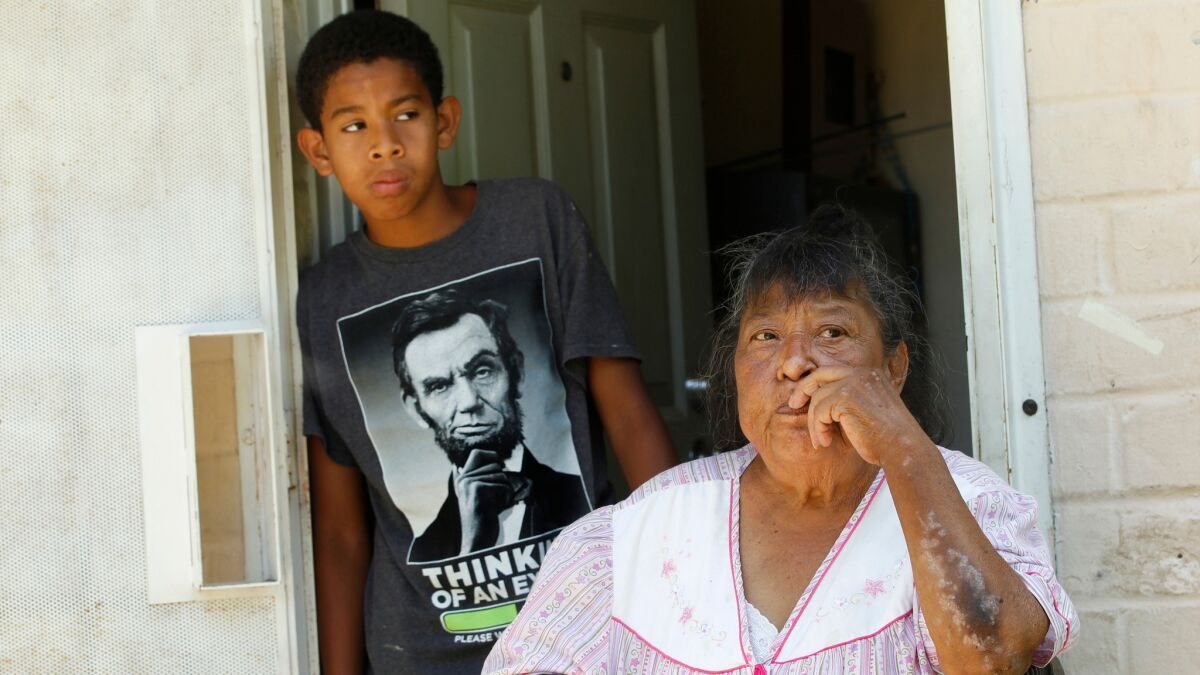 Seven Latino gang members have been charged with firebombing the homes of black families living in a Boyle Heights housing project, an attack that federal prosecutors allege was designed to drive African Americans out of the neighborhood.
A federal indictment unsealed Thursday describes how the gang members allegedly planned and carried out the May 12, 2014, attack, which came at time when black families were increasingly moving back into the Ramona Gardens public housing complex after previous violence that prompted most African Americans to flee.

For the record:
5:51 p.m. July 7, 2016A previous version of this story said that 3% of Ramona Gardens residents were African American as of June. The statistic is from February.
Prosecutors allege that the men broke the apartment windows before hurling Molotov cocktails inside – a move designed to "maximize damage" – and struck homes where families, including children, were inside. Three of the four apartments were occupied by black families.
"This crime was particularly heinous because they attacked people's homes, where children were sleeping," said Eileen Decker, U.S. attorney for the Central District of California. "The fact that children were endangered made this a particularly disturbing type of crime."
The charges are the latest in several criminal accusations over the last two decades against Latino street gangs that used violence to push rival black gangs out of certain neighborhoods. A few years ago, federal prosecutors charged members of a Latino gang with a campaign to push blacks out of the unincorporated Florence-Firestone neighborhood that allegedly resulted in 20 homicides over three years. In the Harbor Gateway district of L.A., a Latino gang was accused of targeting African Americans, including 14-year-old Cheryl Green, whose death became a rallying point against such attacks. Members of the Avenues, a Latino gang in Highland Park, were convicted of a series of assaults and killings in the early 1990s.
In the Ramona Garden case, prosecutors described the defendants as members of the Big Hazard street gang, an Eastside gang that dates back to the 1940s. The charges included conspiring to violate civil rights, interfering with housing rights, committing violent crime to aid racketeering, and using fire and carrying explosives to commit a federal felony.
For more than a generation, keeping blacks out of the housing complex seemed a point of pride for Big Hazard.
On Aug. 30, 1992, an explosion ripped through the pantry of a Ramona Gardens apartment where a black couple and their seven children lived. When they ran outside they realized that another black family across the street had been attacked just minutes earlier.
At the time, only seven black families lived in the project. But after the attack they began to quickly pack up and leave.
The firebombings ushered in a nearly 20-year period in which virtually no blacks lived at Ramona Gardens. Big Hazard had deep connections to the Mexican Mafia prison gang, which influenced Latino gangs and directed attacks on blacks.
Surveillance video shows suspects in firebombing at Ramona Gardens, a Boyle Heights housing project, in May 2014. (Los Angeles Police Department)
Eventually black families started moving back to Ramona Gardens, a sign of progress in a community and a city that had largely put aside the violence of the 1990s. But even then, a gang said to no longer hold the sway that it once did tried to intimidate black residents into leaving. Some threats were verbal. Others came in the form of slurs, like the one written in the dust accumulated on the car of one black resident. In at least one case, a rock was flung through a window.
Still, things seemed to be improving, until two years ago when Molotov cocktails were thrown at the four apartments in Ramona Gardens. Police said they strongly suspected the attacks were racially motivated. At least one resident said at the time that she would ask for an emergency transfer out of the complex, though she noted that things had been calm until the fiery attack. Others insisted they would stay.
At the time of the 2014 attack there were 23 black families living in Ramona Gardens. As of this February, 3% of Ramona Gardens residents were African American, according to the L.A. city housing authority.
The 25-page indictment unsealed Thursday alleges that a sophisticated level of planning went into the attack and describes Big Hazard's longstanding efforts to scare African Americans away from the project. Gang members would "monitor the activity" of African Americans and threaten those who lived in Ramona Gardens "that they risked harm if they remained," according to the indictment.
The attack was discussed at a gang meeting in early May 2014, prosecutors allege, where Carlos Hernandez, 31, told gang members that they would use Molotov cocktails to firebomb apartments where black families lived. On May 11 — Mother's Day — the group met again to plan the attack, according to the indictment.
At that second meeting, prosecutors allege, Hernandez assigned each gang member a specific job: breaking apartment windows, lighting the devices, throwing them inside. He also handed out disguises and gloves, the indictment said.
The group didn't carry their cellphones so police couldn't track their movements, prosecutors alleged, and purposely followed a route through Ramona Gardens where security cameras couldn't record them.
Shortly after midnight, prosecutors allege the group drove into the project and attacked four apartments. In one, the firebomb landed on a couch where a woman and her baby had been sleeping moments earlier, according to the indictment. The woman moved when she heard the window break.
None of the families were hurt in the attacks. Prosecutors said Hernandez cut his arm on broken glass while throwing one of the Molotov cocktails and went to a hospital for treatment.
The threats didn't stop with the attack, according to the indictment. In September 2014, prosecutors allege, one of the gang members confronted a family and "warned that they should leave Ramona Gardens or that they too would get firebombed."
On Thursday, Irena Vega sat outside her Ramona Gardens apartment and recalled a firebombing in the 1990s that targeted a black family. As the apartment burned, she said, the family managed to escape with their children through the kitchen.
They were the only black family Vega remembers living in the housing project at the time.
"They left," she said.
Vega and her 12-year-old grandson said more black families have moved into the housing project, which they said has become safer thanks to increased police patrols and the installation of security cameras. Gang members aren't as common, Vega added.
"The gangs were heavy around here," she said. "Now they aren't."
Rosa Gonzalez, another longtime resident, agreed that more black families were living at Ramona Gardens and that it was safer. But, she said, the gang still lingers.
"Some are dead, some are in jail, some left," she said. "The gang is small, but it hasn't gone away."
Follow @katemather on Twitter.
ALSO
Stuntman suffers major injuries after being run over on set of TV series 'Shooter'
What we know about the deadly attacks on homeless people in San Diego
Column: How to remake the L.A. freeway for a new era? A daring proposal
---
UPDATES:
2 p.m.: This article was updated with comments from Ramona Gardens residents.
1:10 p.m.: This article was updated with details of the firebomb attack and the indictment.
12:43 p.m.: This article was updated with additional background information.
This article was originally published at 11:58 a.m.
The stories shaping California
Get up to speed with our Essential California newsletter, sent six days a week.
You may occasionally receive promotional content from the Los Angeles Times.