These are the victims of the Rancho Tehama shooting rampage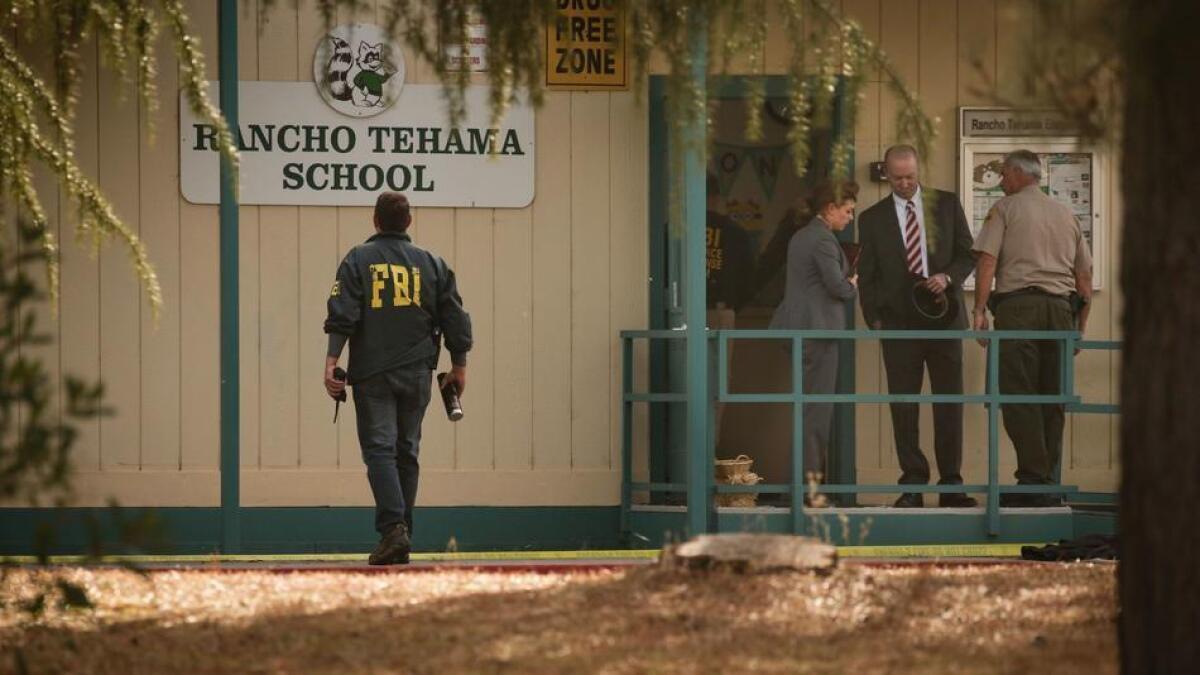 The Tehama County Sheriff's Office on Thursday released the names of the five people killed by a gunman who rampaged through Rancho Tehama on Tuesday, spraying bullets at several locations, including an elementary school.
Authorities said an additional six adults and six children — four boys and two girls — were wounded. Three of the children were treated and released at the scene, two were treated and released from a hospital and one remains hospitalized.
Those who were killed and wounded ranged in age from 6 to 68. They were mothers, sons and wives. Authorities said all of the adults lived in Rancho Tehama, a rural Northern California town with a population of about 1,500.
Those killed:
Michelle Iris McFadyen, 55
Danny Lee Elliot, 38 (in court records, his name is listed as Danny Lee Elliott II)
Diana Lee Steele, 68
Joseph Edward McHugh III, 56
Barbara Ann Gilsan, 38 (in court records, her name is listed as Barbara Glisan)
The gunman, Kevin Neal, was killed in a shootout with police.
Gilsan was Neal's wife. Sheriff's officials said Neal, 44, probably killed her the day before the mass shooting. He hid her body beneath the floor of their home.
Neal went on a 25-minute tear through the community, starting just down the road from his home, where he killed his neighbor and two men, then stole a Ford F-150 pickup and drove north, said Tehama County Assistant Sheriff Phil Johnston.
Neal then fired eight rounds into a Ford F-250 occupied by a woman and her son, who was headed to school. The boy suffered non-life-threatening wounds, but the mother was seriously injured, Johnston said. The woman, who had a concealed carry permit, pulled out her own handgun but was unable to fire it before Neal drove away, Johnston said.
Soon after, Neal arrived at Rancho Tehama Elementary School, where he barreled the stolen truck through the front gates and into the quad. He stepped out and fired randomly at the rooms around him. One student was wounded and others were injured by broken glass.
Neal then got back on the road, where he chased a couple in another car and crashed into their vehicle, authorities said. When they got out, Neal shot them, killing one.
A man who saw the crash pulled over to help, and Neal shot at him. The man ran off and Neal stole his car.
Neal was chasing and firing at another car when two police officers spotted him. A shootout ensued, and Neal was killed.
alene.tchekmedyian@latimes.com
Twitter: @AleneTchek
Sign up for Essential California for news, features and recommendations from the L.A. Times and beyond in your inbox six days a week.
You may occasionally receive promotional content from the Los Angeles Times.