Critics launch effort to recall L.A. City Councilman Paul Krekorian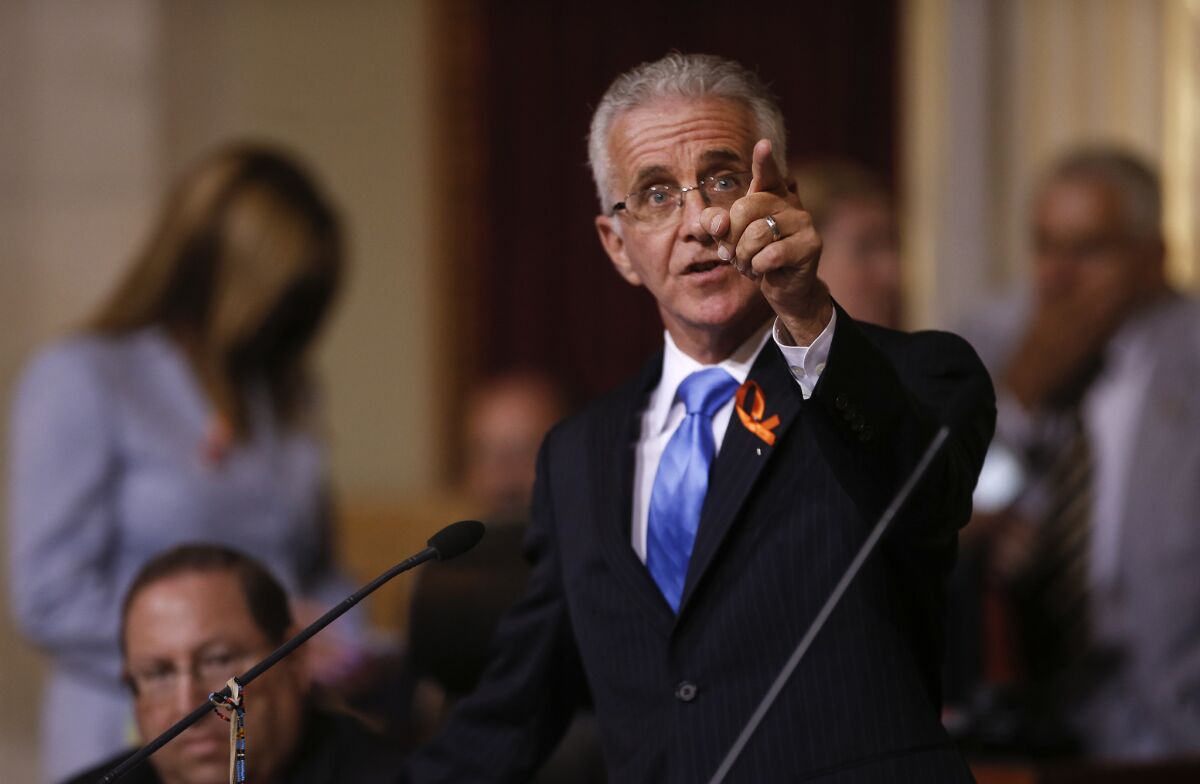 A recall effort is being launched against Los Angeles City Councilman Paul Krekorian, who represents the San Fernando Valley neighborhoods of North Hollywood, Valley Village and Studio City, by critics who argue that he has favored business interests over community requests.
Those critics sent a notice this week to Krekorian that they were sponsoring a recall petition — one of the first steps in the process of trying to oust a council member.
It said they were seeking to eject Krekorian for a long list of reasons, including approving zone changes and exemptions for real estate projects that conflicted with city and community rules, opposing efforts to designate local buildings as historic monuments, and failing to respond to concerns about dangerous demolitions.
Join the conversation on Facebook >>
Krekorian is "destroying the neighborhoods," said JoAnn D. Erickson, a longtime Valley Village resident who is one of five listed sponsors of the proposed recall. "They're building these horrendous high rises."
Another petition sponsor, Donna Gooley, pointed specifically to the demolition of a Valley Village home that Marilyn Monroe once lived in. The house was torn down for a condo project days before a city commission was slated to discuss its possible historic value, though city staffers had opposed taking it under consideration as a monument.
"We're just tired of nobody listening," said Gooley, who lives in Valley Village.
Krekorian reacted to the news Friday by pointing out he had won reelection last year with more than 75% of the vote.
"I'm confident that the vast majority of my constituents approve of what we've accomplished together in the San Fernando Valley," Krekorian said in a written statement. "In any district with a quarter million people, there will always be a few disaffected and unhappy individuals, but I'll continue to work hard every day to represent the interests and the values of the people of the 2nd District."
Valley Village Neighborhood Council President Tony Braswell, who said he had voted for Krekorian, praised the councilman's record and said he was dubious that the recall effort would succeed.
"He's truly one of the most engaged council members," Braswell said.
To spur a special election to oust Krekorian, the recall proponents would need to first gather more than 18,000 signatures — 15% of the registered voters in his council district. Holding a special election would cost an estimated $1.7 million, according to City Clerk Holly Wolcott.
Follow @latimesemily for what's happening at Los Angeles City Hall
ALSO
Feds strike back at Apple, say firm misleads in public battle over terrorist's iPhone
Man whose felonies were reduced by Prop. 47 arraigned on attempted murder charges
Ex-star of Disney's 'That's So Raven' denies charges he attacked girlfriend, brought drugs into jail
---
The stories shaping California
Get up to speed with our Essential California newsletter, sent six days a week.
You may occasionally receive promotional content from the Los Angeles Times.