Air quality committee rejects ban on toxic acid used in South Bay refineries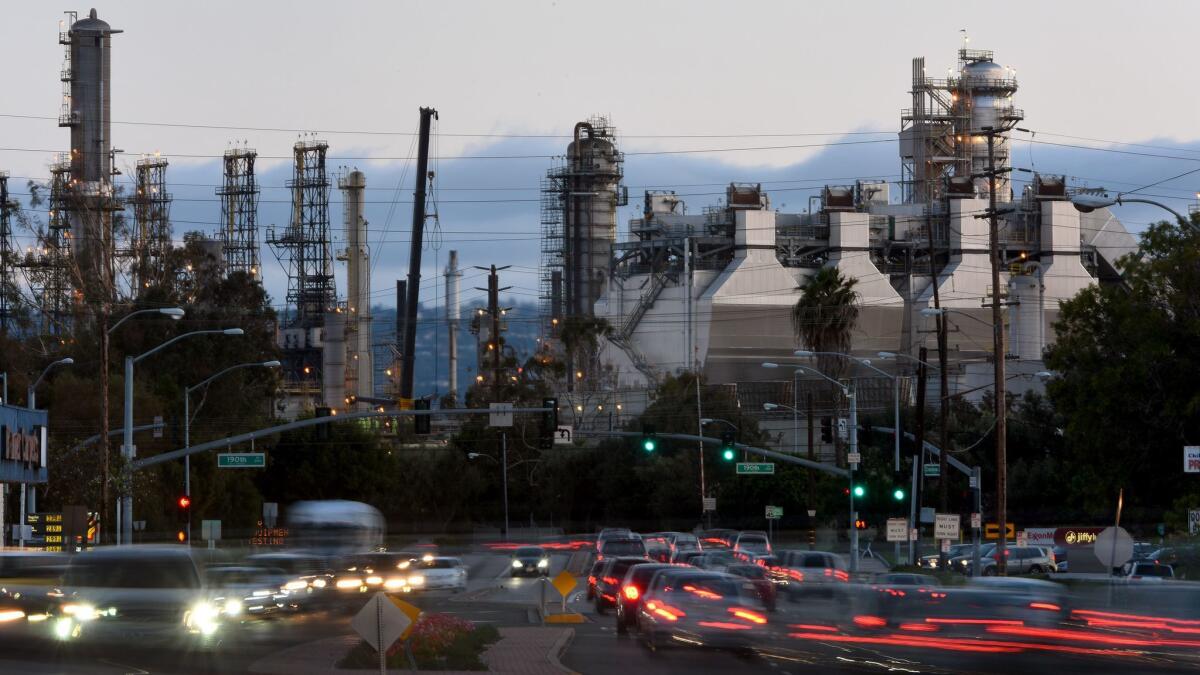 Air quality officials on Saturday moved to close the door on a ban of a dangerous acid used at two South Bay oil refineries that community groups have sought since a 2015 explosion raised concerns about the potential for a catastrophic release.
The South Coast Air Quality Management District's Republican-controlled refinery committee voted 3-2 to support an industry-backed alternative. The plan directs agency staff to develop agreements with refineries in Torrance and Wilmington that would allow them to keep using modified hydrofluoric acid, with enhanced safety measures.
The highly toxic chemical, used to make high-octane gasoline, can form a deadly, ground-hugging cloud that could drift into surrounding communities and cause mass casualties in the event of a major leak.
The decision followed hours of testimony at a packed public hearing in Diamond Bar that pitted South Bay residents and environmentalists urging a ban on the chemical against business groups, building trades representatives and refinery workers who said it would be too costly.
Carolyn Yoshida, a lifelong Torrance resident, said she worries her disabled brother who lives across the street from the refinery could not be evacuated in time if there were a hydroflouric acid release and urged regulators to do "everything in your power to prevent a catastrophic loss of life."
"The petroleum industry has money, lawyers and political lobbies to look out for their interests, but South Bay residents rely on the members of this board to look out for our interests," Yoshida said.
The safety concerns stem from a 2015 explosion at the Torrance refinery in which a 40-ton piece of equipment narrowly missed crashing into a massive tank containing the chemical. Federal chemical safety regulators said it could have resulted in a "potentially catastrophic release" that could have killed or injured large numbers of people nearby.
Worries over the the risks of hydroflouric acid have only heightened since. Regulators and community groups pointed to two other near-miss incidents that came dangerously close to releasing hydroflouric acid into surrounding communities: A series of explosions and fire Friday that ripped through the East Coast's largest oil refinery in South Philadelphia and a 2018 explosion and fire at a refinery in Superior, Wisconsin.
Valero's Wilmington refinery and Torrance Refining Co., owned by PBF Energy, are the only two refineries in California that use hydroflouric acid. The chemical is used at about fifty of the nation's approximately 150 refineries and can seriously injure or kill people at a concentration of 30 parts per million, according to the U.S. Chemical Safety Board.
Field tests highlighted by air district officials show a golf ball-sized hole can release 1,000 gallons of hydroflouric acid in two minutes, forming a dense, low-hanging cloud of vapor that remains at twice-lethal levels two miles away. The chemical can quickly inflict severe health damage and death by burning the skin and lungs and penetrating deep tissues and bones.
Under air district staff's proposal, the refineries would have to meet a "performance standard" by demonstrating their safety measures would keep hydroflouric acid levels within a specific, health-protective threshold in a major release, or phase out the chemical if they could not.
The approved motion by Highland Mayor Pro Tem Larry McCallon, a Republican who chairs the committee, did not include the option of a phaseout and would be easier for refineries to meet.
Air district staff told McCallon before the vote that his proposal, by establishing a limit of 95 parts per million of hydrofluoric acid averaged over ten minutes, would allow refineries to achieve the standard even if they exposed nearby residents to high levels of 950 ppm for a minute.
The move was the latest turn in more than two years of debate over how to reduce risks from the chemical. To move forward, the approach must be approved by the air district's full governing board, which remains closely divided between Democrats and Republicans.
The Torrance refinery estimates it would cost $900 million to switch from modified hydrofluouric acid to sulfuric acid, a widely used alternative that is considered safer. Business groups and labor unions contend that phasing out the chemical would cause job losses, raise gas prices and even force the facilities to close.
"We want to make sure that we don't ban our jobs when it comes to this," said Tommy Faavae of the International Brotherhood of Electrical Workers Local 11.
The two Democrats who voted against the industry-backed proposal said they rejected such arguments.
L.A. County health officials have warned that system failures, natural disasters or terrorist attacks at the facilities could lead to a catastrophic release of hydroflouric acid that would overwhelm hospitals with burn victims. About 400,000 people live within three miles of either the Torrance or Valero Wilmington refinery, with the nearest homes about 1,600 feet from the Torrance facility, according to the air district.
Refinery representatives said the risks of hydroflouric acid have been overstated and that they have used the chemical for decades without an off-site release.
Adam Webb, a senior engineer at Torrance Refining Co., described extensive systems to prevent the dispersion of the chemical, including barriers, sensors and water sprayers, and pledged to work with regulators on additional safety systems that "automatically apply copious volumes of water" in the event of a release.
Sign up for Essential California for news, features and recommendations from the L.A. Times and beyond in your inbox six days a week.
You may occasionally receive promotional content from the Los Angeles Times.