Suicide caused fire that destroyed 11 homes in Monterey County, officials say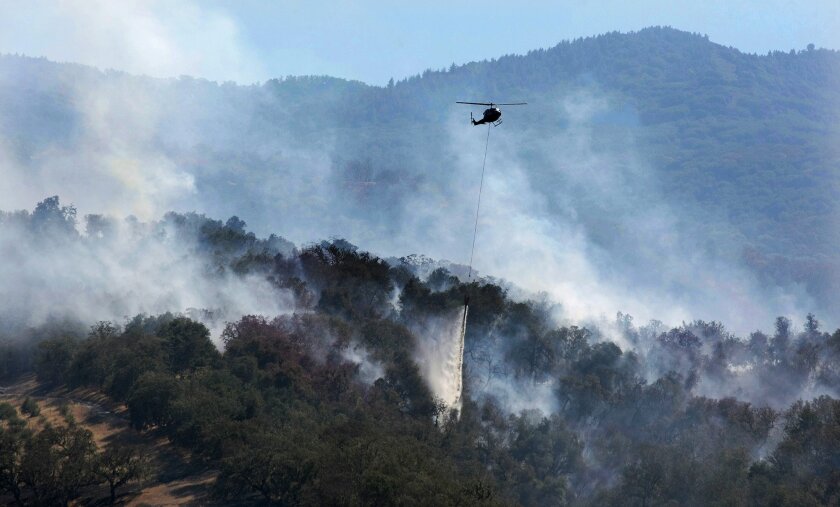 SAN FRANCISCO —
A fire that destroyed 11 homes in Monterey County over the weekend was sparked by someone committing suicide, officials said Wednesday.
The Monterey County Sheriff's Department said in a statement that a body was found at the site where the Tassajara fire began Saturday afternoon amid windy, hot conditions. Officials did not identify the person or give details on how the fire started. They said an investigation was ongoing.
The fire burned more than 1,000 acres.
Meanwhile, to the north, Lake County sheriff's officials said Wednesday that human remains thought to belong to 66-year-old Robert "Bob" Taylor Fletcher were found in the Cobb area, bringing the Valley fire's death toll to four.
About 6:30 p.m. Tuesday, deputies and detectives searching the Valley fire burn area found the remains. While a positive identification has not been made, "based on the location and evidence found at the Cobb location," the remains are presumed to be Fletcher's.
Human remains-detection dogs had earlier searched Fletcher's Cobb home, which was destroyed by the fire, without finding him, and an anthropologist had been called in to assist.
See the most-read stories this hour >>
Also missing is Robert Edward Litchman, 61, of Lower Lake, whose home was destroyed. Dogs searched that location but found nothing.
Litchman was reported missing by a friend, who said that he had refused to evacuate and that he was last seen standing in his driveway waving vehicles by as others fled, according to the Lake County Sheriff's Office.
He did not have transportation, the friend reported.
The remains of three other victims of the fast-moving blaze — two in Anderson Springs and one in Hidden Valley Lake — were found last week.
The Sheriff's Department is encouraging anyone with missing loved ones to file a missing persons report by calling (707) 263-2690.
Times staff writer Shelby Grad contributed to this report.
For more Northern California news, follow @leeromney.
MORE ON CALIFORNIA WILDFIRES:
Interactive map: Where are all the California fires?
How the Valley fire exploded into one of the worst in California history
Residents return to town ravaged by Northern California's Valley fire: 'It will never be the same'
---
The stories shaping California
Get up to speed with our Essential California newsletter, sent six days a week.
You may occasionally receive promotional content from the Los Angeles Times.