Stench of carcasses and spoiled meat has long plagued Southeast L.A. Here's how that'll change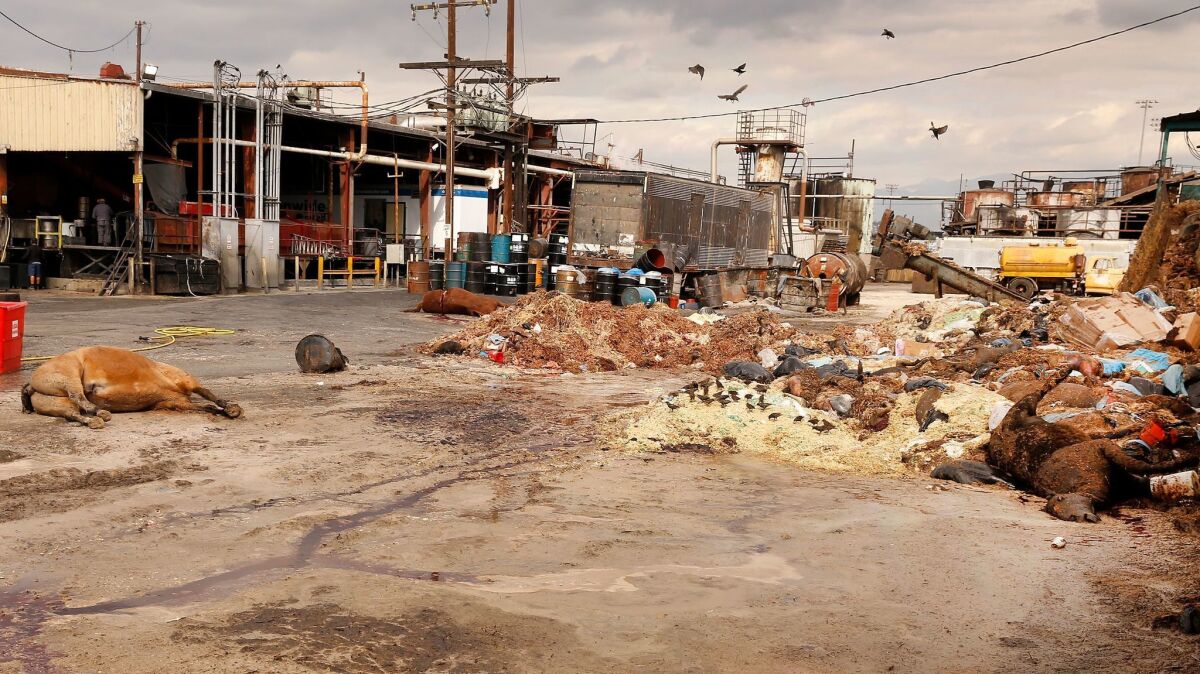 After years of enduring the stench of spoiled meat and decaying carcasses from nearby rendering plants, residents of southeast Los Angeles County could finally see some relief under new rules approved Friday.
Air quality regulators adopted long-delayed measures aimed at reducing odors from Vernon-area rendering plants, which they say can drift into neighborhoods miles away, causing headaches, nausea and respiratory irritation.
The unanimous vote by the South Coast Air Quality Management District board followed testimony from residents and schoolchildren from Boyle Heights and other communities who complained of odors so putrid they have to cover their mouths and close their doors to avoid nausea and breathing problems.
"What community other than a low-income and largely minority community would have to endure the smell of rotting flesh for decades without any government intervention?" said Martin Schlageter, policy director for Los Angeles City Councilman Jose Huizar, who represents Boyle Heights. "That wouldn't be happening in a wealthy community. It's happening in Boyle Heights, and it has been for decades."
The new standards target the region's five rendering plants, which take animal parts and carcasses from slaughterhouses, meatpacking operations and grocery stores and turn them into fats and proteins used in pet food, fertilizer, soap and other products. Companies will have to enclose some outdoor operations and take other odor-control measures. The air district says the stench from the plants can drift across a dozen southeast L.A. County communities, including the cities of Commerce, Vernon, Maywood and Bell.
The rules come after delays by regulators and opposition from industry, which warned that they would be costly and result in job losses. Though odor rules govern plants in states such as Utah, Mississippi and Texas, the Southern California air district previously imposed no such limits on rendering operations.
Rendering plant odors are only one of a slew of environmental ills that impair health and quality of life in the mostly Latino communities around the heavily industrial city of Vernon. The same neighborhoods have long suffered from a heavy concentration of polluting businesses and diesel trucks, including decades of lead contamination from the now-shuttered Exide Technologies battery recycling plant.
The rules give rendering facilities 90 days to meet new housekeeping standards, such as covering and washing out trucks before they leave the plant, repairing cracks in asphalt and limiting the time that animal remains are left outdoors. The plants will have 3 ½ years to install enclosures to keep odors from drifting off-site.
Officials said the rules were based on measures already required in other parts of the country. An air district staff report said research of current practices across the nation "was unable to find even a single example of a rendering facility in an urban area operating an open-air rendering process" such as those in Vernon.
Judy Mitchell, a Rolling Hills Estates city councilwoman who sits on the air quality board, said she visited all of the rendering plants affected by the rules and saw a lot of their operations occurring in the open air. She agreed that "the smells that come out of these plants are quite sickening. I can certainly imagine that living next to that and breathing that day after day is a true burden."
The district first proposed the rules in 2014 but shelved them two years ago after pushback from rendering companies. In one letter sent in July 2015, Baker Commodities Inc. in Vernon warned that compliance would be so costly the company would be forced to shut down operations and dismiss more than 200 employees.
At the hearing Friday, Jimmy Andreoli II, an assistant vice president for Baker Commodities, questioned whether the plant was a source of odors in the community but pledged to "do our best to meet the requirements of this rule."
Air district officials said they adjusted the rules to be more flexible and minimize the financial burdens on businesses.
"There are some real improvements that can be made rather quickly without tremendous costs," Mitchell said.
Other companies subject to the rules are Smithfield Foods Inc. brand Farmer John, D&D Disposal Inc./West Coast Rendering Co. and Coast Packing Co. in Vernon. Darling Ingredients, on the edge of Los Angeles near the border with Vernon, is already upgrading its facility to meet the new requirements, officials said.
Community leaders welcomed the rules but wished they had come sooner.
"The days of being told to just suck it up are behind us," said Msgr. John Moretta of Resurrection Catholic Church in Boyle Heights. "This will hopefully improve these odors, but it's not going to eliminate them."
Air district officials said they suspended work on the rules to focus on other matters, including a major smog-reduction plan.
The odor-control measures were long overdue, air board Chairman William A. Burke said: "I'm sorry it took us decades."
The stories shaping California
Get up to speed with our Essential California newsletter, sent six days a week.
You may occasionally receive promotional content from the Los Angeles Times.