Rihanna gives LAPD $25,000 after Clippers game selfie mishap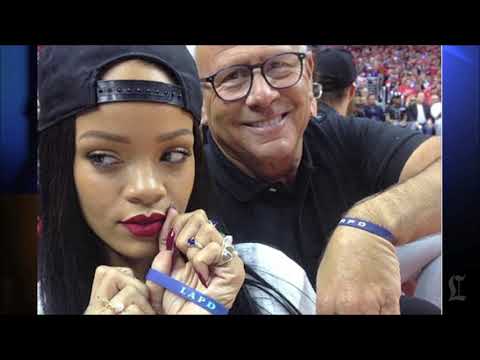 Rihanna donated $25,000 to the LAPD's program for cadets and fallen officers after dropping L.A. Police Commission President's cellphone at the Clippers' NBA playoff game.
Singer Rihanna donated $25,000 to a fund for cadets and fallen officers after dropping L.A. Police Commission President Steve Soboroff's cellphone last week as they took a selfie courtside at a Clippers game.
Soboroff announced the singer's donation to the Los Angeles Police Foundation at a police commission meeting Tuesday. By chance, he sat next to the pop star at a game last week and they took a selfie with LAPD wristbands on.
The image of the two snapping a selfie went viral when Rihanna dropped Soboroff's phone, smashing it. The British Daily Mail referred to Soboroff in a caption titled "Rude boy" that referred to him as a "jolly older gentleman" on a paparazzi shot of the pair joking courtside.
"Sorry I broke your phone," Rihanna tweeted later.
Soboroff said he thought the photo would help boost morale after a series of tragic deaths within the LAPD, which has lost five officers in the last two months -- four in collisions and one of a heart attack.
The commission president saw the broken phone as another chance to raise money for under-served students who want to participate in the LAPD's cadet program. He is auctioning it on EBay, where bids are running at more than $1,200.
Soboroff saw Rihanna at Sunday night's game and explained his idea to auction the phone. She wrote, "Sorry! I ♥ LAPD. Rihanna," on the phone.
The commission president says the singer went a step further and pledged $25,000 to help fund police cadets from underprivileged backgrounds and the families of fallen officers.
In 2009, Rihanna was a victim of a domestic violence involving her then-boyfriend, singer Chris Brown, as they drove in a sports car from a Grammy party. Brown was convicted of felony assault after an investigation by the LAPD.
Brown is in jail serving a year sentence for violating probation on that conviction.
Sign up for Essential California for news, features and recommendations from the L.A. Times and beyond in your inbox six days a week.
You may occasionally receive promotional content from the Los Angeles Times.