Flash flood watch issued for parts of Riverside and San Bernardino counties charred by wildfire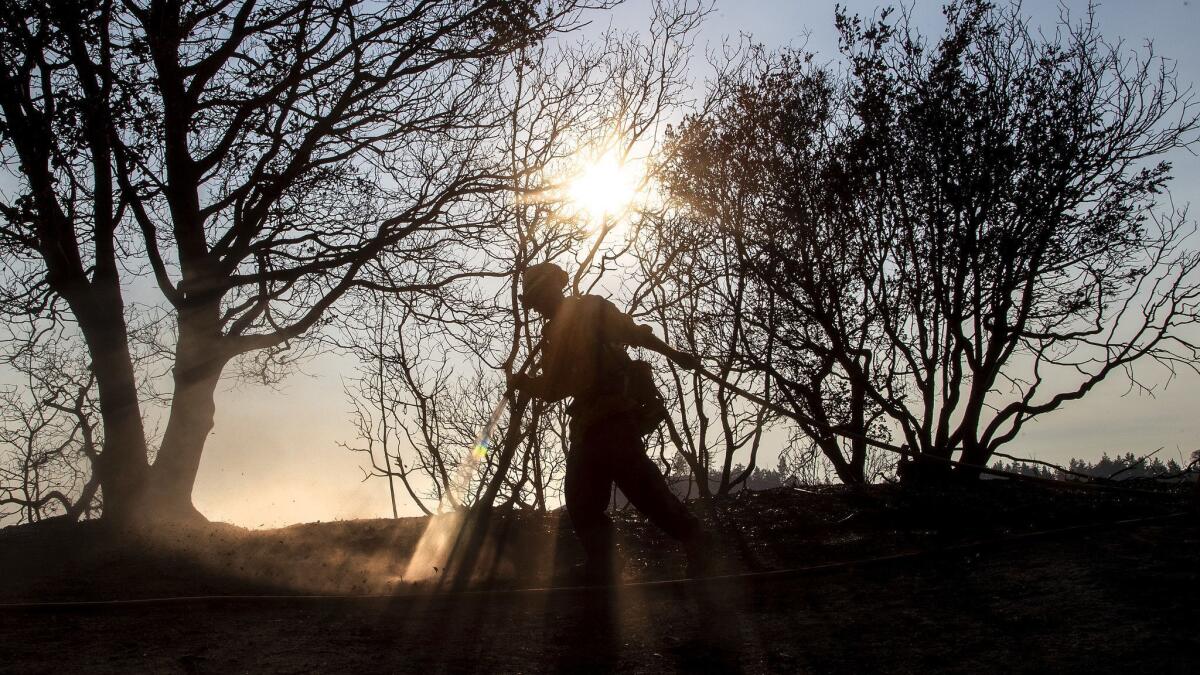 The National Weather Service has issued a flash flood watch for parts of Southern California, including areas recently charred by wildfires.
The advisory, which goes into effect at noon Thursday for Riverside, San Bernardino and San Diego counties, will last through 8 p.m.
Increased monsoonal moisture has created a chance of thunderstorms over the mountains and deserts, and those storms could produce gusty winds, heavy rain and flash floods, the weather service said.
"Burn areas are particularly susceptible," said Miguel Miller, meteorologist with the National Weather Service in San Diego.
Parts of the San Jacinto Mountains burned by the Cranston fire last month are among the areas most at risk.
"This is the new normal for probably a couple of years until we can get some vegetation on those hillsides taking root and holding back some of the soil," said Patrick Reitz, chief of the Idyllwild Fire Protection District.
The Cranston fire chewed through 13,139 acres, destroyed at least five homes and forced the evacuation of more than 4,000 residences near Idyllwild, according to fire officials.
The weather service warned residents living on or near hillsides or mountain slopes that they should be prepared for possible debris flows, which can occur even when there is little or no rain.
Because of the way the Cranston fire burned, Reitz said, "the bulk of the mudslide issues will likely be in communities below Idyllwild."
But any slides that cause road closures could have a significant impact on residents' ability to get on and off the mountain, he said.
In the community of Mountain Center, south of Idyllwild, Randall Harris, president of the Living Free Animal Sanctuary, said he spent part of the morning discussing options for stabilizing slopes to prevent mudslides with a former firefighter — "anything to give the earth something to sit on so it doesn't just slide out from underneath you," he said.
During the Cranston fire, Harris and a team of employees and volunteers worked feverishly to evacuate about 200 animals from the shelter.
The animals were all safe — as was the shelter's main campus. But about 40 acres of the shelters' 160-acre property burned, creating a significant threat of mudslides.
"Fires have long legs," Harris said. "They cause harm a lot longer than they burn."
The area burned by the Valley fire near Forest Falls is also at risk, Miller said.
The lack of vegetation to intercept the rain paired with the absence of a soft ground and root system create a risk of debris flow, he said.
"You've basically made an absorbent surface into an impermeable surface," Miller said. "All the rain that falls converts to runoff, which gathers together and creates flash floods."
A thunderstorm in the Valley fire area a few weeks ago already produced debris flow that lead to the closure of Highway 18, he said. And that doesn't mean it can't happen again.
"Anywhere in the mountains is under the watch today — whether in the burn area or not," he added.
For more California news follow me on Twitter: @sarahparvini
---
UPDATES:
12:10 p.m.: This post was updated with comments from Reitz and Harris.
This article was originally published at 8:20 a.m.
Sign up for Essential California for news, features and recommendations from the L.A. Times and beyond in your inbox six days a week.
You may occasionally receive promotional content from the Los Angeles Times.