New letter from Robert Durst talks of football, opera, but not murder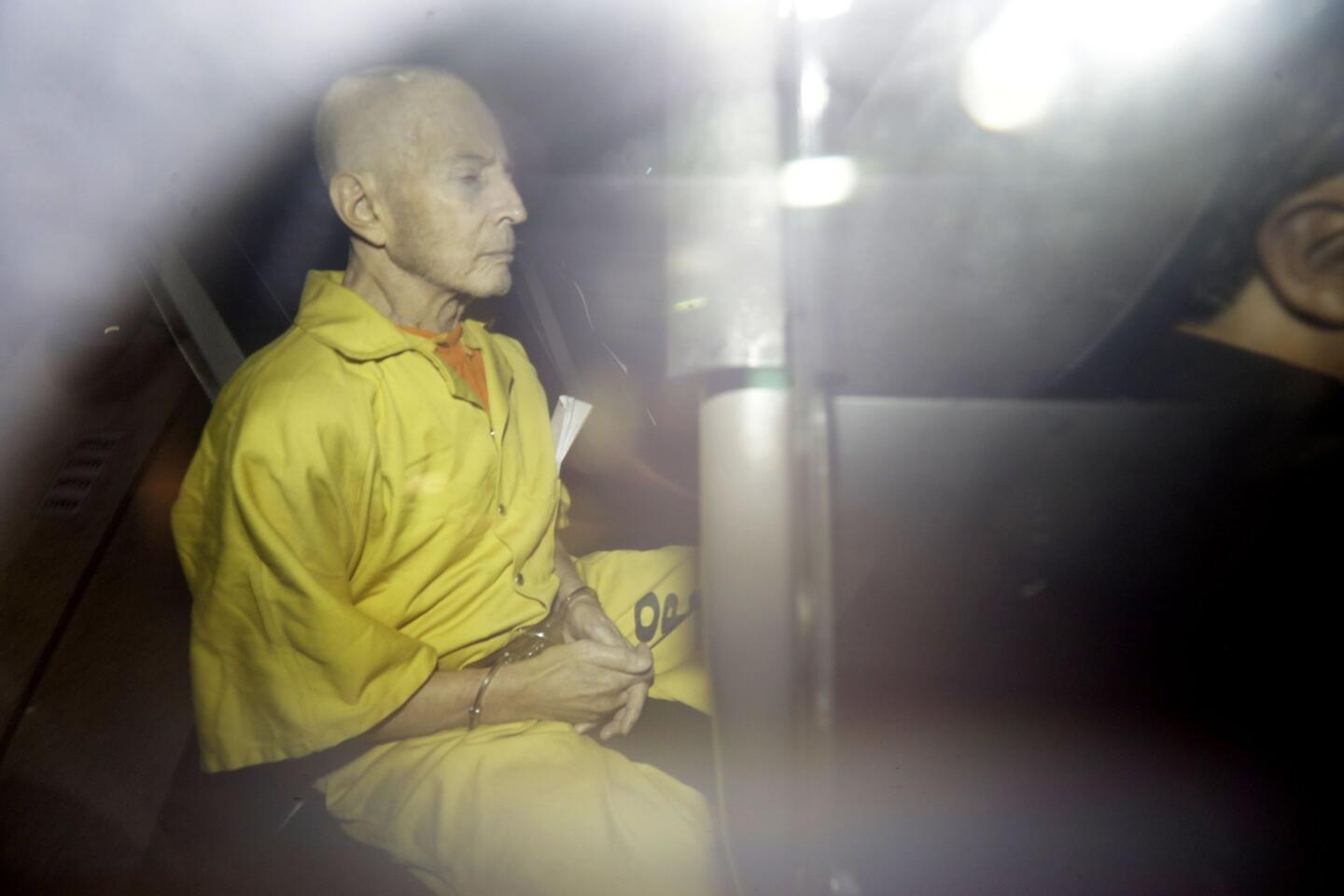 Robert Durst leaves federal court in an Orleans Parish sheriff's vehicle after his arraignment April 14 in New Orleans.
(Gerald Herbert / Associated Press)
Robert Durst is transported from district court to prison after his arraignment in New Orleans on Tuesday.
(Gerald Herbert / Associated Press)
Robert Durst is escorted into prison after his arraignment in New Orleans on Tuesday.
(Gerald Herbert / Associated Press)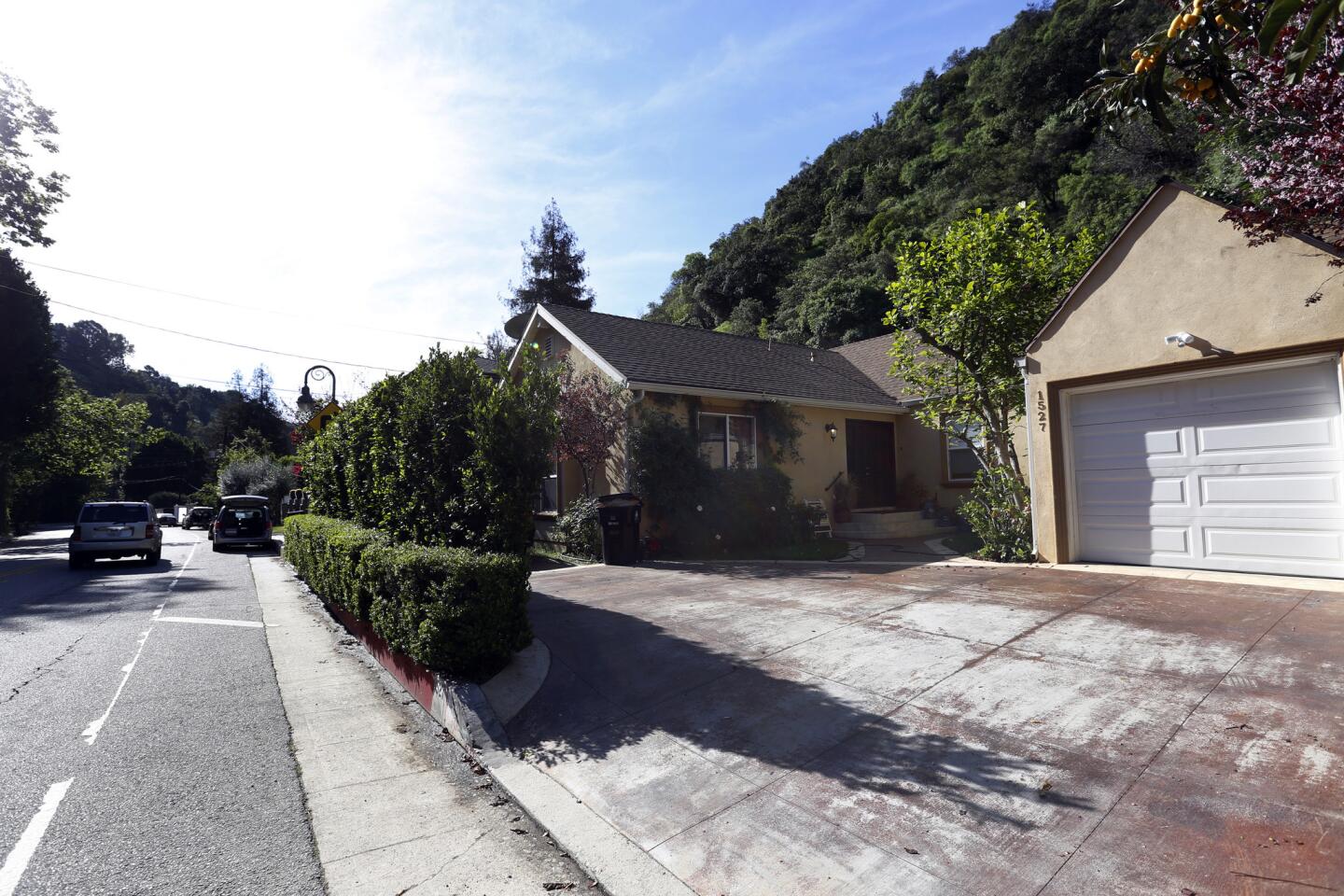 Writer Susan Berman was killed in her home in the Los Angeles neighborhood of Benedict Canyon.
(Francine Orr / Los Angeles Times)
Robert Durst, far right, photographed through fencing, is escorted into Orleans Parish Criminal District Court through a tunnel entrance, in New Orleans. Durst waived extradition Monday and will be taken to Los Angeles to face a murder charge in the 2000 slaying of a writer and friend.
(Gerald Herbert / Associated Press)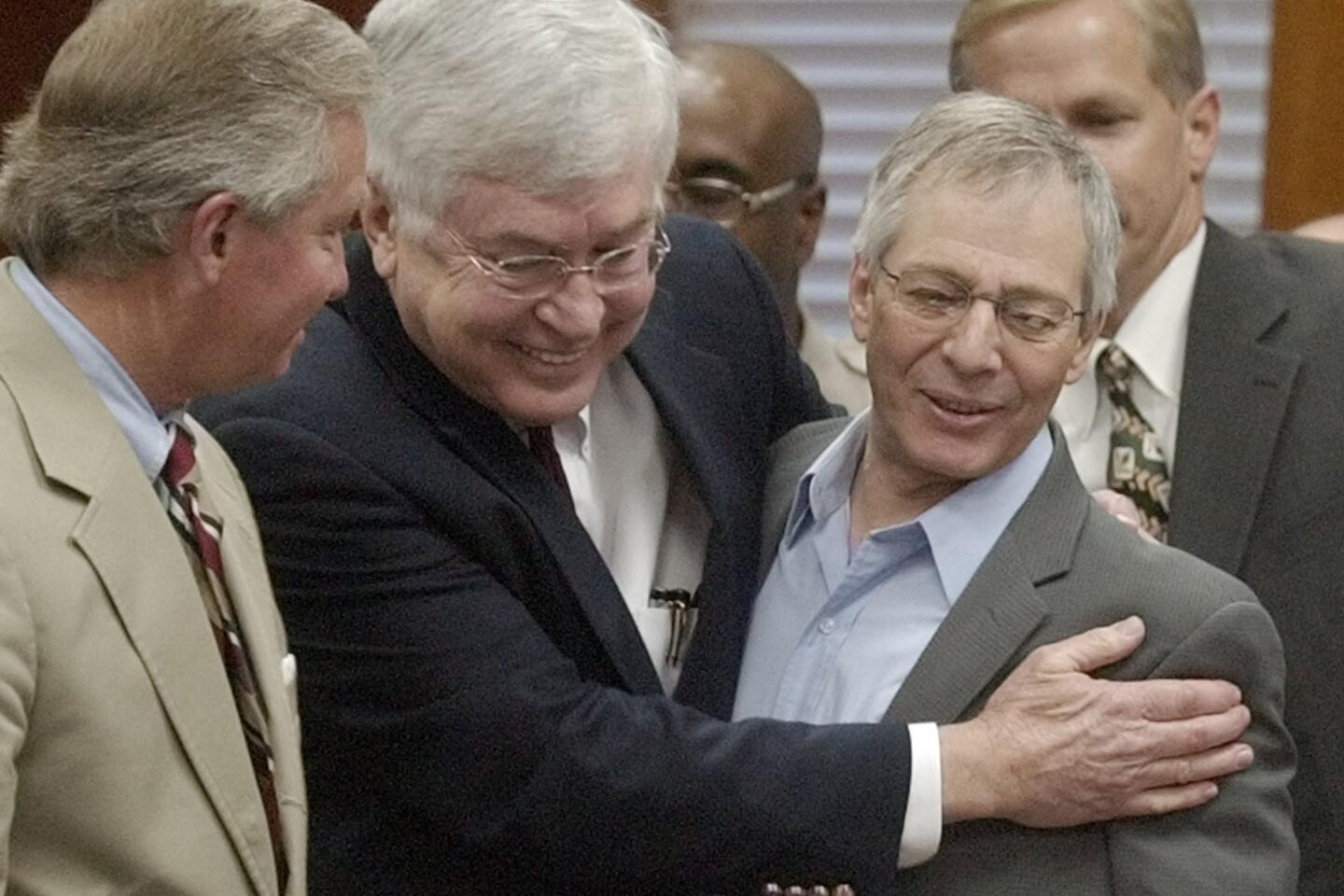 Multi-millionaire murder defendant Robert Durst, right, is congratulated by his attorneys Dick DeGuerin, left, and Mike Ramsey after receiving a verdict of not guilty Nov. 11, 2003, in Galveston, Texas.
(Pat Sullivan / Associated Press)
Multi-millionaire murder defendant Robert Durst demonstrates how Morris Black handled a gun during testimony at his trial on Oct. 23, 2003, in Galveston, Texas.
(Pat Sullivan / Associated Press)
In this Aug. 18, 2003, file photo, Robert Durst, left, sits in a courtroom during a pretrial hearing at the Galveston County Courthouse in Galveston, Texas.
(Kevin Bartram / Associated Press)
Robert Durst, center, is escorted by Northampton County deputy sheriffs before a hearing advising Durst of his rights under extradition laws Dec. 3, 2001, in Easton, Pa.
(Robert Fish / Associated Press)
Reporting from New Orleans —
In a scrawling, handwritten letter to The Times, murder suspect Robert Durst doesn't speak of the serious charges he now faces but instead writes wistfully of his days in Los Angeles.
The real estate scion muses about watching the city lights, the hopeless traffic congestion, spending time at a Sunset Boulevard coffee shop and his love of attending the opera.
RELATED: Letter from Robert Durst to Linda Zevallos
"I loved watching the traffic come up La Cienega and mush into Santa Monica," he wrote in his two-page letter, postmarked nearly two weeks after his arrest in the mysterious murder of author Susan Berman, found shot in the head at her Benedict Canyon home 15 years ago.
Durst blames L.A.'s political and business leaders for the absence of professional football in Los Angeles, ridicules a performance of Wagner's "Ring Cycle" as being a "true example of Hollywood gone berserk" and ruminates on his own medical condition.
"I have said nothing about charges, crimes or trials," he adds. "I'm sure you know what your abilities are to visit me when I get to L.A."
But it seems unlikely Durst will be coming to California anytime soon.
Nearly after a month after his arrest, the 71-year-old subject of the HBO documentary "The Jinx" was in Orleans Parish Criminal District Court Thursday to plead not guilty to state weapons charges, a case that has delayed his extradition to California.
In court, Durst greeted his three attorneys with a "Good morning," but looked feeble. He shuffled in wearing a yellow jail jumpsuit and plastic sandals, shackled and with his head shaved, to hear a judge read the charges against him — including a list more than 10 aliases — and ask how he pleaded.
Durst leaned toward his lead attorney, Dick DeGuerin, who whispered in his ear before he replied.
"I am not guilty, your honor," Durst said, his voice thin and even.
"On both counts?" Judge Franz Zibilich asked.
Durst again paused to consult DeGuerin.
"Yes," he said.
Durst was arrested March 14 when FBI agents stopped him on a California murder warrant and found a .38 revolver and marijuana in his hotel room. Agents had tracked the millionaire from his home in Houston and feared he had a plan to escape to Cuba.
His attorneys have been clear that they see the weapons charges as a distraction and would rather be in L.A. fighting the 2000 murder case.
"I feel like we're being tag-teamed," DeGuerin said after Thursday's hearing. "And I feel like we need to be in California where the main case is so we can try the case."
Durst was indicted on state charges of possessing a firearm as a convicted felon and possessing a firearm with a controlled substance, and now faces similar federal weapons charges.
His attorneys have waived extradition and attempted to subpoena the FBI agents who picked him up to testify about the arrest and searches so that they can get the charges dismissed. But federal prosecutors ordered the agents not to appear at a hearing last week, and persuaded the magistrate to continue the hearing.
On Thursday, DeGuerin reiterated that at Durst's next hearing "it will be necessary to have two, maybe one of the federal agents there.... We run into a stump with that because although we followed all the procedures to have them appear at a hearing last week, they filed a removal" to federal court.
Assistant Orleans Parish Dist. Atty. Laura Rodrigue, the district attorney's daughter who led the state case Thursday, balked.
"We are not obligated to present witnesses," she told the judge.
"They're just piling on," DeGuerin said later. "Now we're fighting three jurisdictions: L.A. won't give us the time of day, New Orleans likewise has been avoiding having a hearing and the feds have filed the same charges that the state filed."
Federal prosecutors have asked that Durst appear in court no later than April 16 to enter a plea to the federal weapons charges.
Durst is being held without bond about 70 miles west in a medical unit of Elayn Hunt Correctional Center in St. Gabriel, La.
molly.hennessy-fiske@latimes.com
Twitter: @mollyhf
Sign up for Essential California for news, features and recommendations from the L.A. Times and beyond in your inbox six days a week.
You may occasionally receive promotional content from the Los Angeles Times.