Witness in Robert Durst case says he told her he was in L.A. around the time Susan Berman was killed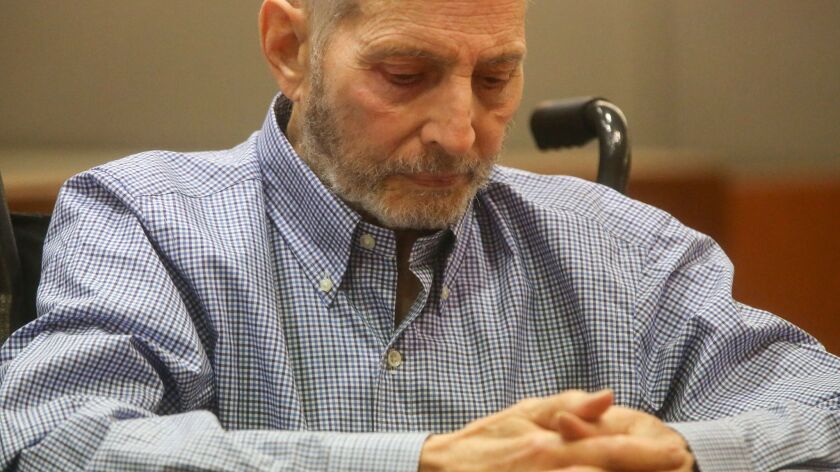 As Los Angeles police detectives built a murder case against Robert Durst, they faced one particular challenge: putting him in L.A. when his best friend was killed in her Benedict Canyon home.
Investigators knew from airline records that the New York real estate scion had left California the night before Susan Berman's body was discovered Dec. 24, 2000.
But those records showed Durst flying out of San Francisco — more than 300 miles away.
On Wednesday, however, one of his oldest friends testified that Durst told her he'd been in Los Angeles around the time Berman was killed, marking the first time someone has said he was in the Los Angeles area in that time period.
Emily Altman told a Los Angeles court that she believes Durst was staying at the Beverly Hilton hotel.
When asked if she was aware that Durst has never admitted to either investigators or the media that he was in Los Angeles in December 2000, Altman said "no."
"Did it seem strange to you," the prosecutor then asked, "he was in Los Angeles at the same time his best friend was shot in the back of the head?"
"No," Altman responded.
"Your belief," the prosecutor asked, "is, knowing Bob Durst, he would not kill his best friend?"
"That's correct," she responded.
Prosecutors allege that Durst, now 74, killed Berman to silence her because she knew too much about the 1982 disappearance of his first wife, Kathleen.
Altman, who sometimes got emotional on the stand, said she'd recently broken into tears on a phone call with a reporter, explaining that she didn't want to testify. But when a prosecutor expressed frustration with Altman, saying he believed she was choosing not to answer his questions, she shook her head. The judge then referred to her as a "hostile witness," but later clarified that he meant only that she'd identified more closely with the defense than the prosecution.
Durst, who has pleaded not guilty, watched silently as his friend testified.
Altman gave her second day of testimony in the city's airport courthouse, where the multimillionaire appeared for a hearing ahead of his murder trial.
By the late '70s and early '80s, Altman said she knew the Dursts were having marital problems, adding that one day while at a garage sale together, Kathleen told her she'd started seeing another man — a blues musician. So, Altman said, when Kathleen disappeared, she thought maybe she'd gone with him.
When a prosecutor asked her hypothetically how she'd feel if she knew Durst killed Kathleen, Altman responded: "Really hard for me to justify in my own head, OK?"
Later in the hearing, a prosecutor displayed a copy of an envelope addressed to "BEVERLEY HILLS POLICE" — an anonymous note sent to police around the time of Berman's death alerting them to a "cadaver" inside her home.
When a prosecutor asked Altman if she knew Durst to misspell Beverly Hills as "Beverley Hills," she said she'd never seen him write it out. She testified that the handwriting looked "kind of" like Durst's penmanship. The prosecutor then displayed the note found inside the envelope, which read, "1527 BENEDICT CANYON CADAVER." When asked if the handwriting looked like Durst's, she said "yes."
On Tuesday, Altman had testified that she was nervous and paused before answering when a prosecutor asked whether she wanted Durst to be acquitted.
"I hope that if Bob did not do what you're accusing him of," she said, "he's found not guilty."
"If he did do what he's charged with," the prosecutor then asked, "do you want him to be convicted?"
Altman closed her eyes and bit her lip, as if to hold back tears. "I guess if he's found guilty … then he's found guilty," she said, as her face reddened. She began to cry.
The prosecutor then asked whether Durst was one of her "closest, dearest friends?"
"Yes," Altman responded, glancing over at Durst, who was looking at her blandly.
If Durst killed Berman, the prosecutor asked, would you question how well you ever knew him?
"No," she responded. "I don't think you can judge a person's entire life by one act."
She testified that it would be incredibly difficult for her to believe that her friend — the man who came to the hospital the day her son was born and later became his godfather — had committed murder. She testified that Durst once bought her and her husband a four-door Lexus and paid for the three of them to take a trip to Puerto Rico. Altman described Durst as having a biting wit, but struggling to show emotion.
At Wednesday's hearing, the judge ruled that any jail phone calls between Altman and Durst were fair game for prosecutors to use. (Prosecutors and defense attorneys disagreed over whether it was proper for Altman to testify about certain things, considering she's long worked in the law practice of her husband, Stewart, who has represented Durst over the years.)
The judge ruled that the dominant purpose of the phone calls between Emily Altman and Durst was friendship and said that any possible attorney-client privilege had been nullified because the recorded jail conversations included a warning that the calls were being recorded.
Durst was arrested at a New Orleans hotel in March 2015 on suspicion of Berman's murder. His capture came a day before the airing of the final episode of "The Jinx," a six-part documentary about Durst's life. In the episode, Durst mumbles into a hot microphone: "What the hell did I do? Killed them all, of course," which some have interpreted as a confession to multiple murders.
The documentary highlights Kathleen's disappearance, Berman's murder and the 2001 fatal shooting of Morris Black, who was Durst's neighbor during the time he lived in Galveston, Texas, under an assumed name as a mute woman. (Durst, who said the gun went off accidentally while defending himself against Black, admitted to dismembering the man's body. He was ultimately acquitted.)
The eccentric millionaire is unlikely to stand trial in Los Angeles before 2018, and the judge has allowed prosecutors and defense attorneys to question several witnesses early, preserving their testimony in case they die before the case goes to trial.
During their questioning of witnesses, prosecutors seem to be eliciting testimony they hope will help establish their theory that Durst has a long history of violence.
Earlier in the week, a Connecticut man testified that Durst kicked him in the eye at a party in the 1980s with enough force to fracture his orbital bone. At a similar hearing earlier this year, a retired New York City police detective testified that he'd once interviewed the Dursts' neighbors, who told him they recalled an incident in which Kathleen came to their house — terrified — saying her husband had beaten her. (According to the detective's report at the time, Durst denied hitting his wife.) And Durst's longtime friend, Nicholas Chavin, said earlier this year that Durst once told him he'd intentionally hit a police officer with his car while driving 1 mph.
Chavin also delivered bombshell testimony: The defendant once confessed to killing their mutual friend — Berman.
"I had to. It was her or me," Durst said, according to Chavin. "I had no choice."
For more news from the Los Angeles County courts, follow me on Twitter: @marisagerber
ALSO
Man sentenced to 115 years for fondling women while impersonating a police officer
Two San Diego County shopping malls swarmed by thousands of street racers performing stunts
USC president admits university 'could have done better' in handling reports of medical school dean's drug use
---
UPDATES:
8:20 p.m.: This article was updated with additional details from Wednesday's hearing.
4:15 p.m.: This article was updated with additional testimony from Emily Altman.
This article was originally published at 3:35 p.m.
---
The stories shaping California
Get up to speed with our Essential California newsletter, sent six days a week.
You may occasionally receive promotional content from the Los Angeles Times.