Secret witness in Robert Durst murder case revealed to be a friend of victim Susan Berman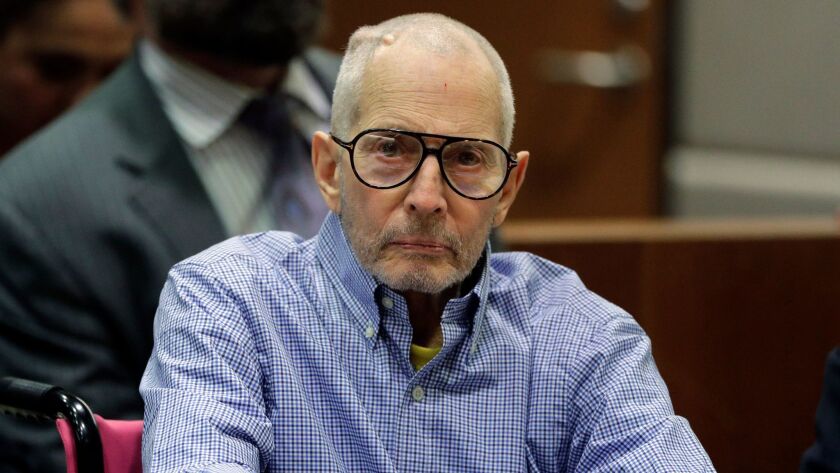 It was finally time for the secret witness.
As two bodyguards escorted the man into the courtroom through a back entrance, New York real estate scion Robert Durst leaned forward slightly, tracing the man's steps with his eyes.
It was Nathan "Nick" Chavin, his longtime friend and the man whose wedding he had attended as a groomsman. But on Wednesday, Chavin came to the Los Angeles County courtroom to testify for the prosecution in the murder case against the multimillionaire accused of killing their mutual friend.
The 73-year-old Durst is charged in the execution-style slaying of Susan Berman, who introduced the two men to each other decades ago. Prosecutors say Durst shot her inside her Benedict Canyon home in 2000 because she knew too much about the 1982 disappearance of his first wife, Kathleen.
Durst has said that Berman — who became his media spokeswoman after his wife's disappearance — told him shortly before her death that detectives had reached out to her, asking questions about Kathleen.
He has pleaded not guilty.
Although a preliminary hearing in Durst's murder trial is not set to take place until October, prosecutors had sought to question Chavin, 72, in advance, saying they had uncovered evidence showing a "possible danger" to his life.
While introducing himself in court Wednesday, Chavin spoke of both the defendant and the victim.
"I've known Bob Durst for 25 or 30 years," he said. "I met Bob Durst through a very dear friend of mine, Susan Berman."
Chavin grew up in El Paso, worked for a while as a musician and received a master's degree in creative writing from San Francisco State University. He said he met Berman in the Bay Area in the late 1970s, soon before relocating to New York and getting work as a copywriter at an advertising agency. Before long, the witness said, Berman introduced him to Durst, and the trio became close friends.
Chavin said he and Durst often visited clubs in New York together for "boys' night out," adding that Durst told him that he and Kathleen had an "open marriage."
The witness also testified that he had conversations with Kathleen, and that she described her husband as "impossible" and said she was afraid that he would hurt her physically. Chavin said Durst told him that he had once intentionally hit a police officer with his car while going 1 mph during a trip to the Bay Area, and also that he had once kicked a man in the head because he "pissed him off."
Chavin said Durst had been his best friend, adding that he had drastically changed the trajectory of his career by inviting him to do the advertising for some of the Durst Organization's holdings.
That work "became like a snowball," Chavin said, opening up the opportunity to add many other lucrative accounts. Durst, he said, had changed his life.
Chavin often closed his eyes in court when speaking about Berman.
He described her as an exceedingly generous person — the type of friend, he said, who gave him a navy blazer worth about $400 after he moved to New York. She told him it was a must-have in work circles, knowing he was clueless about such things. Berman, whom he described as "a second mother" to his young daughter, had an air of eccentricity, he said. She liked her chicken cooked in a particular way, he said, and was "utterly phobic" about many things, including heights.
The prosecutor said that the evidence would show that whoever killed Berman had knowledge of her phobias — an indication, he said, that limits the potential pool of killers to a small group.
Chavin, who will resume testifying Thursday, is the former boss of Susan Giordano, a close friend of Durst's. Giordano was also questioned by prosecutors Wednesday, saying she speaks with Durst at least once a week, even now that he's behind bars.
Deputy Dist. Atty. John Lewin pressed Giordano about her relationship with the defendant, which she characterized as strictly platonic.
Giordano said that over the years Durst had given her about $350,000. When pressed by the prosecutor, she said that she and Durst had spoken in the past of getting a "love nest," where they'd live together for the rest of their lives. Durst stared at her, expressionless, as she testified, and as she walked off the witness stand, tears filled her eyes.
FBI agents arrested Durst on March 14, 2015, at a hotel in New Orleans and found guns and stacks of cash. He was charged with Berman's murder two days later, but wasn't transferred to Los Angeles until November 2016, after being sentenced on federal gun charges.
Berman's death and Kathleen Durst's disappearance were featured prominently in "The Jinx," a six-part HBO documentary series about Robert Durst's life that aired in 2015. The series includes video from Durst's 2003 trial in Galveston, Texas, where he was accused of killing a neighbor, Morris Black. Durst admitted killing Black, saying he'd shot him in self-defense before chopping up the man's body and tossing the pieces into Galveston Bay. He was ultimately acquitted of murder in Black's death.
For more news from the Los Angeles County courts, follow me on Twitter: @marisagerber and @JamesQueallyLAT
ALSO
What Robert Durst said he meant when he told lawyers: 'I kill a lot'
Robert Durst said he was high on meth during some interviews for HBO series 'The Jinx'
Robert Durst murder case: Prosecutors can take early testimony from witnesses they say could die or be killed
---
UPDATES:
8:30 p.m.: The story was updated with additional details from the day's testimony.
4:25 p.m.: The story was updated with additional details from Chavin's testimony.
4:10 p.m.: The story was updated with additional testimony from Chavin.
The story was originally published at 3:10 p.m.
---
For reporting and exclusive analysis from bureau chief John Myers, get our California Politics newsletter.
You may occasionally receive promotional content from the Los Angeles Times.