Acquaintance testifies against Robert Durst in murder case, saying defendant kicked him in the eye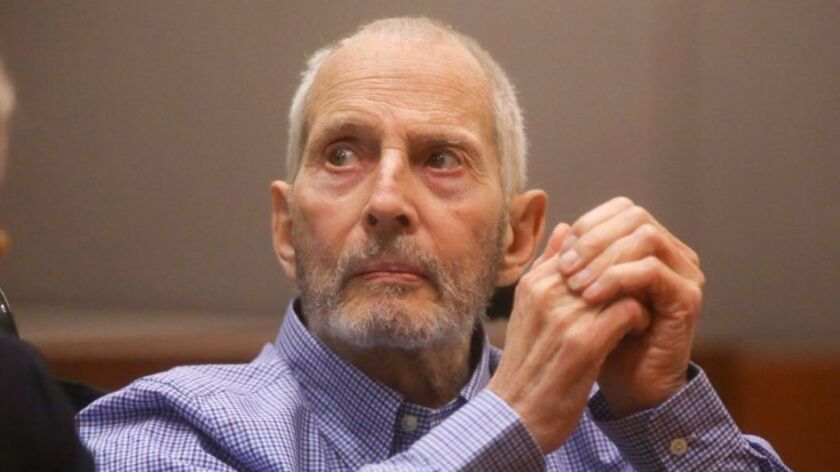 A Connecticut man testified Monday that Robert Durst — the idiosyncratic real estate tycoon accused of murder — once kicked him in the eye at party in the 1980s, swinging with enough force to fracture a bone in his face.
Prosecutors will likely use the testimony of Peter Schwartz, who is the first of several witnesses scheduled to appear in a Los Angeles courtroom this week to testify against Durst, to bolster their theory that the defendant had a history of violence.
The New York millionaire is unlikely to stand trial before 2018, and the judge has allowed prosecutors and defense attorneys to gather early testimony from several elderly witnesses.
Durst, 74, is accused of carrying out the execution-style shooting of his friend Susan Berman inside her Benedict Canyon home in 2000 — a slaying, prosecutors say, that was meant to silence her because she knew too much about the 1982 disappearance of his wife, Kathleen.
In court Monday, Durst walked to the defendant's table slowly, turning at one point to look into the audience. While Schwartz testified, Durst stared at him, expressionless.
Schwartz said that in January 1981, he and his then-girlfriend attended a party at the New York City home of Robert and Kathleen Durst. He'd been invited, he said, by his friend Gilberte Najamy. At some point during the gathering, Schwartz said, some people, including Robert Durst, left to go to a nightclub. The group that stayed behind — Schwartz and a handful of others, including Kathleen Durst — settled into a small room in the home.
When Robert Durst returned about 20 minutes later, Schwartz recalled, the defendant, who appeared "very agitated," looked at Kathleen and then at Schwartz, who was seated on the floor against a radiator.
Robert Durst, the witness recalled, then addressed him in a threatening tone: "You're the only guy here."
A moment later, Durst, dressed in pointed cowboy boots, barreled toward him and kicked him in the right eye, Schwartz said, adding that Durst had kicked with enough force to fracture his orbital bone.
"He was enraged," Schwartz said. "Bent on doing harm."
After the kick, Schwartz — who described himself as taller and heavier than the defendant — pinned him to the ground, he said, agreeing to let him go, but warning him that he didn't want any more problems. A few moments later, Schwartz said, the defendant charged toward him, shoving him into the radiator and injuring his back. Schwartz said he again held Durst to the ground, but agreed to let him go. As Durst left the room, Schwartz recalled Kathleen Durst telling the group that her husband owned a gun.
"She seemed concerned and terrified," said Schwartz, 69, a therapist in Connecticut.
The kick, Schwartz testified, was the second time Durst had assaulted him at a party. At a gathering at a friend's home in Connecticut in the late '70s, Schwartz recalled standing near a door, when it suddenly swung open, hitting him in head. He didn't see who swung it, but Schwartz said Durst was the only other person standing nearby. Durst, Schwartz said, stood there silently as if nothing had happened.
"Unconcerned," Schwartz recalled of Durst's reaction. "He could care less."
Durst's attorney, Dick DeGuerin, tried to poke holes in Schwartz's story, saying that the witness had previously called him, expressing concern about his lack of memory from the years-ago incidents.
Under questioning from DeGuerin, Schwartz recalled another time he'd visited the Dursts' home with Najamy, who he said had brought a white substance that he believed to be cocaine with her. The attorney then asked if there had been cocaine at the party where he'd been kicked in the eye.
"I don't recall," Schwartz said.
Prosecutors also plan to gather testimony from Paul Kaufman, who dated Berman; Emily Altman, Durst's longtime friend; and Richard Markey, one of the last people to see Berman alive. At a similar hearing in February, Nicholas Chavin — a mutual friend of Durst and Berman — delivered bombshell testimony: Durst, Chavin said, had once confessed to killing Berman.
Durst has pleaded not guilty.
In a 2015 interview with The Times after Durst was arrested on suspicion of killing Berman, Markey recalled his last memories of his friend. It was a few days before Christmas in 2000, and they'd met at the Third Street Promenade in Santa Monica for dinner and a movie. They watched "Best in Show," he said, laughing together through the comedy, then parted ways.
Markey then went out of town to visit relatives. When he returned, he had a startling message on his answering machine: Berman had been killed. Markey said he suspected Durst, but doubted he'd ever face criminal charges.
Prosecutors will likely ask Altman about a document that she gave to producers of "The Jinx," a documentary examining Durst's life. The document is a narrative timeline that prosecutors say Durst wrote while he was awaiting trial in Galveston for the 2001 slaying of Morris Black. (Durst admitted to shooting Black, his neighbor, and chopping up his body, but argued that he'd acted in self-defense. He was acquitted.)
"How carry Morris out of apartment?" the document reads. "Too heavy...bought axe. DID IT. Lift body parts into trash bags."
Prosecutors were planning to call Altman's husband, Stewart, but will now question him at a later hearing, according to a spokesman for the district attorney's office.
Stewart Altman is a labor lawyer who met Durst more than half a century ago while attending high school together in Scarsdale, N.Y.
The defense was expected to call New York police Det. Michael Struk, who led the investigation into Kathleen's disappearance in the 1980s. But after a back-and-forth with prosecutors over the cost and logistics of his travel from the East Coast, the defense ultimately decided against it.
In a recent court filing, Durst's lead attorney, DeGuerin, explained that the witnesses' requests — that the defense pay for his wife's travel, as well as a dog sitter — could have been interpreted as "conferring a benefit on a witness in return for his testimony."
For more news from the Los Angeles County courts, follow me on Twitter: @marisagerber
---
UPDATES:
2:05 p.m.: This article was updated with testimony from the court hearing.
This article was originally published at 5 a.m.
---
For reporting and exclusive analysis from bureau chief John Myers, get our California Politics newsletter.
You may occasionally receive promotional content from the Los Angeles Times.