On New Year's Day, blue skies and a postcard-perfect Rose Parade offer respite after a year of political tumult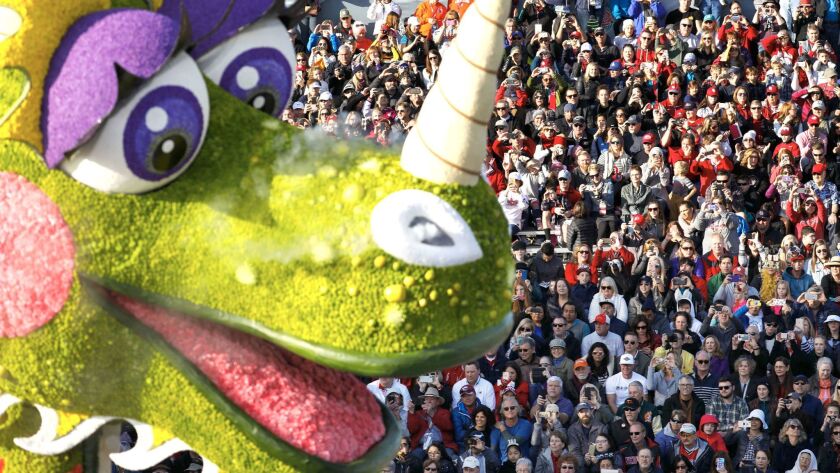 It was the kind of famously mild Southern California winter day that would make any shivering East Coaster jealous.
The sky was a picture-perfect blue, the sun shone bright and the flower-covered floats delighted with a kaleidoscope of color as tens of thousands of people rang in the new year at the 129th Rose Parade in Pasadena.
While revelers in New York City's Times Square welcomed 2018 during the city's second-coldest New Year's Eve on record — a frigid 10 degrees — Rose Parade spectators were treated to relatively balmy temperatures in the mid-50s.
"We complain because we can, but we have the best weather," said Riverside resident Maria Romo, who wore a stocking cap and a heavy coat as she stoked a fire in a barbecue grill after camping overnight on Colorado Boulevard. "This is why we live on the West Coast."
After a tumultuous year of political division and protests from coast to coast, New Year's Day at the Rose Parade was a wholesome respite, largely exempt from the cultural wars. Aside from a few street preachers telling people they were going to hell — as they do every year — and a small group of healthcare-for-all protesters toting a huge Bernie Sanders image at the end of the parade, the atmosphere was placid.
The Rose Bowl game brought legions of football fans from Oklahoma and Georgia, two traditionally conservative states, to famously liberal California. But politics were mercifully far from spectators' minds, and people instead commented on each other's kindness.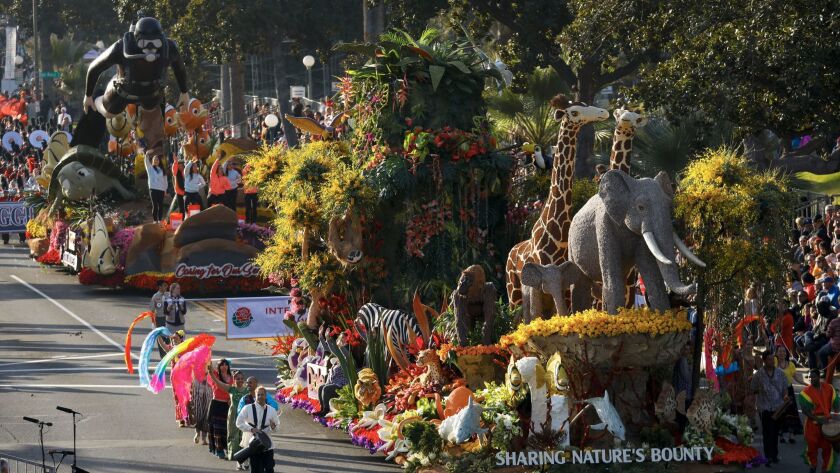 "Everyone is so nice," said Diana Camacho, 16, of Costa Mesa. "You don't usually have people crossing the street to just say hi."
The hours-long parade, themed "Making a Difference," went off without any significant security issues.
Scores of campers, bundled in blankets and huddled around propane heaters, spent the night along the 5.5-mile route.
Camacho, her parents and her 19-year-old sister, Desiree, camped along Colorado in Winnie the Pooh-themed onesie pajamas. When the Camacho girls laid down on an inflatable air mattress, their mother, Ana Rosete, wrapped them — and Desiree's 20-year-old boyfriend, John Wills — up tight in blankets and wrapped their heads in sweaters to make sure their ears were covered and warm.
"We're grown-ups, and we got tucked in," Wills said, laughing. "I've got my second mom over here."
Rosete grinned. The last time her family camped for the Rose Parade was a decade ago, when her children were small. She was reminded of that time.
The sidewalks were covered in confetti from New Year's Eve celebrations. At midnight, people sang and whooped. A woman danced, twerking her hips for cheering spectators at 3:30 a.m., and young men played football in the middle of a car-free Colorado Boulevard.
On the parade route, there were small moments of drama.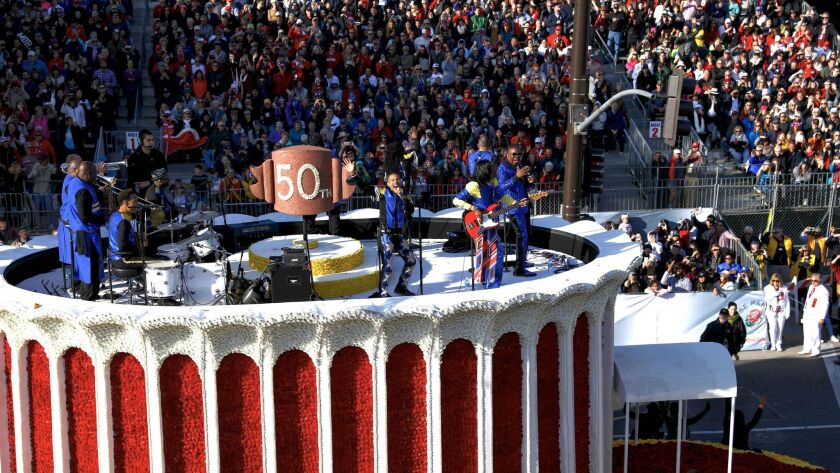 As Cal Poly's float rounded the corner of Orange Grove and Colorado boulevards, the top — a cat flying a small plane — almost struck a stoplight.
"Ohhh!" the crowd cheered as the float's driver steered sharply, barely missing the light.
And turning the corner onto Colorado Boulevard, one of the University of Oklahoma ponies reared up as the horses pulled a covered wagon along the parade route.
Before the sun rose, Jonathan Garcia, 18, of Pasadena, sat with friends around a fire pit, playing card games and enjoying watching people — including a drunk man who lost his pants after getting arrested in the middle of the street.
"I've done this all my life," Garcia said of attending the parade.
Missy and Brent Koehl walked down Colorado enjoying what felt like, to them, a nice spring day. Back home in west central Minnesota, it was minus 26 degrees.
The vacationing couple had never been to the Rose Parade. Brent, a corn and soybean farmer, had worried at first about whether being in such a large crowd would be dangerous, thinking about the mass shooting in Las Vegas in October. But he said he and his wife felt safe once they arrived in Pasadena.
"We've been a bit overwhelmed," Brent, 28, said. "We're not used to this, coming from a town of 5,000 people."
Missy, a nurse, said that after the Rose Parade, they planned to make like Southern California residents, take it easy and "work on our tans."
Cara and Randy Houston, from Jackson, Miss., celebrated their 35th wedding anniversary at the parade, which they also were attending for the first time.
They got to the route at about 3 a.m. to look at the floats lining the streets, and Cara fell in love with a float featuring a big, green dragon.
"Just pinch me," she said. "It's incredible."
Trent Woods navigated the crowd on Orange Grove Boulevard with a Georgia bulldog clutching a rose in its mouth painted on his head, making him a prime target for selfies. He was stopped every few feet by both Georgia and Oklahoma fans.
Known to fans as "Big Dawg Woods III," Woods is well known among Georgia fans. His mother, Diana, painted his head back home in Athens, Ga., on Thursday, and his wife, Mandy, had been touching it up since they arrived in California.
It's a tradition that Woods' grandfather, Lonnie, started in 1980 while working as the bus driver for the football team. Then, his father, Mike, started doing it.
On Monday, Trent wore his father's red overalls. It was Trent's birthday, but he was celebrating his dad, who had a heart attack and died last January.
"It's awesome, getting to be part of it now and just to see the love and affection that the fans and university has shown my family," he said. "It's something that sometimes I can't put into words."
Just after 8 a.m., two Air Force F-35 Lightning II fighters and a B-2 stealth bomber flew over the Rose Parade, eliciting gasps, cellphone photos and squeals of delight.
"America!" a man shouted.
"Hell yeah!" a woman said.
As the grand marshal car toting actor Gary Sinise passed, people shouted, "Lieutenant Dan!," the character Sinise played in the film "Forrest Gump." A woman waved and muttered, "Call me."
Shortly behind the car were two young men in white work suits diligently sweeping up horse feces with big brooms. They earned huge cheers and catcalls.
"Earning their keep," a man said approvingly.
When the Amazon Prime float, pushed by humans in gray shirts, passed by, someone in the crowd joked: "Why isn't it powered by drones?"
William Schultz, a 37-year-old Santa Monica resident wearing a flying-squirrel onesie, ran down the parade route, arms out like he was flying. Police on motorcycles honked at him, but he said it was worth all the smiles he got.
michael.livingston@latimes.com
---
The stories shaping California
Get up to speed with our Essential California newsletter, sent six days a week.
You may occasionally receive promotional content from the Los Angeles Times.