Sheriff's officials: Four dead in Rowland Heights shooting, including gunman shot by son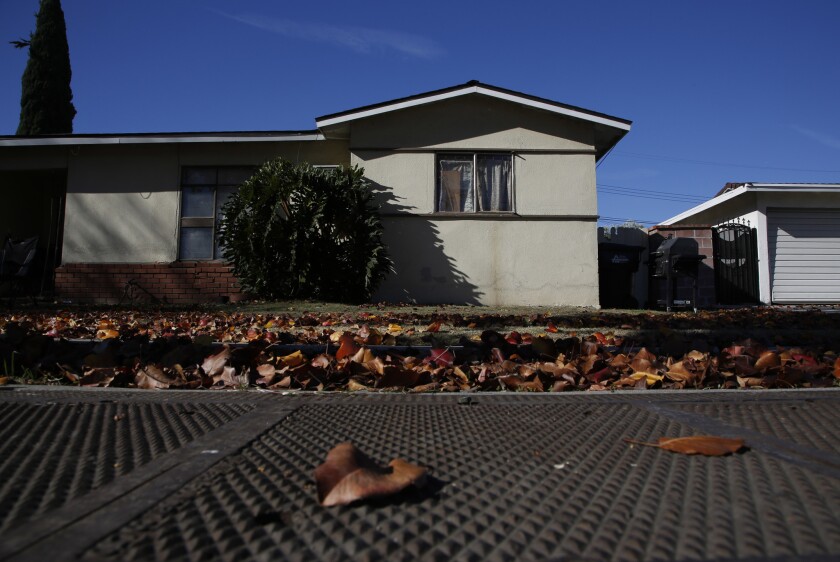 Sheriff's deputies had been to the house on Batson Avenue 25 times in the last three years, after neighbors or others reported disturbances in the low-slung ranch house in Rowland Heights.
But the call for help that came on New Year's Eve was different.
Christopher Morey, 33, called 911 to report a shooting at his family's home. Four people were dead, sheriff's officials said, including a man Morey shot: his father.
Join the conversation on Facebook >>
Morey's father had apparently opened fire shortly after 8:30 p.m., killing his son's bedridden mother, girlfriend and friend, said sheriff's Lt. John Corina. Morey then wrestled the handgun away from the 54-year-old and shot him once, killing him, sheriff's officials said.
Morey was booked on suspicion of murder and held in lieu of $1 million bail, Corina said. Prosecutors will decide whether to charge him with a crime.
"We'll see what the D.A. wants to do," Corina said. "We're going to book him for what he did — he killed another human being."
Relatives of Morey declined to speak to reporters Friday at the family's home.
Corina said investigators were still trying to determine why Morey's father started shooting, but he said those in the group "were all drinking." He said investigators were looking into whether the shooting stemmed from a dispute earlier in the day between Morey's father and Morey's girlfriend over her use of a washing machine.
Detectives have spoken with neighbors and others who were at the home Thursday to verify what the son told detectives.
"We're still trying to corroborate what exactly happened and his version of events," Corina said. "We're trying to piece it all together."
The names of those who were killed were not immediately released by coroner's officials. But one woman who went to the home on Friday said her son, 27-year-old Ernesto Calzadilla, was among the victims.
Neighbors said Morey's family was friendly and had barbecues in the yard, but they drank frequently and could sometimes be loud. Bottles of Bud Light were stacked on shelves near the front door of the house, filling a laundry basket and cardboard box.
Those who knew Morey and his father said the two cared for Morey's mother, bedridden after suffering a series of strokes. Morey's father worked long hours, they said, and caring for the mother took its toll on both men.
"They had to do everything for her," said Sean Tubbs, 27, who grew up with Morey.
Tubbs and others said Morey's father was not particularly welcoming toward guests. One family friend said he always carried a gun. Calzadilla's brother said Morey's father "wasn't all there" and pulled a gun on Ernesto multiple times, even shooting at him once.
"We told him not to come over here anymore," Wilfred Calzadilla said, tears welling in his eyes.
Calzadilla's friends and family gathered outside the house, crying as they placed candles and flowers at a memorial. His father crouched on the gravel walkway leading up to the home, his hands probing the dirt. He had heard his son was shot outside of the house and was looking for any sign of the young man.
Wilfred Calzadilla said his brother would often hang out at the Morey house. Ernesto Calzadilla was upset about losing his warehouse job and Christopher Morey was generous with his beer and his money. Morey and his girlfriend would feed Calzadilla, have a few beers with him and sometimes send him home with cash to buy things for his 10-month-old daughter.
"They were generous," Wilfred Calzadilla said. "They saw he was sad."
Ernesto Calzadilla planned to go to another relative's house to celebrate New Year's Eve, his brother said, but stayed at Morey's instead. Calzadilla's family was toasting the new year with apple cider when they learned about the shooting.
"We heard it on the news and we kept hoping it wasn't my brother," he said. "But they told us it was."
The timing was particularly heartbreaking, Wilfred Calzadilla said, because his brother had just gotten hired at another warehouse.
He was supposed to start his new job Monday.

Follow @katemather and @frankshyong for more crime news.
ALSO
Runner is struck by car along Rose Parade route
2-car crash in Ontario kills 5, including a 6-year-old boy
San Bernardino attack casts shadow over Rose Parade; heavy security evident
---
The stories shaping California
Get up to speed with our Essential California newsletter, sent six days a week.
You may occasionally receive promotional content from the Los Angeles Times.