Runyon Canyon Park users furious over plan for branded basketball court
Regulars to Runyon Canyon Park got plenty of warning about the pipe replacement work that has shut the park down for four months. But it was only in recent weeks that they learned about another planned project associated with the closure: the construction of a corporate-branded basketball court partway up a hiking trail.
The city's Department of Recreation and Parks has brokered a deal with the CEO of a streetwear brand called Pink+Dolphin in which the company will pay to build an expensive and much-needed retaining wall at the park as well as a basketball court which will bear its logo. The deal also includes a water fountain for people and dogs, to be branded with the name of its contributor -- AQUAhydrate, whose owners include Ron Burkle, Mark Wahlberg and Sean "Diddy" Combs.
NEWSLETTER: Get essential California headlines delivered daily >>
On Monday, people angry about the court -- including many who live right up against the extremely popular 137-acre park -- packed a special meeting of the Hollywood Hills West Neighborhood Council to express their dismay. They wanted to know why their opinions about such a park change hadn't been solicited -- and why the city had approved a basketball court without asking for an environmental impact report or doing any sound tests.
Many of the people who came to the meeting couldn't fit into the small room at the Will & Ariel Durant branch library on Sunset Boulevard. Some waited outside for more than two hours to get a chance to speak out against the basketball court.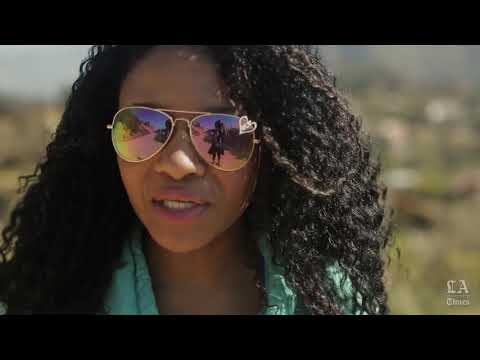 Runyon Canyon Park will be closed for four months.
"This is about so much more than a basketball court.... Runyon Canyon is perfect the way it is. It doesn't need to be changed minus basic, basic upkeep," said Scott Weil, who lives in an apartment building up against the park's southern gates.
There to hear the park-goers' concerns was City Councilman David Ryu, and representatives of the city's Department of Recreation and Parks.
In November, recreation and parks commissioners approved a deal with the clothing line's CEO, Neima Khaila, to construct the basketball court. As part of that deal, Pink+Dolphin will donate roughly $260,000 for the work.
Recreation and Parks officials said they need to solicit such outside contributions because their department is cash-strapped and can't pay for park maintenance and repairs, let alone improvements.
This is about so much more than a basketball court.... Runyon Canyon is perfect the way it is. It doesn't need to be changed minus basic, basic upkeep.
— Scott Weil, nearby resident
Five years ago, the department created a partnership and revenue division aimed at finding support from outside sources -- be it nonprofits, foundations or corporations.
"We at Recreation and Parks have had a big hit.... Our budget has been decimated," explained Vicki Israel, the division's assistant general manager.
Ryu said he had been warned to bring extra protection to the meeting because he had been threatened by people angered by news of the basketball court.
"That is not acceptable," he said at the meeting. He also called the lack of public outreach concerning the basketball court "a travesty."
"We should have had more solicitation and sought out input from the community. Should've, could've but we didn't," he said -- adding that most of the decisions were made before he took office.
When he told the crowd that undoing the deal would be very difficult, some booed. Ryu later said he would ask the city attorney if anything could be done.
Also the recipient of a fair share of crowd anger was the nonprofit Friends of Runyon Canyon Park, which signed a memo of understanding with Recreation and Parks in 2014 to work alongside the city in fundraising, restoration and improvement efforts. Since its incorporation in 2014, FORC said it has raised more than $100,000 in private donations for the park.
Many in the crowd said that FORC, which knew about the basketball court deal, did not spread the word to park-goers. Some questioned whether the group is representative of those who use the park.
The basketball court would be built on a concrete slab that once was a tennis court -- before Runyon Canyon was a park. City officials said it would have a sound-absorbing surface.
According to FORC, 1.8 million people visit Runyon Canyon Park each year, with 35,000 coming each week. The park is particularly popular because dogs can explore much of its territory off-leash. FORC said 300,000 dogs are brought to the park each year.
At the end of the meeting, which lasted more than 2½ hours, members of the neighborhood council unanimously passed a motion opposing the commercialization of the park and the basketball court.
Follow Nita Lelyveld on Twitter and Facebook.
ALSO
More than 30 German shepherds found abandoned in Highland
Sea lion pup found inside La Jolla restaurant to be returned to ocean
Authorities identify Thousand Oaks student killed in homemade rocket blast
Sign up for Essential California for news, features and recommendations from the L.A. Times and beyond in your inbox six days a week.
You may occasionally receive promotional content from the Los Angeles Times.