L.A. County expands homeless services with toilets in Venice and overnight parking in Hollywood and North Hollywood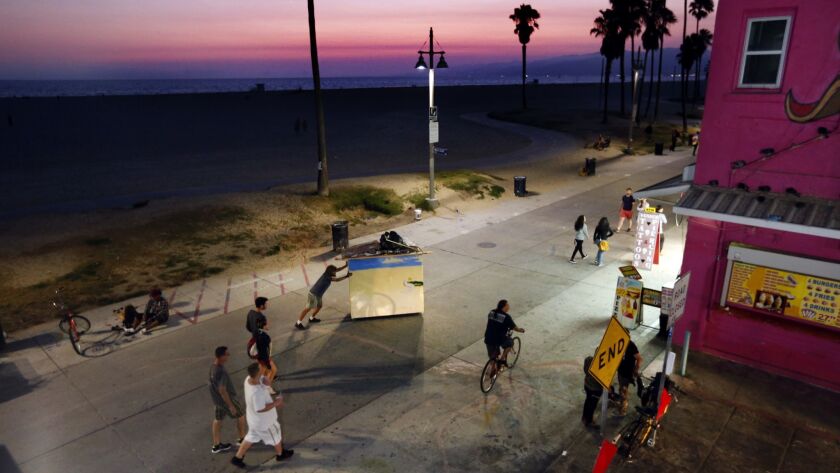 The Los Angeles County Board of Supervisors voted Tuesday to expand services for homeless people in areas where the city of Los Angeles has struggled.
The supervisors approved the overnight placement of two portable toilets and hand-washing stations at the Rose Avenue beach parking lot in Venice Beach — the latest development in an ongoing debate about bathroom access for the homeless.
They also authorized the nonprofit organization Safe Parking L.A. to operate overnight parking spaces for homeless people living in their vehicles at two county-owned buildings in Hollywood and North Hollywood, bringing the total number of such sites in L.A. to five.
Both motions, sponsored by Supervisor Sheila Kuehl, were approved unanimously.
The debate over public bathroom access has raged in Venice Beach and skid row, with the issue gaining urgency last year amid an outbreak of hepatitis A in Los Angeles and San Diego counties. The disease poses a particular risk to homeless people because it thrives in unsanitary conditions.
In 2016, City Councilman Mike Bonin proposed several steps to alleviate homelessness in Venice, including opening up storage space and providing 24-hour bathroom access.
At his urging, the city passed an ordinance to keep restroom stalls on the Venice boardwalk open overnight. The effort was delayed, though, with the first restrooms finally opening overnight on Monday, said Bonin's spokesman, David Graham-Caso.
"It's absolutely intolerable that there was feces and urine on the streets and sidewalks," Graham-Caso said. "People living on the street need a place to go."
In December, Mayor Eric Garcetti unveiled trailers with toilets and showers on skid row, only to see them close a few months later.
The county motion approved Tuesday instructs the Department of Beaches and Harbors to allow two overnight restrooms at the Rose Avenue parking lot for up to 12 months. County law says beach parking lots are for parking only; the city must get a permit from Beaches and Harbors to place the restrooms there.
The facilities, which could open by the end of the month, will be monitored by attendants and removed each morning to allow full public access to the parking lot. Separately, the nonprofit organization Lava Mae will provide mobile trailers with toilets and showers at the same location during the day. The lot is about a mile north of the 24-hour stalls now open at Horizon Avenue.
"We're excited," Graham-Caso said. "This is going to finally advance something that the councilman has been working on for a long time."
The supervisors also approved a program similar to ones in place in San Diego and Santa Barbara to assist people living in their cars. Such programs have been slow to get up and running in Los Angeles.
An estimated 16,000 people live in 8,500 vehicles across the county. Last year the L.A. City Council banned vehicle dwelling within one block of schools and parks and limited places where people could sleep in cars.
"Our mission is to get them off the streets so they can feel safe and a little more stabilized, and have a little more energy" to find work and housing, said Scott Sale, executive director of Safe Parking L.A.
Only three safe parking sites exist in L.A., two at churches in Koreatown and South L.A. and one at the Department of Veterans Affairs campus in West L.A.
Tuesday's motion would create two more, one of which could open as early as next week, Sale said.
The sites, to be located at lots used during the day by the Department of Public Health, would provide a total of 20 vehicle spaces for the next six months.
Safe Parking L.A. will be able to use the lots for free but must pay for its own programming and security. Kuehl's office has provided the nonprofit a grant of $209,000 in discretionary funds to support its sites. Supervisor Mark Ridley-Thomas' office has given $38,000.
"We're starting small, but we expect this program to grow," Kuehl said in a statement.
Twitter: @AgrawalNina
---
The stories shaping California
Get up to speed with our Essential California newsletter, sent six days a week.
You may occasionally receive promotional content from the Los Angeles Times.