Report names 80-plus alleged predator priests over 6 decades in San Bernardino parishes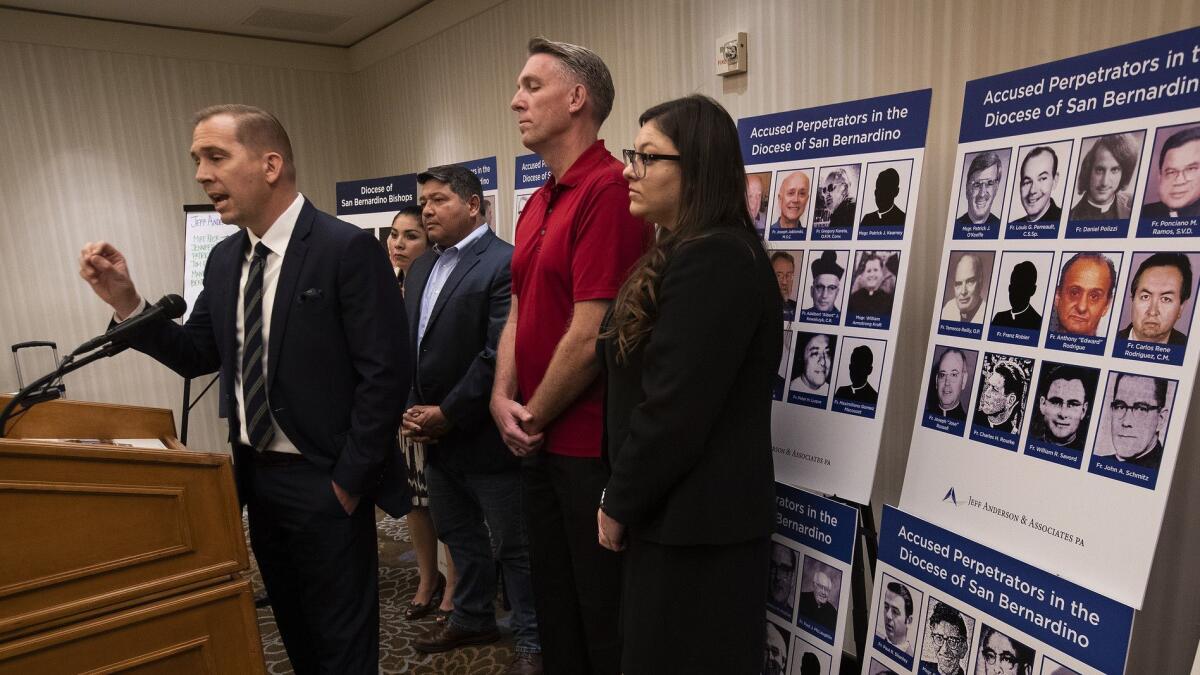 A Minnesota-based law firm has released a report chronicling decades of alleged sexual abuse by clergy within the San Bernardino Diocese.
In October, the diocese released its own list of 34 priests who had been accused of abusing children. In the new report, released Thursday, Jeff Anderson & Associates of Minnesota contend that the diocese has not been fully transparent about the extent of sexual misconduct within the district.
"San Bernardino has disclosed in the past a certain number of offenders," said Mike Reck, an attorney for the firm. "We know and believe and can prove that their list is incomplete."
The report names more than 80 clergy members accused of sexual misconduct dating back to the 1950s. Most of the claims brought against these clerics have been settled or have not been fully evaluated in court, according to the report.
The firm notes that when the diocese released its list, it did not include accused priests who worked within the existing geographical bounds of the San Bernardino Diocese before it was formed in 1978. Before that year, the Diocese of San Diego represented parishes in San Bernardino and Riverside counties.
The names of accused clergy obtained by the firm were found in lawsuits, newspaper articles and reports from other dioceses, according to Reck. The firm also included priests who were accused of sexual misconduct elsewhere but worked in the San Bernardino Diocese at some point.
In response to the report, San Bernardino Diocese spokesman John Andrews said the bishop didn't include clergy employed prior to 1978 in its list because they were already disclosed by the Diocese of San Diego.
"We have encouraged people to look at the San Diego list along with ours," Andrews said.
Catholic churches move to name molesting priests, but victims say it's too little, too late »
The San Bernardino disclosure — and those made by many other dioceses in California and across the U.S. in recent months — was prompted by a Pennsylvania grand jury report released in August that detailed rampant sexual abuse committed by Catholic clergy.
Around the same time, Jeff Anderson & Associates filed a civil suit on behalf of abuse survivor Tom Emmens in Los Angeles County Superior Court. The suit called for 11 California dioceses to release names of every cleric accused of sexual misconduct, as well as private records documenting such abuse.
If the suit is successful, a judge will review those records and decide how to move forward with the information.
The firm's San Bernardino report is meant to bring context and awareness to this effort, Reck said, and to shine a spotlight on the history of this particular diocese.
The report includes a copy of a 1950 letter from the then-bishop of San Diego, Francis Buddy, to a church official. He wrote of problem priests sent to the district from other religious orders and dioceses, and complained that the Franciscan Fathers used the diocese "as a dumping ground for their moral, mental and physical problems."
The firm said it planned to release similar reports on other California dioceses.
laura.newberry@latimes.com | Twitter: @LauraMNewberry
Sign up for Essential California for news, features and recommendations from the L.A. Times and beyond in your inbox six days a week.
You may occasionally receive promotional content from the Los Angeles Times.