San Diego Mayor Bob Filner out Aug. 30, apologizes to victims
Bob Filner enters the San Diego council chambers to announce that he is resigning as mayor as his supporters applaud in the background. He was publicly accused of sexual harassment by many women.
(Don Bartletti / Los Angeles Times)
In the San Diego City Council chambers Bob Filner announces he is resigning as mayor.
(Don Bartletti / Los Angeles Times)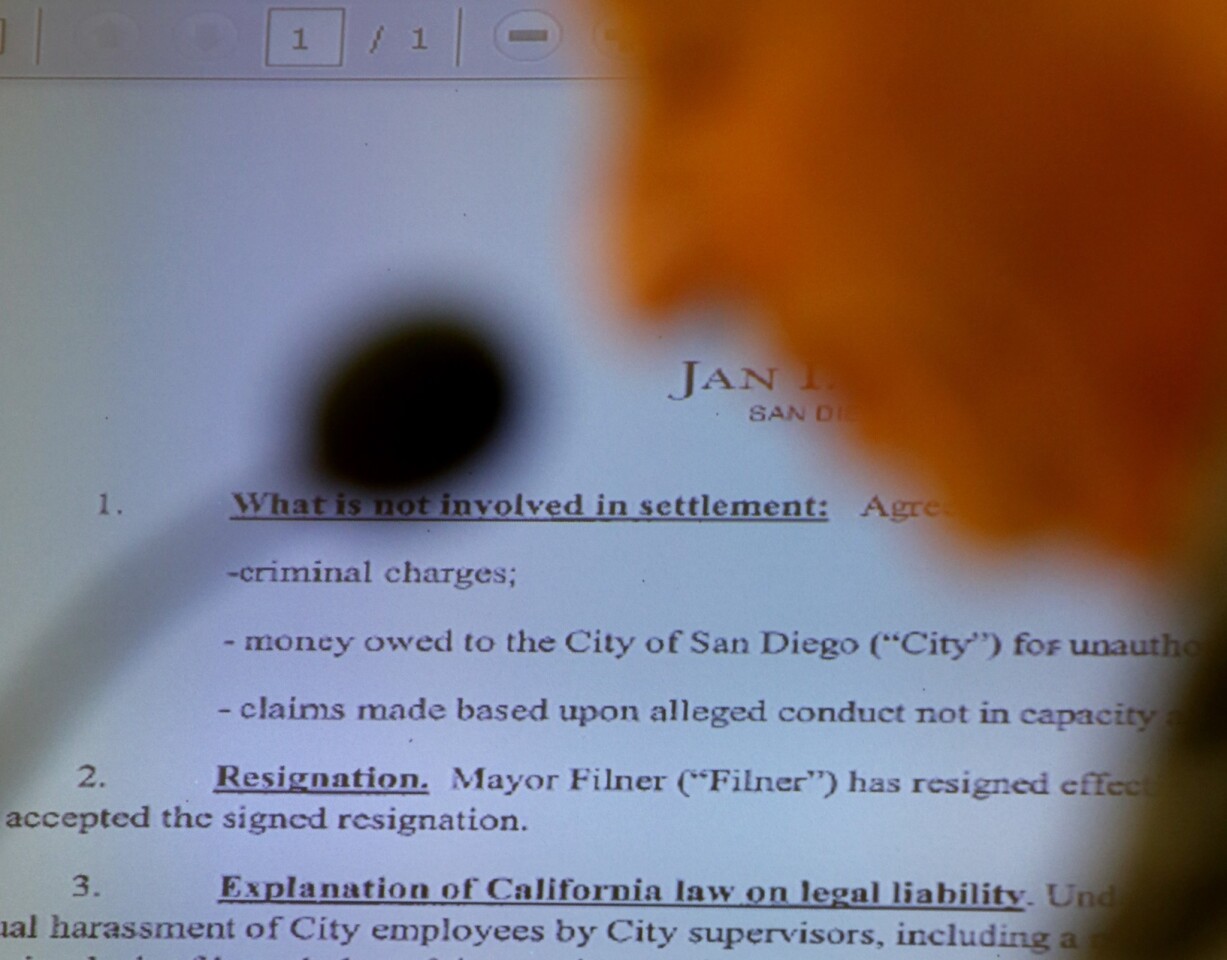 As Bob Filner addresses the City Council, the official San Diego city statement is projected on a screen.
(Don Bartletti / Los Angeles Times)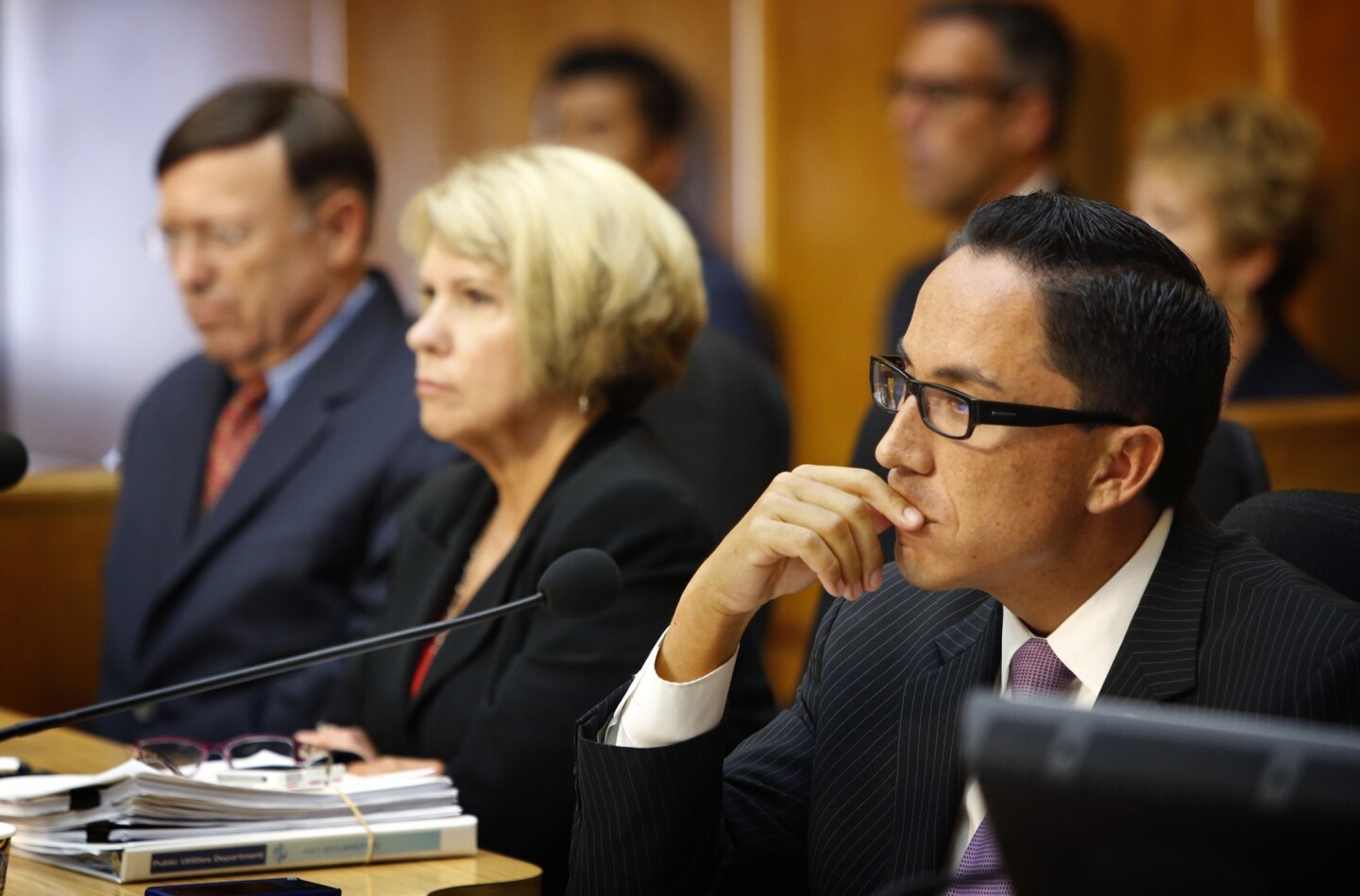 San Diego City Council President Todd Gloria, right, listens to public comment about Mayor Bob Filner during a special meeting in the council chambers. Later in the afternoon, Filner appeared and announced his resignation, with Gloria appointed interim mayor.
(Don Bartletti / Los Angeles Times)
SAN DIEGO – After six weeks of controversy over his improper conduct with women, Mayor Bob Filner agreed to step down after the City Council approved a deal Friday to pay for some of his expenses from a sexual harassment lawsuit filed against him.
His last day in office will be Aug. 30.
In an emotional speech to the City Council late Friday afternoon, Filner apologized to the residents of San Diego, his former fiancee and the women he is accused of sexually harassing.
"To all the women I offended, I had no intention to be offensive, to violate any physical or emotional space," Filner said, blaming his behavior "on a combination of awkwardness and hubris."
He apologized to his former fiancee, Bronwyn Ingram, saying, "I love you very much. ... I personally apologize for the hurt I have caused you."
After apologizing, Filner changed tone, likening his ouster to the work of a "lynch mob," something he said he encountered earlier in his life, when he worked as a Freedom Rider in the South during the Civil Rights era.
The council voted 7-0 to approve a deal leading to Filner's resignation.
"Protecting the taxpayers has always been my top priority," Councilman Kevin Faulconer, one of two council members who were part of three days of private negotiations with Filner, his attorneys and the city attorney, said earlier in the week.
Filner, 70, elected in November as the city's first Democratic mayor in two decades, came to the council chambers after the vote was announced.
The council now must call an election to be held within 90 days to find a successor. In the interim, Council President Todd Gloria will assume greater authority but not the full powers of the "strong mayor" adopted by voters in 2004.
Filner becomes the fourth of the last seven mayors of San Diego to leave mid-term.
[Updated at 4:23 Aug. 23: Filner is now the subject of a criminal investigation by the state attorney general's office, a spokesman for Atty. Gen. Kamala D. Harris said in an email late Friday]
ALSO:
HIV-positive porn actress 'coming to terms' with test results
Tour bus crash: Company has logged numerous safety violations
Atheist parolee sent back to prison must be compensated, court says
Twitter: @LATsandiego
---
For reporting and exclusive analysis from bureau chief John Myers, get our California Politics newsletter.
You may occasionally receive promotional content from the Los Angeles Times.