State money is funding anti-pollution efforts in San Diego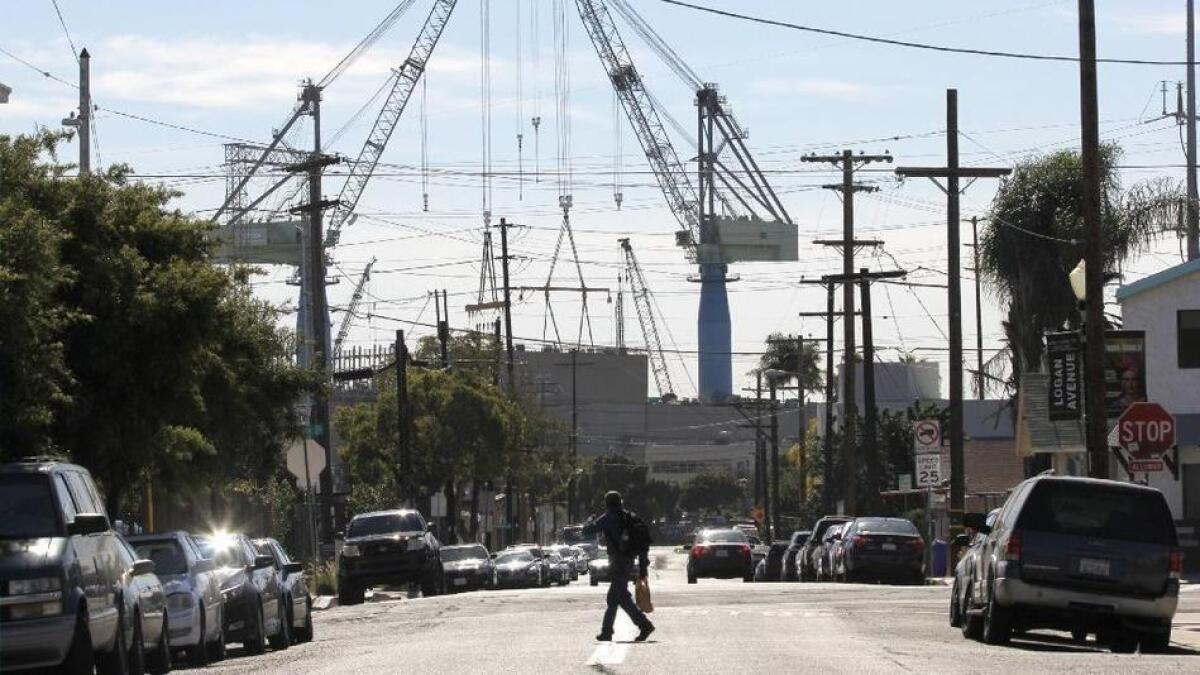 Reporting from San Diego —
Residents living in San Diego's portside neighborhoods, from Barrio Logan to National City, have for years breathed some of the most polluted air in California. These low-income communities have pleaded for relief, suffering severe risks for asthma and cancer.
However, there's been disagreement about what's causing that pollution.
While community members and their advocates have pointed to the shipbuilding industry, freight operations, and other activities at the Port of San Diego, businesses have argued that freeway pollution is the primary threat to nearby communities.
Both sides now see an opportunity to get clarity on the situation and rein in toxic emissions — whether from diesel-powered cranes, cargo ships and freight trucks or the heavily trafficked Interstate 5.
Millions of dollars in state funding have started to flow from Sacramento to the San Diego region as part of a statewide effort to clean up disadvantaged communities, dubbed the Community Air Protection Program.
"This is the biggest thing to happen for air quality, I think, in 20 years," said Jack Monger, CEO of the Industrial Environmental Association, a prominent industry trade group. "Finally, we're going to have some scientific data to look at."
The California Air Resources Board has targeted 10 communities around the state to be part of an initial air monitoring and cleanup effort, from Richmond in the Bay Area to East Los Angeles to the port neighborhoods of San Diego.
"Our communities have been neglected by regulatory agencies for decades," said Diane Takvorian, executive director of the Environmental Health Coalition, who was recently appointed to the air board. "The Community Air Protection Program is a significant step in the right direction."
Barrio Logan residents, such as Philomena Marino, are also supporting the effort. She said that for the first time, she's optimistic her lifelong neighborhood could become a healthy place to breathe the air.
"If you would have asked me that three years ago, I would have said no," said Marino, 49, "but now, I'm hopeful it will get cleaned up."
According to the U.S. Environmental Protection Agency, residents in Barrio Logan experience asthma at more than twice the national average, and the risk of cancer is in the 80th to 90th percentile.
The program was mandated by the state legislature in 2017 under Assembly Bill 617 and is largely funded by the state's cap-and-trade program. Regional air pollution control districts oversee the process, which is guided by a steering committee of industry officials, health experts, community members and environmental justice advocates.
The San Diego County Air Pollution Control District said it has received about $3.75 million from the state last year to roll out its program and expects to pull in another $2.5 million by spring.
The steering committee is preparing to deploy air monitors in Barrio Logan, Logan Heights, Sherman Heights and west National City. The devices are expected to be providing data on pollution by July. Monthly meetings of the steering committee started in October and are open to the public. The next meeting is scheduled for Tuesday at 6 p.m. at Perkins Elementary School.
While the process has been a model of collaboration so far, the harder work will begin once the data comes in this summer. That's when the group will likely be faced with addressing specific sources of pollution, from vehicle fleets to individual businesses.
In the meantime, some efforts are already underway. The San Diego County air district has started considering grant applications for projects that, for example, electrify port operations or replace older boat and truck engines.
And the Port of San Diego struck a deal with the Environmental Health Coalition in 2016 to establish certain 'green' operations as part of a more than $32 million expansion of its Tenth Avenue Marine Terminal.
While the Port ramps up its cargo throughput from roughly a million metric tons a year to 4.7 million by 2035, it has agreed to invest in low-emissions freight equipment. It's also planning to purchase a roughly $8 million "bonnet" to capture smokestack emissions from ships that cannot plug into the electric shore-power system while docked.
"We very much have a desire to electrify the terminal," said Job Nelson, assistant vice president of government and civic relations for the Port. "We all want to get to the same place. It's just a question of where the technology is."
Last summer, port tenants rolled out several large electric trucks and forklifts secured in a $5.9 million grant from the California Energy Commission. The battery-powered vehicles went to the Dole Fresh Fruit Company, Marine Group Boat Works, Pasha Automotive Group, Terminalift and Continental Maritime.
However, even the Port admits there's much it could do to electrify its equipment. At a recent meeting of the San Diego Association of Government Freight Stakeholders Working Group, Aimee Heim, manager of grants and policy with the Port, said the group has missed out on grant funding to electrify operations because it lacked some long-range planning.
---
The stories shaping California
Get up to speed with our Essential California newsletter, sent six days a week.
You may occasionally receive promotional content from the Los Angeles Times.