Environmental group requests hearing process on San Onofre restart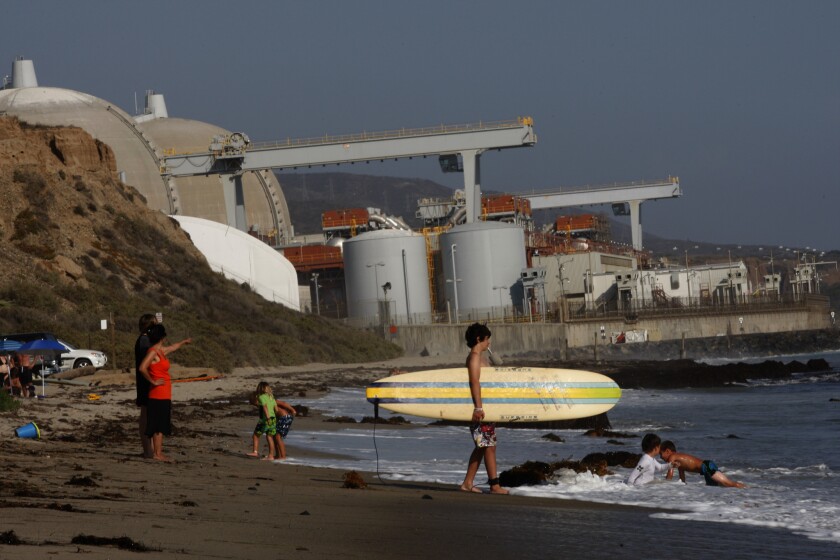 <i>This post has been updated. See the note below for details.</i>
An environmental group filed a motion Friday asking federal regulators to set up trial-like public hearings before deciding on a proposal by Southern California Edison to restart its troubled San Onofre nuclear plant.
The plant has been out of service since January 2012 due to unusual wear on tubes that carry radioactive water in the plant's steam generators. One tube leaked a small amount of radioactive steam Jan. 31, 2012, prompting the shutdown of the plant.
Edison has not settled on a long-term repair plan but has requested permission to restart one of the plant's units at reduced power for five months to see if running at lower power will eliminate the conditions that led to the tube wear.
Environmental group Friends of the Earth has been pushing the U.S. Nuclear Regulatory Commission for nearly a year to require Edison to go through a formal license amendment process with public hearings before allowing restart.
Edison contended a license amendment is not required but last month submitted a narrow license amendment request in hopes of speeding the NRC's review of the restart proposal. The company asked the NRC to review the request under an expedited process that could allow public hearings to take place after restart instead of before.
A special panel of NRC judges this month issued a ruling in response to a petition by Friends of the Earth, saying the restart proceedings amount to a de facto license amendment and would require an opportunity for public hearing. The body also said restarting the plant would amount to an "experiment."
But it did not specify when or how the hearings should take place.
In the motion filed Friday, Friends of the Earth asked the NRC's governing board to prohibit staff from issuing a license amendment under the expedited process requested by Edison.
It requested the NRC to issue a new notice allowing parties to request a full-scale hearing on a wide range of issues relating to the plant's restart, and to convene a board of judges to preside over the hearings.
Edison or the NRC staff could file responses to the motion, but NRC spokesman Eliot Brenner said only that the filing was received and "will be considered in due course."
[Updated at 2:40 p.m. PST: Edison spokeswoman Maureen Brown said of the Friend of the Earth motion, "We don't believe it has merit." She said the company's lawyers were reviewing it for an "appropriate response."]
ALSO:
Bulldogs stolen from family's yard twice in three months
Travelers hit the roads and skies for Memorial Day weekend
Boy in critical condition, pair held on suspicion of attempted murder
Twitter: @sewella
---
The stories shaping California
Get up to speed with our Essential California newsletter, sent six days a week.
You may occasionally receive promotional content from the Los Angeles Times.