Woolsey fire destroys historic ranches, movie sets and open spaces in Santa Monica Mountains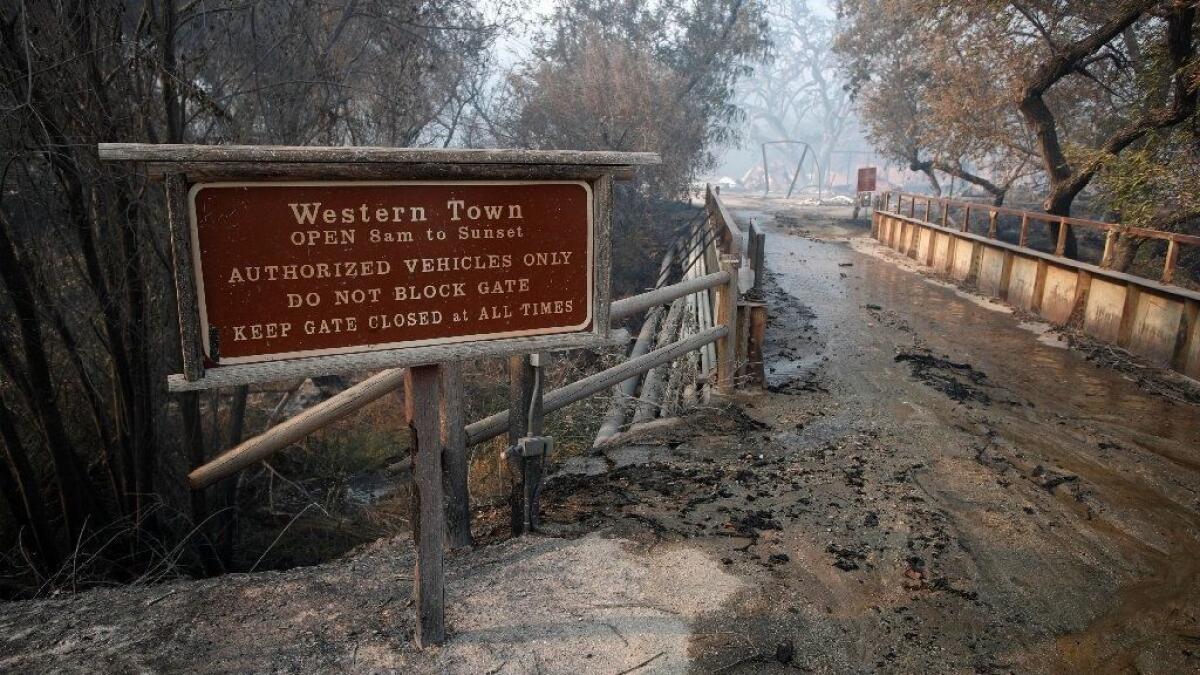 The burnt husk of a park service vehicle slumped at the entrance of Malibu Creek State Park, its glass windshield melted into a Dali-esque blob.
The steep craggy mountains and gorges below ordinarily attract groups of tourists, hikers and campers to the area, but on Saturday the ground here was still smoldering, charred into a black crumble.

For the record:
5:25 p.m. Nov. 11, 2018A previous version of this story incorrectly spelled Joe Edmiston, the executive director of the Santa Monica Mountains Conservancy.
Wildfires decimated the historic park tucked inside the Santa Monica Mountains a day earlier — taking with it markers of its proud past as a backdrop for television shows and movies such as "Planet of the Apes."
Flames consumed the set of the long-running TV series "MASH." The same went for the Reagan Ranch, named after the former president and actor who used to own one of three parcels that comprise the 44-year-old park's footprint along with Bob Hope and 20th Century Fox.
"I was just showing a group of visitors from Russia Tarzan's rock pool," said Tim Johnston, 83, a retired Los Angeles firefighter and park docent who was astonished by the damage he saw Saturday. "People don't realize they've been watching movies all their lives that took place here. Their mom's been watching all her life. Even their grandma has been watching all her life."
All across the Santa Monica Mountains, the devastating Woolsey fire exacted both a psychic and physical toll on local history and connections to an unlikely stretch of wilderness that — through dogged conservation — persists despite the surrounding urban sprawl.
The Santa Monica Mountains, which stretch from Hollywood Hills to Point Mugu in Ventura County, have long offered Southern Californians a respite from the city below with the range's array of hiking trails, waterfalls and rock pools. And its sprawling ranch land has given Hollywood real-world ties to the frontier life it exhaustively depicted on screen.
It's little wonder that properties with links to show business were among the worst hit by a wind-swept fire that has scorched 83,000 acres of mostly natural land as of late Sunday and was only 10% contained.
The sets at Malibu Creek State Park weren't the only ones to be leveled. The nearby Paramount Ranch and its scenic Western Town, most recently used for HBO's hit series "Westworld," were also ruined in the blaze. The site was a regular destination for day trippers who used the convincing background for family photos.
About two miles west saw the destruction of the Peter Strauss Ranch, named after an Emmy Award-winning actor. The ranch featured a swimming pool and amphitheater and was the site of art exhibits and performances by country stars Johnny Cash and Willie Nelson. All that remained of the ranch house was a few stone walls and a chimney.
"When Mother Nature wants to win, she always wins," said California State Parks Supt. Tyson Butzke, who's ordinarily based in the Channel Coast District in Ventura County but came down to assist during the Woolsey fire.
Los Angeles County's proximity to nature means it's always beholden to inherent risks such as fire. That danger is heightened each year as more homes encroach onto natural land.
So much of the Santa Monica Mountains' modern story has centered on its tension between nature and development. Los Angeles is the only metropolis in the world split by a mountain range, and an untamed one at that in many parts. Mumbai, India, and L.A. are the only two cities that count big cats among their residents.
"This is some of the most coveted real estate in the world," said Matt Jaffe, author of "The Santa Monica Mountains: Range on the Edge." "The fact that there's a huge amount of acreage set aside in an environment this expensive is a remarkable success story."
Jaffe and his wife had to evacuate their Calabasas home because of the Woolsey fire but were heartened to learn one of their favorite nearby walking destinations, the King Gillette Ranch, was undamaged. The couple regularly hit nearby hiking trails on a whim, even just for an hour of exercise.
"One of the special things about living where we live is we have access to the mountains in a spontaneous way," Jaffe said. "It's not the typical L.A. experience where you have to leave at a certain time to beat the traffic. That means a lot to us. To a whole community of people the mountains are central to who they feel they are as people and their connection to nature."
Public access to the mountain range has been hard fought. It was propelled with the establishment of the Santa Monica Mountains Conservancy in 1980 by the state. Funded with bond measures and led by an ambitious executive director, Joe Edmiston, the agency has preserved tens of thousands of acres of land along the range.
The powerful group has also advocated against too much residential development. Last year, Edmiston called for the limiting of recovery funds for rebuilding homes in fire-prone areas. (Anyone who thinks it's easy to build a new house in the mountains should consider the plight of U2 guitarist David Evans, a.k.a. the Edge, who has been trying since 2005 to erect his dream home on a barren vista called Seawater Mesa.)
Many of the residents in the mountains also own horses and other animals. For feed they've come to rely on the West Valley Horse Center in Agoura Hills, which had been run for decades by sometime Hollywood stunt rider Buck Wicall, who died in June at 83.
The store is now operated by Wicall's daughter, Adrienne Manhan, and her husband, David Manhan. They still don't own a computer. All records are kept with ink and paper. Wall space is covered in framed photos of Wicall's friends: Ronald Reagan, Gene Autry and Clayton Moore, who played the Lone Ranger.
"When we evacuated the other night, we all did it together," said Adrienne Manhan, 60. "There's a small-town feeling to this place."
David Manhan, who is also a movie set designer, says the allure of the Santa Monica Mountains is unmistakable.
"It's the mountains, it's the oak trees, it's nature," the 59-year-old native of the area said. "You drive through the canyons, you see the rock formations, you hit [Pacific Coast Highway] and see the ocean. It's like no other place."
Twitter: @dhpierson
Sign up for Essential California for news, features and recommendations from the L.A. Times and beyond in your inbox six days a week.
You may occasionally receive promotional content from the Los Angeles Times.