L.A. City Council opposes state bill that would lift local zoning rules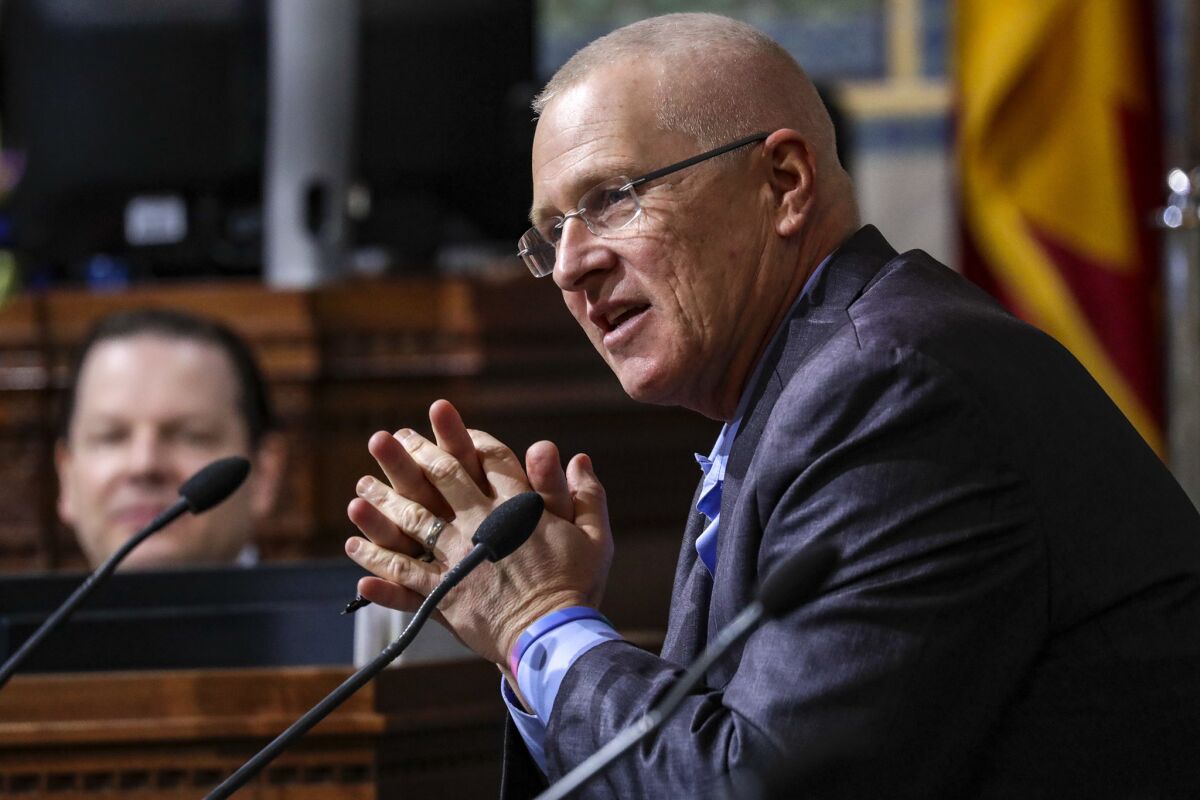 For the second year in a row, the Los Angeles City Council has come out against a plan by a San Francisco-based state senator to lift restrictions on higher-density housing near rail stations, major bus routes and areas with high concentrations of jobs.
On a 12 to 0 vote Tuesday, council members authorized the city's lobbyists to oppose Senate Bill 50 — authored by Democratic state Sen. Scott Wiener — one of a handful of bills targeting the state's housing crisis.
Councilman Paul Koretz, who represents part of the Westside, called the bill a "handout for developers" that would result in the destruction of historic districts and single-family neighborhoods. Councilman Mike Bonin, whose district includes coastal neighborhoods, warned that SB 50 would lead to the displacement of renters in lower-income sections of his district.
"I've got a neighborhood, Del Rey — mainly low-income, mainly Latino community — that would be ravaged by this," said Bonin, whose district stretches from Los Angeles International Airport to Pacific Palisades. "There's not enough protection in there."
SB 50 would allow developers to build four- to five-story residential projects near rail stations and major transit stops. In neighborhoods with frequent bus service, and areas designated as "job rich," cities and counties would be forced to relax their zoning requirements and allow the construction of smaller apartment or townhouse projects.
The council voted to oppose a similar housing measure, Senate Bill 827, last year. Since then, Wiener has taken steps to address concerns about gentrification and the displacement of tenants, putting language in SB 50 that would allow implementation to be delayed until 2025 in higher poverty neighborhoods.
SB 50 would require affordable housing in projects with 11 or more units that rely on the bill's development incentives, such as increased height. The bill would bar real estate companies from demolishing a home if a renter has lived on the site in at least the previous seven years if they want to use the new incentives.
The council's resolution opposing SB 50 would allow the city's lobbyists to support the bill if Los Angeles is removed from it entirely — and lawmakers add certain wage guarantees for construction workers.
Asked about the council's vote, Wiener said he plans to "keep working to fix a broken status quo that is resulting in real pain for millions of Californians."
"The status quo isn't working, and it's not helpful to ask for an exemption for L.A. or any other city," he said. "We're one state, and when it comes to fixing our housing problem we're all in this together."
Council members argue that L.A. already has its own housing initiative, known as the Transit Oriented Communities program, which allows larger residential projects to go up near bus and rail routes if they include affordable housing. The bill seeks to exempt areas covered by L.A.'s program.
Wiener has said he plans to tighten up that language in the bill in future amendments. But the measure would still increase density in single-family neighborhoods near L.A.'s public transit routes, something the Transit Oriented Communities program doesn't do.
Wiener's bill has drawn support from an array of housing advocates, environmental groups and business organizations, including the downtown-based Central City Assn. That group argued that SB 50 would lead to "more affordable housing in some of our most exclusionary communities."
Koreatown resident Richard Bourne, a proponent of SB 50, told council members that the bill would take aim at suburban cities that have been blocking the construction of much needed apartments and condominium projects much more than Los Angeles has.
"It will affect the bad-actor cities around L.A. that are using local control to keep themselves wealthy and free of minorities," he said.
The city's chief legislative analyst, who advises the council on policy matters, said in a memo last month that the bill would transfer much of the city's control of land use decisions to Sacramento and to the Metropolitan Transportation Authority, which has power to decide how frequently buses run on major transit routes.
L.A. neighborhood groups in locations such as Westwood, Sunland-Tujunga, Pacific Palisades and South Los Angeles have come out against the bill, with many arguing that it would shift planning decisions to Sacramento.
David Gregg, a resident of the Crenshaw Manor section of South Los Angeles, said he is not reassured by the offer of a delay in implementation of SB 50 in higher poverty neighborhoods.
In an email to council members, Gregg said the bill would lead to "incredible land flipping as developers buy and demolish residential homes, potentially wiping out the entire Crenshaw Corridor community."
Gregg's neighborhood is bordered by two light rail lines — one on Exposition Boulevard, one slated to open next year on Crenshaw Boulevard.
Twitter: @DavidZahniser
---
Life is stressful. Our weekly mental wellness newsletter can help.
You may occasionally receive promotional content from the Los Angeles Times.