California legislator revives bill to boost apartment complexes near transit
Reporting from Sacramento —
A California state senator has revived a major effort to boost homebuilding near transit, a proposal he says is necessary to address the state's housing affordability and climate change challenges that have only deepened since his initial bill failed earlier this year.
Under the new proposal from Sen. Scott Wiener (D-San Francisco), developers would be allowed to build four- to five-story apartment complexes in neighborhoods surrounding Los Angeles Metro stations, Bay Area Rapid Transit and other rail stops around the state. The legislation would also ease some local restrictions on building homes near frequently used bus stops.
Wiener's bill follows a similar attempt in the last legislative session that sparked fierce debate over how far the state should impinge on local authority to shape community development amid a housing shortage that's been estimated in the millions. The previous attempt died in a legislative committee after outcry from local governments, labor groups and advocates for low-income residents.
"The heart of the bill is really the same," Wiener said of his new legislation, Senate Bill 50. "We have a 3.5-million-home deficit in California. It's undermining our economy. It's undermining our climate goals. We have to be bold in solving this problem."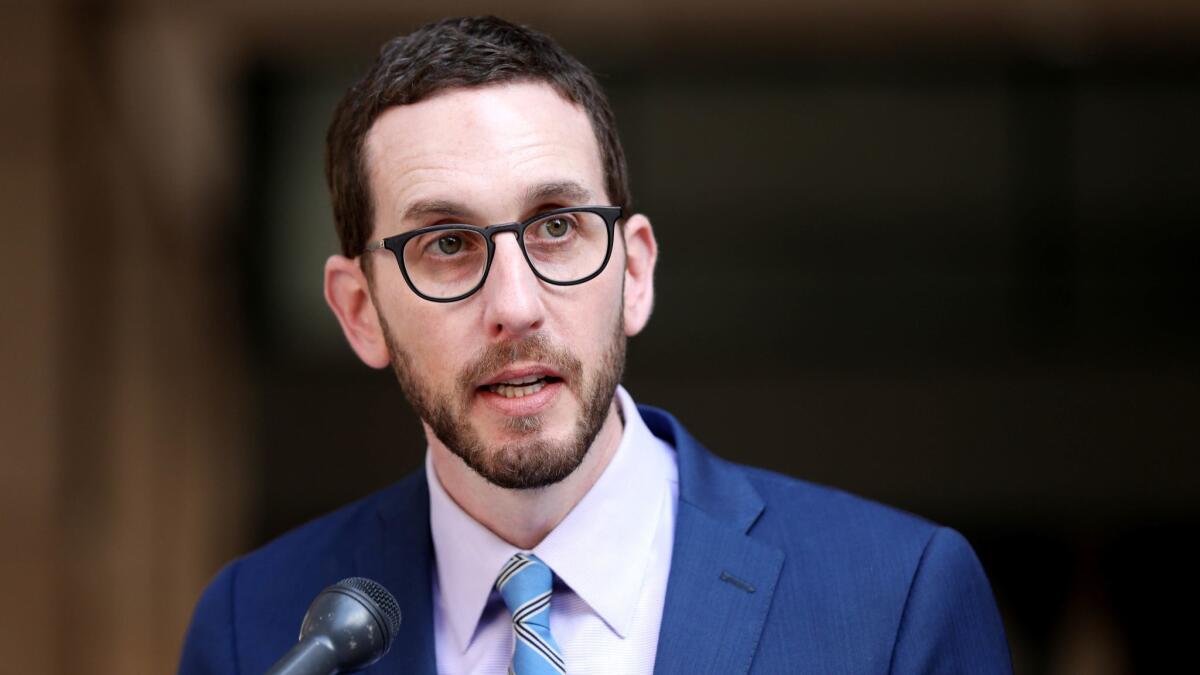 A major California housing bill failed after opposition from the low-income residents it aimed to help. Here's how it went wrong »
Wiener made three major changes to the bill that aim to soften opposition from tenant groups and their allies that helped torpedo the prior effort. The legislation blocks developers from using the bill if they planned to knock down properties that renters had occupied within at least the previous seven years. It also allows communities facing pressures from gentrification and displacement to propose alternative plans to boost homebuilding instead of using the system outlined in the bill. And it loosens local zoning restrictions in communities with high median incomes, quality schools and short commutes to jobs, even if there isn't access to transit nearby — an effort to push development into wealthier areas that might have previously resisted it.
Key details about the latter two provisions remain unresolved, as do rules about how much of the new development will be reserved for low-income residents.
But some interest groups that objected to Wiener's last bill are reacting differently to the new proposal. The powerful union representing construction workers, State Building & Construction Trades Council of California, opposed the earlier legislation but backs SB 50, which includes language stating that existing labor standards for housing development will be preserved.
"We're very confident that together we're going to achieve a lot of good public policy around housing, particularly affordable housing that's around transportation," said Cesar Diaz, the union's political director.
Last year, a coalition of 37 low-income housing and tenant groups in Los Angeles opposed Wiener's bill right after it was introduced, saying it would accelerate the displacement of longtime tenants in favor of wealthier newcomers.
Since the legislation failed, many of the same organizations have been in discussions with Wiener's office about changes to the bill. Cynthia Strathmann, the executive director of Strategic Actions for a Just Economy, said her group is waiting to see how debate over the bill evolves before taking a position.
"For everyone who's just waiting for us to lose our you-know-what right now, we're not losing it," Strathmann said.
Still, intense opposition to Wiener's proposal is expected, especially as specifics of the new effort become known.
Jason Rhine, assistant legislative director for the League of California Cities, said his organization had not seen the bill as of Monday afternoon and had yet to take a position. But he said Wiener's recognition that certain neighborhoods should be treated differently under the bill shows that efforts to promote development must take local needs into consideration.
"We certainly want to maintain community input in the process," Rhine said. "We want to find a path forward that isn't one-size-fits-all and isn't necessarily a state mandate."
Lawmakers are expected to introduce numerous bills aimed at addressing the state's housing problems in the coming year, with SB 50 among the highest-profile. Gov.-elect Gavin Newsom has called for the construction of 3.5 million new homes by 2025 — an unprecedented increase in housing production that will require major changes to processes across the state for approving new development. And legislators have announced other plans that would increase state subsidies for low-income development by billions of dollars.
In the seven months since Wiener's first bill failed, housing costs in the state have remained at or near record highs. Last month's Camp fire destroyed nearly 14,000 homes in rural Butte County, which Wiener said highlighted the need for the state to push development toward denser urban locales. The state is also failing to reduce vehicle travel, which is harming efforts to meet future climate change goals, according to a report released last week from the California Air Resources Board.
"This issue has become more and more salient over the last year," Wiener said. "The wildfires have made clear that we can't just be business as usual."
Coverage of California politics »
Get our Essential Politics newsletter
The latest news, analysis and insights from our politics team.
You may occasionally receive promotional content from the Los Angeles Times.