Arrest made in hit-and-run that killed 4-year-old girl in Glendale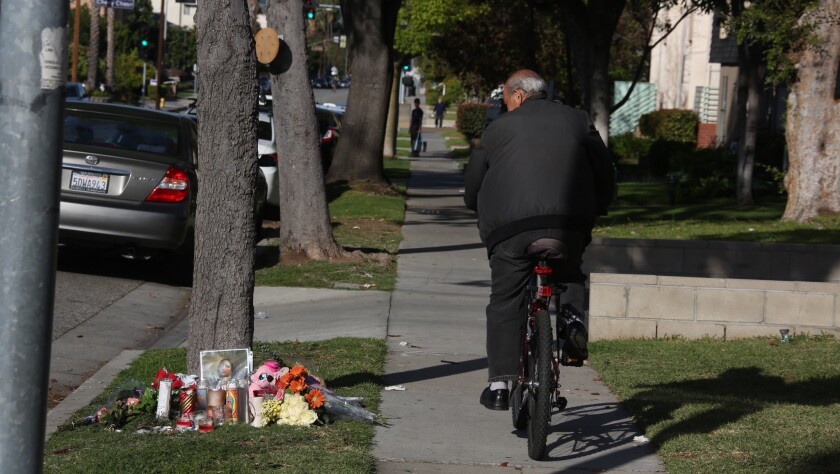 A Glendale man was arrested Saturday in the death of a 4-year-old girl Friday evening in a hit and run.
Glendale police said Shant Badleean, 55, was accompanied by his family when he turned himself in at the department. He was arrested on suspicion of felony hit and run and is being held in lieu of $50,000 bail, according to police.
Violeta Khachaturyan was struck shortly before 5 p.m. Friday in front of her home in the 1200 block of East Wilson Avenue when she ran into the street from between two parked cars, authorities said. The impact threw the child into the air and she landed on the rear window of a parked car before falling to the street.
"This is such a tragedy," said Glendale police Officer Tom Lorenz.
The girl's mother, who was watching from the front porch of the family's apartment building, rushed to her daughter, picked her up and carried her to the front lawn.
"She poured water on her face and mouth to see if she was alive," said neighbor Sabrina Lopez, 15. "And [the girl] didn't respond."
Violeta was transported by emergency personnel to Glendale Adventist Medical Center, where she was pronounced dead.
Another motorist stopped and called police, Lopez said.
"There was nothing the driver could have done," Lorenz said before Badleean turned himself in. "Had he or she stopped, no crime would have been committed."
---
The perils of parenting through a pandemic
What's going on with school? What do kids need? Get 8 to 3, a newsletter dedicated to the questions that keep California families up at night.
You may occasionally receive promotional content from the Los Angeles Times.