L.A. County officials approve $3.5 million in payouts over law enforcement misconduct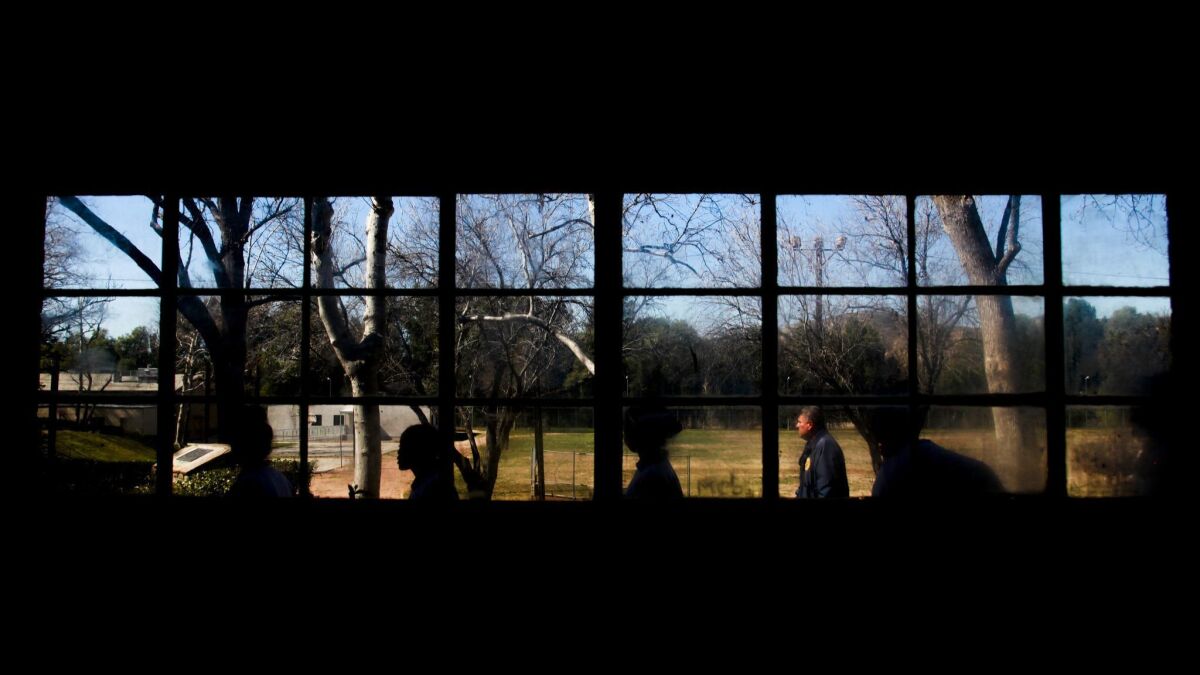 The Los Angeles County Board of Supervisors approved two settlement payouts Tuesday totaling $3.5 million over incidents involving law enforcement agencies. The lawsuits were over the fatal shooting of a mentally ill man by sheriff's deputies and the sexual assault of a female teenager by a probation officer.
The payouts were approved at a time of rising litigation expenses for the county. In the 2016-17 fiscal year, the most recent year for which data are available, the county paid $146 million in litigation expenses, including $80 million in judgments and settlements. Such expenses have risen steadily since 2012-13.
The board approved a $2.5-million payout by the Sheriff's Department to the minor child and parents of Johnny Martinez, a 28-year-old man believed to suffer from schizophrenia who was shot 36 times by sheriff's deputies outside his Vermont Knolls home in 2014, according to the family's lawsuit.
The Century station deputies were responding to a report of an assault by Martinez's neighbor, Jose Hernandez, who said that Martinez had stabbed him in the face with a knife.
According to a summary of the incident provided to the board, the deputies confronted Martinez and ordered him to place his hands behind his back. When he refused and brandished his knife, they deployed a Taser, sprayed Martinez with pepper spray and ultimately fired three dozen rounds, one of which ricocheted off a nearby gate and struck Hernandez.
Martinez was pronounced dead at the scene. The district attorney concluded that the deputies acted lawfully. Hernandez settled separately with the county.
A summary of the Sheriff's Department's corrective action plan identified its failure to investigate Martinez's mental illness before making contact with him as a "root cause" of the incident. The department has since trained desk and field personnel at the Century station how to respond to and interact with mentally ill people, the plan said, and 78% of its sworn patrol personnel have watched a training video on the topic.
Martinez's attorney did not immediately respond to a request for comment.
The second settlement approved Tuesday, for $1 million, involved a female teenager who was held at Camp Scudder, a juvenile detention facility in Santa Clarita.
From April through June 2015, Deputy Probation Officer Oscar Calderon sexually assaulted the teenager weekly, kissing her, fondling her breasts and inserting his finger into her vagina, according to a civil rights lawsuit filed in federal court.
The teenager did not feel safe reporting the behavior because she feared retaliation, and Calderon's supervisors failed to prevent the abuse, the complaint said.
"This settlement can't take back the nightmare that this teenage girl experienced while in county custody," one of the victim's attorneys, Erin Darling, said in an interview. "But…it's a step in the right direction that the county recognizes that something horrible happened. ... There's a big incentive for the county to make sure that something like this doesn't happen again."
Calderon was arrested in January 2017 and charged in L.A. County Superior Court with committing lewd and lascivious acts with children and assaulting four female inmates under color of authority.
He pleaded guilty last fall to two counts of assault and was sentenced to 364 days in jail, but he served less than a month. He did not have to register as a sex offender.
Twitter: @AgrawalNina
---
The stories shaping California
Get up to speed with our Essential California newsletter, sent six days a week.
You may occasionally receive promotional content from the Los Angeles Times.