Vallejo woman and fiance wrongly accused of kidnapping hoax settle for $2.5 million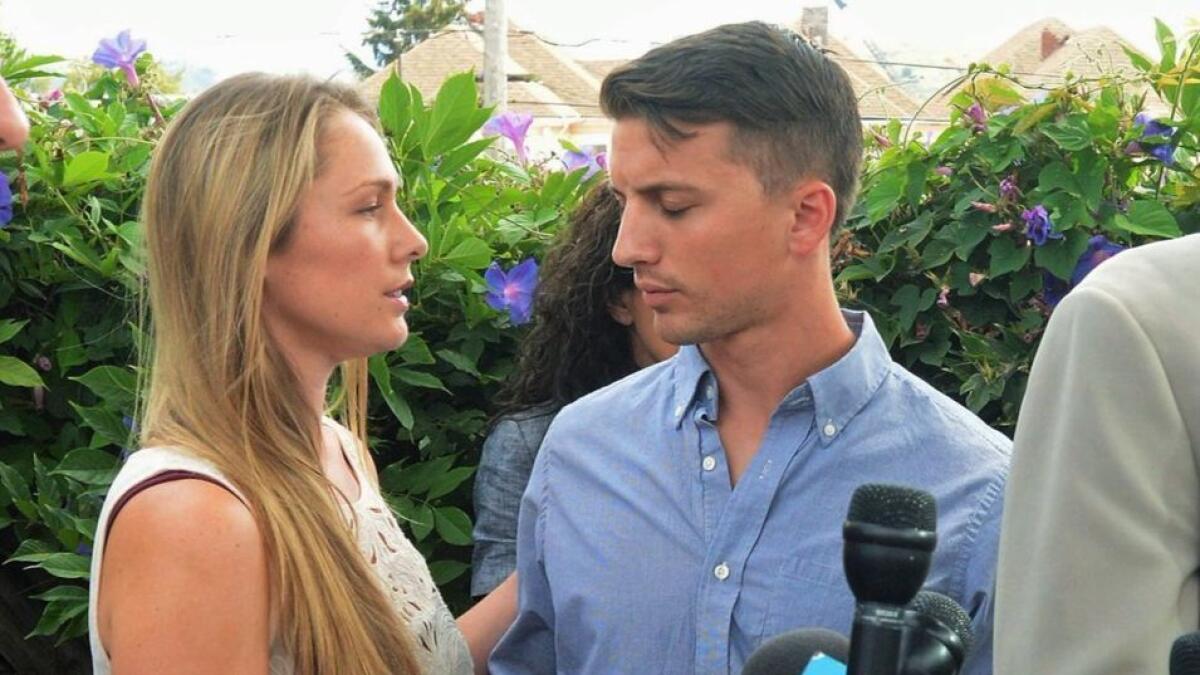 Nearly three years after Vallejo police wrongly labeled a woman's kidnapping a hoax, she and her fiance have reached a settlement in a defamation lawsuit against the city and its police department.
The city agreed to pay $2.5 million to Denise Huskins and Aaron Quinn after the Vallejo Police Department accused the couple of faking Huskins' kidnapping, according to the couple's attorney.
"What happened to us should not happen to anyone," the couple said in a statement. "Victims should be protected in their time of need, not humiliated on a public stage. We hope that this settlement brings inspiration to others like us to speak up and keep fighting."
Huskins and Quinn filed the federal complaint in March 2016, nearly a year after the Vallejo Police Department referred to the case as a "wild goose chase" and a waste of police resources.
The Police Department and city did not immediately respond to requests for comment.
Matthew Muller kidnapped Huskins on March 23, 2015, from Quinn's home, held her for ransom and sexually assaulted her. While Huskins was being held captive, authorities in the Northern California city interrogated Quinn for hours, theorizing that he might have had something to do with his girlfriend's disappearance.
Quinn was never arrested — and two days after her kidnapping, on March 25, Muller dropped Huskins off more than 400 miles away from Vallejo in Huntington Beach.
As relief spread over her family, Vallejo police again grew suspicious, this time questioning Huskins' release and the fact that she reappeared carrying an overnight bag and wearing sunglasses.
Huskins "did not act like a kidnapping victim," retired Vallejo Police Capt. James O'Connell later said in a sworn statement.
Police offered leniency to both Huskins and Quinn to give the other up, their families said. Less than 24 hours after Huskins reappeared, Vallejo police labeled the kidnapping a hoax.
"Today, there is no evidence to support the claims that this was a stranger abduction or an abduction at all," Vallejo Police Lt. Kenny Park said in a statement at the time. "Given the facts that have been presented thus far, this event appears to be an orchestrated event and not a crime."
Vallejo police posted the statement to their Facebook page, and dozens of people criticized Quinn and Huskins. News outlets likened Huskins to the lead character in the novel "Gone Girl."
However, less than three months later, evidence gathered from a June 5, 2015, home-invasion robbery helped authorities link Muller to the kidnapping. Muller was sentenced last year to 40 years in prison.
In their lawsuit, the couple claimed that because of the police department's allegations that Huskins' kidnapping was untrue, their reputations were tarnished and they were forced to move out of the town, where they had worked as physical therapists.
"This is a great result that would not be possible but for the strength and resolve of Denise and Aaron," the couple's attorney, James M. Wagstaffe, said in a statement. "We are dismayed that Denise and Aaron were treated like this but are grateful that Vallejo has decided to do the right thing to compensate our clients for what happened."
Mike Huskins, Denise's father, said he was relieved that a conclusion was reached in the lawsuit and expressed doubt that the police department would issue a statement regarding the case.
"I would be surprised if they say anything more. They just want to walk away and let it go away," Mike Huskins said. "I feel like they should give her a public apology since they went out and publicly accused her of being a fraud. But if this doesn't come, it's not the end of the world. We're happy that this part has concluded, and we can go on with other things in life."
Huskins and Quinn got engaged last year and plan to wed in September.
Twitter: @Brittny_Mejia
---
UPDATES:
12:30 p.m.: This article was updated with a statement from the couple and their attorney.
This article was originally published at 9:45 a.m.
Sign up for Essential California for news, features and recommendations from the L.A. Times and beyond in your inbox six days a week.
You may occasionally receive promotional content from the Los Angeles Times.