Feds to review San Francisco Police Department after fatal shooting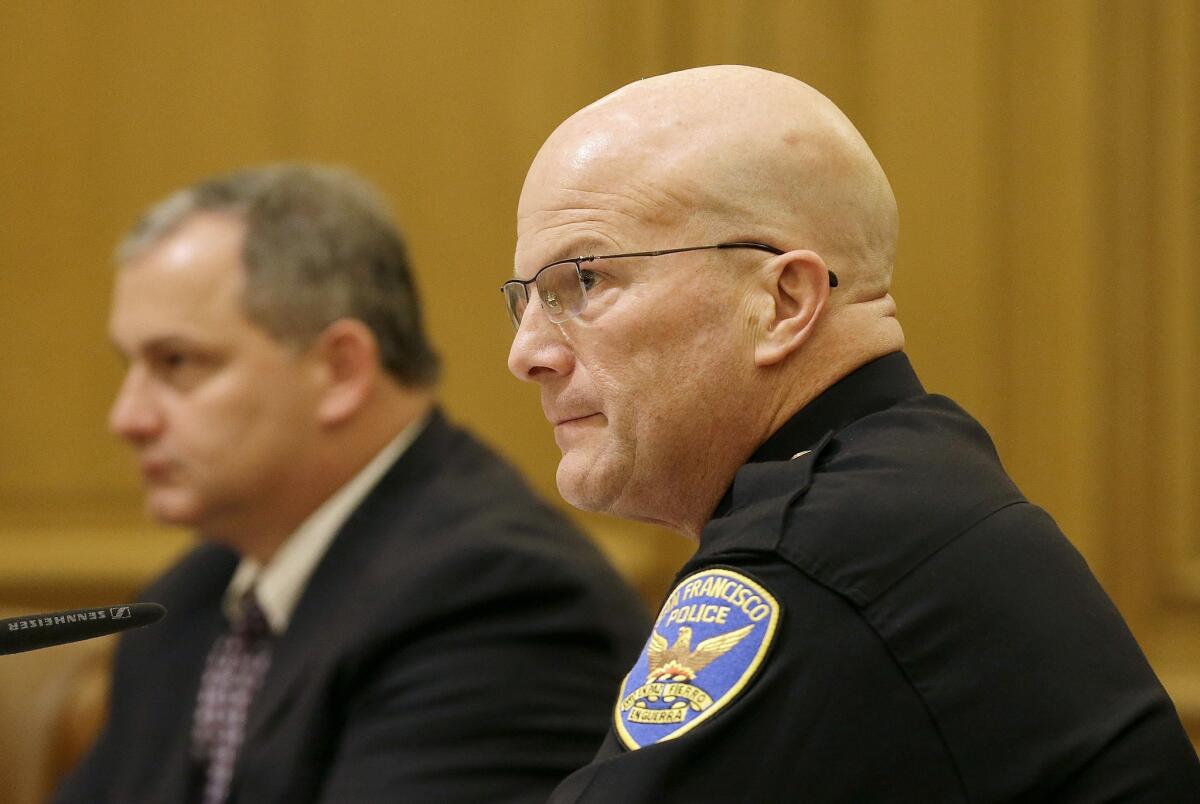 Reporting from San Francisco —
Responding to calls for help from San Francisco's mayor and Board of Supervisors, the U.S. Department of Justice has launched a review of the city's Police Department, which has been under fire for the shooting of a young black man in December.
The two-year review will be conducted by the Office of Community Oriented Policing Services, which provides grants to improve policing. Its reviews are meant to change practices collaboratively rather than by punitive measures such as a consent decree, Director Ronald Davis said at a news conference here Monday.
But Davis warned that firmer measures would be taken if the department balks at the recommendations or if the review turns up serious abuse.
"I tell all the chiefs that the truth hurts, but selective ignorance can be fatal," Davis told San Francisco Police Chief Greg Suhr, who was standing nearby during the news conference in the federal building. "You must want to know the truth because it is going to come at you fiercely."
Davis said the process, called collaborative reform, would include public hearings, patrol ride-alongs, in-depth interviews with city officials and community activists alike, and intensive data analysis. Officers could speak anonymously to avoid intimidation, he said.
City leaders had called for the review as they faced a wave of protests roiling the city since a cellphone video of the Dec. 2 fatal shooting of 26-year-old Mario Woods went public.
The video shows several officers confronting Woods, who had been reported as a suspect in an assault and was armed with a knife, as he stood against a wall. As he appeared to walk away, officers opened fire.
Mayor Ed Lee, whose second-term inauguration last month was disrupted by chants of "Fire Chief Suhr," requested the review in a Jan. 21 letter to U.S. Atty. Gen. Loretta Lynch offering to "throw our doors open, inviting transparency and accountability."
After Woods' shooting, Lee said, he had proposed comprehensive police reforms but still sought "further guidance and counsel on what we can do as a city to prevent these incidents whenever possible in the future."
On Jan. 26, the 11-member Board of Supervisors unanimously adopted a resolution requesting a federal investigation.
Saying video of the shooting had "shocked the community," the board said, "Police Department policies and practices should not just meet constitutional standards but exceed them."
Karen Fleshman, who attended the news conference on behalf of the Coalition for Justice for Mario Woods, said she was satisfied that the federal officers "demonstrated a great degree of competency and understanding."
But she was not yet convinced that the office conducting the review, known as COPS, had the "teeth" to root out "the warrior culture in the SFPD."
After the news conference, Fleshman described behavior that she considered "bullying" by police at a recent police commission hearing.
Marty Halloran, president of the San Francisco Police Officers Assn., did not respond to requests for comment Monday.
But even before the formal requests for a federal review, reaction to the shooting had stirred virulent objections from the union.
Early in January, Halloran posted a statement on the union's website accusing public officials of "blindly following the path of political expedience."
He said critics should have withheld their comments until local reviews were completed. The shooting is being investigated by the San Francisco district attorney's office, the Office of Citizens Complaints and the Police Department's Internal Affairs Division.
"To judge an incident based on 8 seconds of video and publicly denounce the officers … is blatantly unfair and grossly irresponsible," the statement said.
Outrage over the shooting was aggravated when a judge ruled in December that officers who had exchanged racist and homophobic text messages would be allowed to keep their jobs because the Police Department had waited too long to address the misconduct.
The 2012 texts were disclosed in a 2014 court filing made by prosecutors in a police corruption case.
That decision raised objections, and officials said they will appeal.
"The fact that San Francisco is forced to retain police officers that demonstrated explicit racism will have ramifications for the reputation of the department, the fair administration of justice, and the trust of the community SFPD serves," Dist. Atty. George Gascon said after the ruling.
A Department of Justice review of the Los Angeles Police Department prompted by the Rampart scandals of the 1990s led to a 2001 consent decree on the troubled department.
The decree spelled out dozens of major reforms the police agency had to implement and frequent audits as well as monitoring from the federal court. It was lifted in 2009.
A statement issued by the U.S. attorney's office on Monday outlined a milder approach designed to provide "technical assistance to agencies facing significant law enforcement-related issues.
"Using subject matter experts, interviews and direct observations, as well as conducting extensive research and analysis, the COPS Office assists law enforcement agencies in enhancing and improving their policies and procedures, operating systems and professional culture," the statement said.
The office is currently working with agencies in Spokane, Wash.; Philadelphia; St. Louis County; Salinas, Calif.; Fayetteville, N.C.; Calexico, Calif.; and Milwaukee, and has completed the process in Las Vegas, the statement said.
Davis cited Philadelphia and Las Vegas as cities where COPS had substantially improved police departments' community relations.
When a woman stood up at the news conference Monday and called for immediate action, Davis asked her for patience.
"This will be a long-term journey," he said. "Let's see if this will work."
Twitter: @peterhking, @LATdoug
ALSO
Editorial: How do we police the police?
O.C. jailbreak: 'He is ready to turn himself in,' caller says in 911 call
Six Cleveland police officers involved in fatal 137-shot barrage are fired
Sign up for Essential California for news, features and recommendations from the L.A. Times and beyond in your inbox six days a week.
You may occasionally receive promotional content from the Los Angeles Times.