Alex Villanueva's strong challenge of L.A. County Sheriff Jim McDonnell relied on Latino areas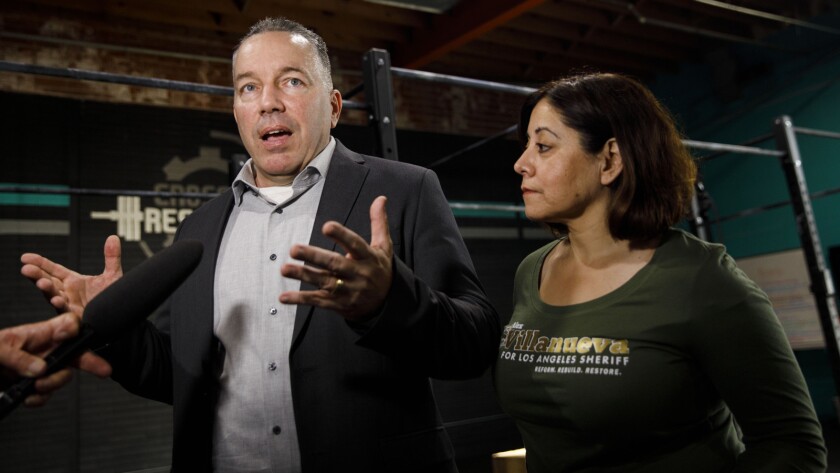 Challenger Alex Villanueva's narrow lead over incumbent Los Angeles County Sheriff Jim McDonnell came as a result of strong support in areas dominated by Latino voters, according to a review of detailed election results released Wednesday.
Unofficial results show that Villaneuva, a retired sheriff's lieutenant, outperformed his opponent in places like Southeast Los Angeles, the San Fernando Valley and the Pomona Valley.
Tuesday's election results mirror those of the June primary, when the 55-year-old Villanueva, who has Puerto Rican and Polish American heritage, won strong support from voters in those same heavily Latino areas.
But he also made inroads in areas like Central L.A. and the Westside. In Santa Monica, the early count showed Villanueva slightly ahead, an improvement on his 33% in the primary, which also featured a third candidate, Bob Lindsey. McDonnell lost ground there.
In Central L.A. neighborhoods such as Mid-City and Mid-Wilshire, Villaneuva picked up many precincts where McDonnell was the top vote-getter in the primary. In West Hollywood, the early results showed Villaneuva with a large lead. In June, he won only 42% of the city's votes to McDonnell's 49%.
How your neighborhood voted in the razor-thin L.A. Sheriff's race »
McDonnell appeared to have picked up most of the precincts that Lindsey had won in the June primary in the San Gabriel Valley neighborhoods of Glendora and San Dimas.
With 100% of precincts reporting, Villanueva was ahead by less than 5,000 votes out of 1.6 million counted as of Wednesday afternoon. The L.A. County registrar's office estimates there are 984,000 ballots left to be counted, the majority of which are mail-in ballots. It's unclear how many of those include votes cast in the sheriff's race.
McDonnell, 59, campaigned on a promise to continue reforms he championed in his first term, such as reducing serious jail violence and enhancing mental-health care behind bars.
But the Sheriff's Department faced new criticism in recent months. A Times investigation found that a team of deputies targeted thousands of innocent Latino motorists on the 5 Freeway in drug searches, a practice now under review by the county's inspector general. There also have been concerns about why the department has not done more to curb deputies' wearing of matching tattoos that critics say are indications of secret cliques within the agency.
Those issues "completely reinforced the idea that Villanueva is a reformer, a Democrat who is coming in here to shake things up," said Fernando Guerra, political science professor at Loyola Marymount University. "Given how close it was, it did play a role."
Guerra conducted an exit poll of roughly 1,500 voters in L.A. County. He said a preliminary look at the data shows that Villanueva did extremely well with Latino voters and better with white voters than he expected. He did not have detailed results to share.
Several factors drove the results, including the growth of the Latino electorate, dominance of the Democratic Party and union support for Villanueva, Guerra said. But he also cited the "changing narrative of public safety," noting that Villanueva had promised to kick immigration agents out of the county's jails.
"The days of a law-and-order sheriff just doesn't cut it anymore," Guerra said. "Voters are looking at crime and incarceration from a different perspective. It's a different view of public safety that's much more complex."
Times staff writer Anthony Pesce contributed to this report.
Twitter: @bposton
---
The stories shaping California
Get up to speed with our Essential California newsletter, sent six days a week.
You may occasionally receive promotional content from the Los Angeles Times.