L.A. County Sheriff Jim McDonnell's job is in jeopardy as challenger Alex Villanueva takes a slim lead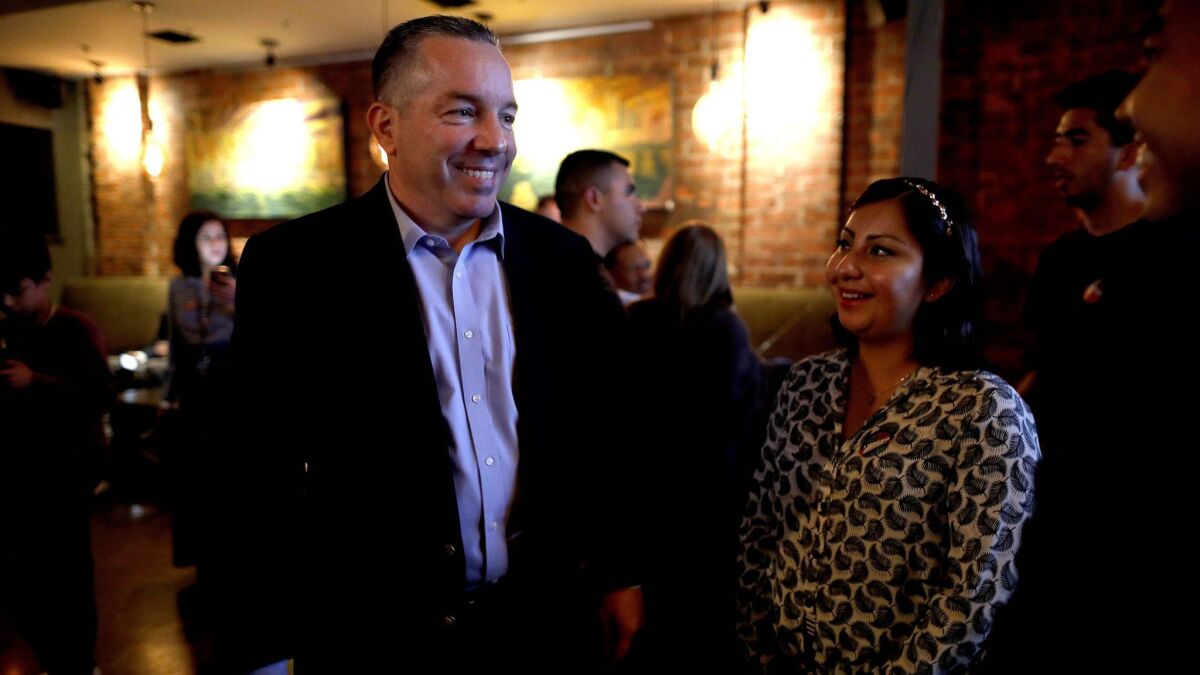 Los Angeles County Sheriff Jim McDonnell on Wednesday was in jeopardy of being ousted by voters as challenger Alex Villanueva took a razor-thin lead in the race to lead the sprawling, scandal-tainted law enforcement agency.
With votes still being counted, the outcome of the race is still in question. But the fact that McDonnell is fighting for his political life has stunned the Los Angeles political establishment and raised questions about future reforms at the department.
Historically, the sheriff of L.A. County could count on being easily reelected in the primary, but Villanueva disrupted that pattern when he became one of only four challengers in the last century to push a sitting sheriff into a runoff.
With 100% of precincts reporting, Villanueva, a retired sheriff's lieutenant, was ahead by 4,927 votes, but provisional and late mail-in ballots still have to be counted.
Many political experts said it would be nearly impossible to pose a real threat to a sitting sheriff.
"I have egg on my face. I have an entire omelet on my face," said Jessica Levinson, a Loyola Law School professor who teaches election law. For months, and even until early Wednesday morning, she predicted an upset would be very unlikely.
"The voters sent a really clear message. They need faster and different change, and they think the Sheriff's Department needs an overhaul that hasn't happened yet. On the other hand, this was a low-information race, so I still have to wonder how much this has to do with confusion on the ballot."
She said voters are often influenced by the bare-bones information inside the voting booth: a candidates' name and title.
The agency is still seeking to redefine itself after a jail abuse scandal unfolded under former Sheriff Lee Baca, a four-term leader accused of losing focus on his department. Baca is currently appealing his conviction last year for obstructing an FBI investigation and lying to investigators.
The Sheriff's Department has faced new questions in recent months. A Times investigation found that a team of deputies targeted thousands of innocent Latino motorists on the 5 Freeway in drug searches, a practice now under review. There also have been concerns about why the department has not done more to curb deputies' wearing of matching tattoos that critics say are indications of secret cliques within the agency.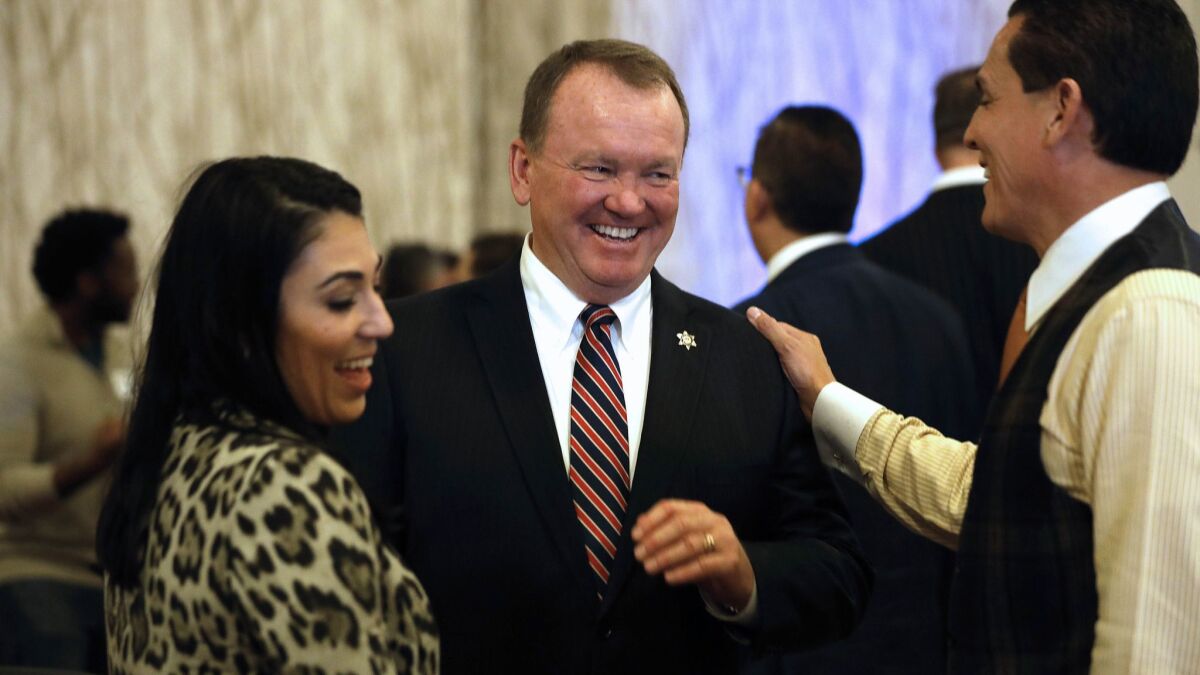 McDonnell, 59, campaigned on a promise to continue the improvements he's made, like reducing serious jail violence and enhancing mental healthcare behind bars.
The former Long Beach Police chief and longtime Los Angeles Police Department official touted his support for the nearly 2-year-old Sheriff Civilian Oversight Commission and drew headlines when he tried to give prosecutors a "Brady List" of about 300 deputies with histories of misconduct.
Villanueva has criticized some of McDonnell's reforms. including the Brady List.
Villanueva, who says he was the victim of unjust discipline while with the department, has called the roster a "fake list" compiled from retaliatory investigations. That echoes the sentiment expressed by the Assn. for Los Angeles Deputy Sheriffs, the rank-and-file union that sued McDonnell to block disclosure and has given at least $1.32 million to an outside group supporting Villanueva.
He vowed to start a "truth and reconciliation" process to analyze whether the list is accurate.
Villanueva, 55, argued the Sheriff's Department hadn't done enough to distance itself from U.S. Immigration and Customs Enforcement, which is allowed to use office space inside one of the county jails.
Villanueva, an Air Force veteran who served three decades in the Sheriff's Department, said he would kick ICE agents out of the lockup, though he added his deputies would instead march inmates out of jail into ICE custody.
It's unclear how that position might have helped in a diverse, deep blue county where opposition to President Trump's immigration crackdown is strong.
Some observers said McDonnell miscalculated the force of the Latino vote and didn't take the election seriously enough early on.
"Everything about [McDonnell's] primary campaign was lackluster," said Luis Alvarado, a political strategist who personally supported the sheriff. "There was no efficient effort that I could see. There was no message that addressed the challenges and opportunities that the campaign could have tackled."
Villanueva, who has Puerto Rican and Polish American heritage, was most strongly supported in the June primary by voters in heavily Latino areas like Southeast Los Angeles, the San Fernando Valley and Pomona, according to a Times analysis.
He has acknowledged that he was suspended for five days and again for 10 days in the early 2000s for allegedly failing to report derogatory statements made by another employee in a timely manner. He said the claims were bogus and retaliation for his vocalizing his belief that the department discriminated against Latino deputies.
He said the discipline was wiped from his record as part of a settlement he reached after suing the department.
Later, in 2012, a deputy who was black sued the department and Villanueva, claiming that after a fire drill, Villanueva referred to him as a "knuckle dragger," which the deputy perceived to be a racial slur.
Villanueva denied making the comment and said there was no finding of wrongdoing. The county paid $10,000 to settle the case. An attorney for the deputy, Dwayne Perry, confirmed there was no misconduct finding but declined to comment further.
Villanueva says he passed the lieutenant's test four times before being elevated to that rank.
The Professional Peace Officers Assn., a union representing about 6,000 department employees including sergeants and lieutenants, has said Villanueva's inexperience in high-level management is proof he's not fit to lead. That union spent at least $750,000 to support McDonnell.
McDonnell remained the stronger fundraiser, drawing about $1.2 million from individual donors, mostly in Los Angeles, Long Beach and Beverly Hills. He was supported by at least $954,000 in additional dollars from an independent committee funded by business executives and a union representing sergeants, lieutenants and other Sheriff's Department employees.
Villanueva raised $156,000 from people concentrated mostly in eastern parts of the county near La Habra Heights, where he lives, but he was backed by an additional $1.4 million in outside money from labor groups including the rank-and-file deputy union.
Twitter: @mayalau
---
UPDATES:
2:30 p.m.: This article was updated with comments from Loyola Law School professor Jessica Levinson and political strategist Luis Alvarado.
This article was originally published at 9:45 a.m.
---
Life is stressful. Our weekly mental wellness newsletter can help.
You may occasionally receive promotional content from the Los Angeles Times.