Nearly five years after being beaten and framed by Los Angeles County sheriff's deputies, Gabriel Carrillo on Friday took the final step toward clearing his name.
In a court hearing lasting just minutes, Los Angeles County Superior Court Judge C.H. Rehm made a finding of "factual innocence" for Carrillo regarding the fabricated claims that he assaulted deputies in a 2011 incident that later attracted the attention of federal justice officials.
Rehm's decision goes well beyond a "not guilty" verdict from a jury. The relatively rare designation of factual innocence means "no reasonable cause exists to believe that the petitioner committed the offenses for which he was arrested," Rehm said during the proceedings.
The move also seals Carrillo's arrest record in the case, effectively erasing it from law enforcement databases. Before Friday, a police officer or potential employer who searched Carrillo's name in criminal databases would have seen that he was arrested on suspicion of assault on a police officer.
"The arrest is deemed not to have occurred," Rehm wrote in his order.
Kathy Ta, the prosecutor in the case, told Rehm that the district attorney's office was not opposed to the finding.
The hearing marked the end of a long, troubling ordeal for Carrillo.
In February 2011, Carrillo went with his then-girlfriend and grandmother to visit his brother, an inmate in the county's main jail facility.
Carrillo and his girlfriend were handcuffed and taken into a secluded room when deputies found them carrying cellphones, which is against state law. After Carrillo reportedly mouthed off, deputies beat him, delivering a barrage of punches and kicks to his face and body as he was pinned on the ground. One deputy pepper-sprayed Carrillo in the face.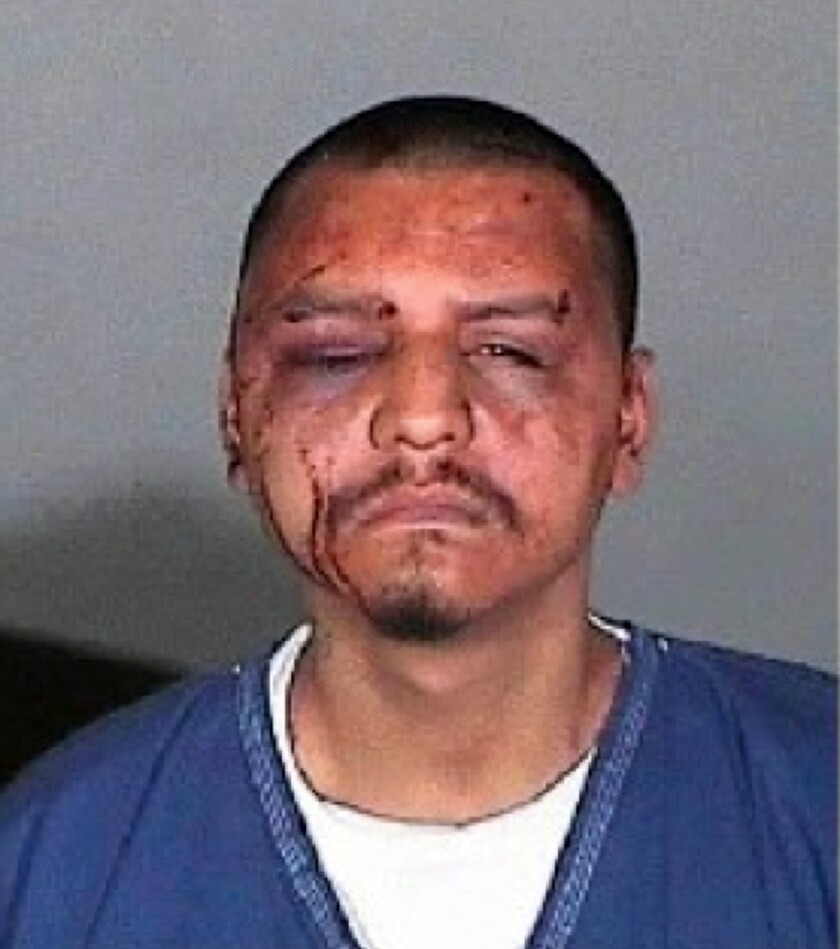 After the beating, which left Carrillo badly bloodied and struggling to breathe, the deputies and their supervisor claimed in reports that Carrillo had tried to attack when one of his hands was uncuffed for fingerprinting.
Based on those reports, prosecutors filed criminal charges against Carrillo. Some of the deputies involved in the incident repeated the account of the beating at Carrillo's preliminary hearing, helping to assure he would be ordered to stand trial. If convicted, Carrillo faced 14 years in prison.
Prosecutors dropped the case days before trial. They never gave a reason but the move came after Carrillo's attorney, Ron Kaye, brought to light photographs showing that both of Carrillo's wrists were injured -- evidence that he was handcuffed during the beating. The county later paid him $1.2 million to settle a civil lawsuit.
When the district attorney's office chose not to go after the deputies, federal prosecutors stepped in and charged five deputies with violating Carrillo's civil rights.
In June, two deputies, Sussie Ayala and Fernando Luviano, along with Eric Gonzalez, their supervisor at the jail visitor center, were convicted of the beating and cover up. The trial featured testimony from the other two deputies, who struck deals with prosecutors. They both acknowledged on the stand that Carrillo was handcuffed throughout the beating.
Earlier this week, Gonzalez was sentenced to eight years in prison. The others will be sentenced in coming months.
"I'm satisfied," Carrillo said after the hearing. "A clean slate."
Twitter: @joelrubin
ALSO
Hundreds launch hunger strike at immigrant detention center in Adelanto, Calif.
Environmental advocates sue L.A., accusing it of 'rubber stamping' oil drilling plans
Ethics Commission files formal complaint against LAPD sergeant who detained 'Django' actress
---